"Tier 2 Cities: The Next Growth Driver"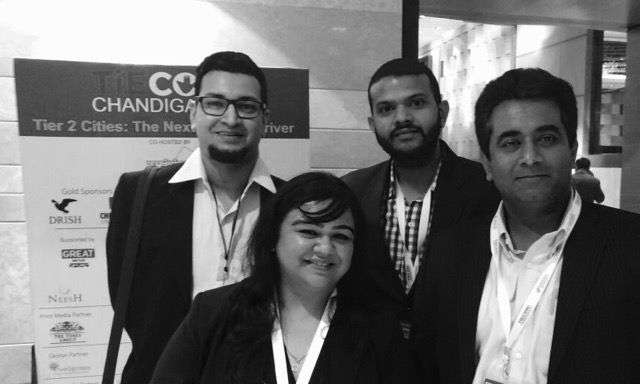 Chandigarh, India- Energy is one word that could be used to describe the atmosphere at this years TiECON event. Andrey Terebinan, a guest speaker from Russia used the same word to express to the over five hundred attendees what he likes about India in terms of the business environment. Terebinan also cautioned Indians against moving so fast that they fall flat. This was a theme throughout the event: facing the challenges of sustainable entrepreneurship in terms of good business practices and environmental impact.
This year TiECON Chandigarh was held on February 19th in the IT Park at Hotel Lalit. The event provided an opportunity for entrepreneurs, business people, venture capitalists, and many others to learn from industry leaders and network.
The event lasted all day, with multiple sessions at a single time to give participants the flexibility to attend the most relevant events, and to be able to network freely. In fact, there was so much enthusiastic networking in the halls that participants were repeatedly told to keep their volume to a minimum!
TiECON events are hosted by the nonprofit organization TiE which has sixty chapters dispersed across eighteen countries. The purpose of TiE is to assist global entrepreneurship through education, networking, incubating, mentoring, and funding startups.
Entrepreneurship has been on the rise in India due to rapid economic development and policies that make starting up less challenging. In 2015 Prime Minister Narenda Modi announced the "Startup India Initiative" which is helping to further increase India's startup culture. It is an exciting time to be an Indian entrepreneur. Previously many foreign companies were seeking employees in India, but now the world is seeing a rise in Indian companies, or companies that started up in India like Rchilli.
It is this sense of energy and positive outlook for the future of India that drives entrepreneurs to dream big. With sixty speakers and thirty exhibitions, there were many inspiring presentations and dialogues to be a part of. Dhruv Singla who is the co-creator of the app betlyf said had a new boost of energy after attending TiECON which he will put towards furthering the app. Like the Indian entrepreneurial atmosphere, his fun app encourages motivation, achievement, and competition.
Many young Indians like Dhruv are starting up. The TiECON website states that "India's own ecosystem of startup is evolving rapidly which is driven by energy, enterprise and innovation of youth and India is turning into a startup nation." Events like TiECON inspire the youth of today to work towards a better future.
All TiECON events are influenced by the places in which they are hosted. Although Chandigarh is commonly seen as one of the best places to live in India in terms of the quality of life, the tech boom that was expected in the IT park has not happened. Many of the speakers addressed the desire for Chandigarh to have better career opportunities that can be seen in entrepreneurial cities like Bangalore. One speaker stated that in order for India as a whole to become a more entrepreneurial society, India needs to develop a culture of questioning that can be seen in places like Bangalore and and Silicon Valley.
Rchilli's CEO Vinay Johar has carried the Indian spirit of entrepreneurial energy to Silicon Valley, which was made possible thanks to the Indian government's initial support of his dream. Anyone who talks to Vinay can see this passion in him, this energy that continues to drive his business ever forward. TiECON is surely making waves throughout the world by educating and inspiring leaders, and people who have the potential to do great things.