RChilli Now Offers Enterprise-level Data Security with SOC 2 Type II
December 31, 2021 by Navjot Kaur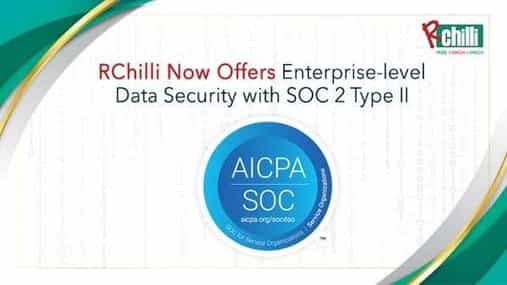 We are happy to share that RChilli is now SOC 2 Type II certified. This certification provides the validation that we ensure the complete security of our customers' data.
What is SOC 2 Type II?
SOC 2 Type II involves an audit and a report that an auditor conducts over a specific period of time.
SOC 2 Type II audits are conducted when an independent auditor evaluates and tests the control mechanisms and activities of an organization. The goal of doing this is to determine if the organization is operating effectively.
This certification is given to only those companies who prove that their system is designed well to keep their customers' data secure.
RChilli is Now SOC 2 Type II Certified
RChilli manages its clients' data by following the highest standards of security and compliance. We do not save/store any personal information.
Companies are always reluctant to share PII with the vendors. Being the trusted partner of parsing, matching, and data enrichment, we understand that data is sensitive and ensure to meet our customers' expectations when it comes to security.
With this certification, we are committed to providing secure products and services such as Resume/JD parser, Search & Match, and Taxonomy to safely and efficiently manage billions of digital identities across the globe.