Recruitment trends are one of the important aspects to be considered while making recruitment decisions. Giving importance to this factor, RChilli has introduced Global recruitment trends, which is a monthly analysis of recruitment trends across the globe.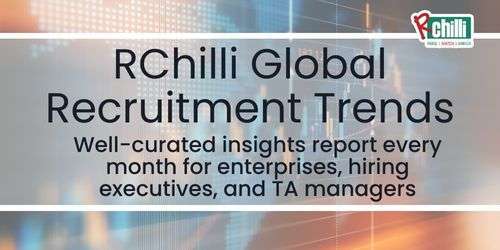 Since June, RChilli has been sharing this well-curated insights report every month. The report helps enterprises, hiring executives, and TA managers build a proper recruitment strategy. It is created after analyzing the resumes parsed by RChilli. The trends revolve around industries, countries, languages, resume pages, and experience categories.

The best part about these Global Recruitment Trends is that RChilli can customize this report based on the user's preference. In case the user is looking for recruitment data related to a specific industry or country, RChilli can help out by creating a customized report.

Talking about this new initiative, Paramdeep Singh-Head of Marketing, RChilli, said, "RChilli Insights is taking this initiative to add a valuable change in the recruitment sector. The TA teams can make better hiring decisions based on these analytics. In the coming months, RChilli will add more metrics to this report and make it more comprehensive. We also have a lot of factual data that can give remarkable recruitment insights for a particular industry, country, resume language, etc."

For more information, visit RChilli Global Recruitment Trends.
You can also download the latest RChilli Global Recruitment Trends Sept 2022.


About RChilli
RChilli is the trusted partner for resume parsing, matching, and data enrichment, providing companies, in 44+ countries, with solutions built for the future of technology and recruiting. RChilli's innovative products, backed by an industry-leading tech stack, power the processing of 4.1+ billion docs a year for 1600+ top global recruiting platforms. Enabling companies to hire better talent faster since 2010, RChilli is ISO 27001:2013 and SOC 2 Type II certified and GDPR compliant. RChilli is also a proud partner of Salesforce, Oracle PeopleSoft, and Oracle HCM Cloud.

Source: openpr