Another New Milestone for RChilli: RChilli 8.0.0
January 31, 2020 by Vinay Johar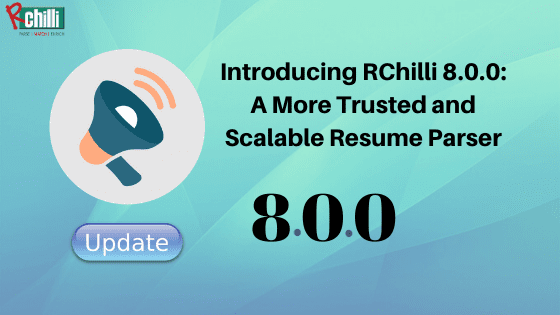 The year 2020 is starting a new chapter in RChilli's journey, and it is the launch of our latest version 8.0. We developed this with a vision to make the latest technologies accessible to everyone.
Now, you will witness remarkable changes in our resume parser. The new version provides more qualitative results. In short, RChilli 8.0.0 introduces a more compatible, trusted, and scalable resume parser.
Vision Behind RChilli 8.0.0
Quick resume processing is the top priority of our users. Our focus is on building reliable AI tools that empower our users to rely on us for data processing.
After years of research, we have created a comprehensive technology stack that includes the most authentic, latest, and best-in-class technology. It is with the help of these technologies that we are delivering maximum output to our users.
Our latest version brings a deeper and detailed analysis of resumes with new values.
The Exceptional RChilli 8.0.0
What's special about this new version, and what exciting features will it bring?
With our deep learning module in v8.0, we are witnessing a remarkable qualitative change in our intelligent solutions. Deep learning technology, a gamechanger in the HR tech industry, processes a large amount of text data through algorithms. It also builds a path for faster release of languages.
A few highlights of this version:
A comprehensive technology stack offering best-in-category and latest technologies.

Improved extraction and smarter identification of resume data.

Enhanced JSON structure with an addition of 40 new fields.

Quick release of new modules and languages.

Increased reliability with a field-wise confidence score.

Considerable improvements in the Skills fields.

There is better compatibility with govt. taxonomies, external standardizations.
What's more?
Another important point is that now our parser can now process 3 million resumes per day.
Our continuous commitment to develop technologically advanced products builds trust among our users. Now, they feel assured that they are using the right solution, and that's the most significant achievement for us.
Would you like to see the magic of RChilli 8.0.0?
Schedule a call with us to know how v8.0 can help you get amazing results.