Find The Best March 2017 HR Events For You
March 06, 2017 by dev
Topics: Career, Culture and engagement, HR 2017, HR Challenges, Hr leaders, HR Predictions, HR tech Events, HR trends, HR vendors, HRtech Events, HRTechConf, HRtechnology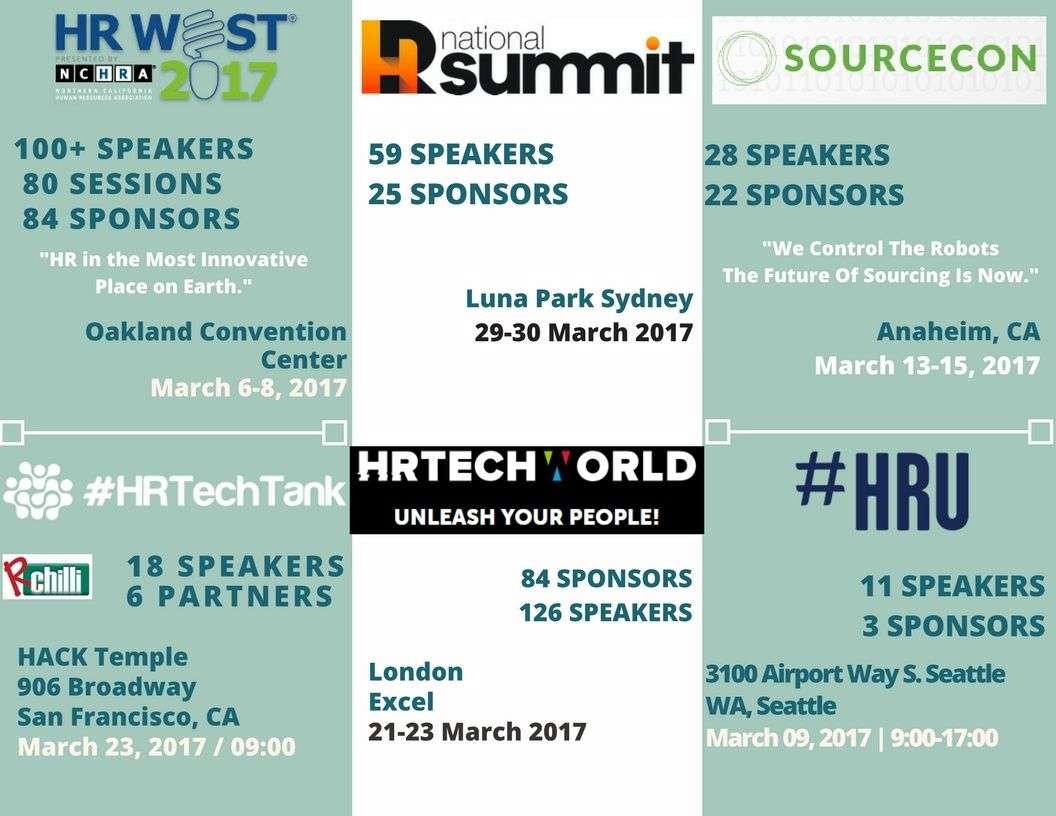 Events bring industry specialists and influencers together to discuss their current people strategy and establish connections of technology, automation and human contributions. Let's grab these opportunities to get inspired by talented HR professionals, master the latest Recruiting trends and raise ourselves professionally.
Here are 2017 March HR Events that you won't want to miss.

Based in San Francisco Bay Area, The Northern California HR Association (NCHRA) is one of the nation's largest regional human resources associations. The organization provides excellent opportunities to more than 20.000 members of HR Community. HR WEST is the latest event being organized by NCHRA.
The event will help HR members :-
Find strategies to meet the workforce challenges of globalization

Update the latest hi tech boom

Redefine 'work' definitions.
This event also has an agenda to help the HR community overcome hurdles related to Compensation & Benefits, Talent Acquisition & Retention, Employment Law & Legislation, Employee & Labor Relations, General HR, Leadership, and Business Management & Strategy.
HRTechTank is the largest investment advisory firm focused specifically on HR tech. The event will enable professionals to gain an insight on how to build a great sales team, access HR data, expand a B2B company and hear investors talk about their perspective on HR technology.
Practical discussions will give you the opportunity to :-
Connect with specialised investors
Meet your early adopters
Network with influencers
Get access to unique market insights and data
Get to Know the investor's perspective on HR technology
Inspirational Visionaries, CEO's, Entrepreneurs and Thinkers as the Main Stage lineup of the event will share their views on the challenges of the tech revolution and what it means for business and organizations. With technology come the challenges.
HR TECH WORLD will help attendees :-
Better understand and meet the challenges posed by technology.

Inspire to create a 'Brighter world of Work' the event focuses on the challenges of disruptive innovation.
This event is one of the largest gatherings, regularly attracting some 1,000 delegates to discuss the most crucial and complex people management issues facing the industry today.
One of the largest gathering of senior HR professionals in Australia, The National HR Summit promises to be more than a typical HR conference as it will feature :-
Two separate conference programs catering to HR professionals at different stages in their career.

Expansive HR trade expo, workshops, interviews, activities and more.
Initiated exclusively for HR Directors and senior decision makers, dialogue and debate will stimulate and inspire executives in a dynamic business forum.
HRU Events, organized in more than 50 countries and attended by over 6000 people globally are here with their latest event, #HRUSeattle.
The event focuses on :-
Gaining practical knowledge through discussions on different HR and Recruitment Technologies.

Impact of Technology on various HR and Recruitment fields such as Training, Data Storage and Retrieval, Performance Management etc

Helping recruiters and corporate executives learn about the latest innovations and technologies used in making HR easier

.
Created by sourcers and recruiters for knowledge sharing and insights about sourcing best practices, SOURCECON, will highlight the changes taking place and help professionals learn new developments that will affect the future of sourcing and recruiting.
Sessions by Talent Acquisition leaders and solution specialists will :-
Disseminate information on the new sourcing techniques,

Explore ways to increase your candidate numbers and

all the current techniques

Find talent in this increasingly competitive marketplace.