How Positive Candidate Experience Makes or Breaks a Business Model?
October 18, 2021 by Aanchal Sharma
In today's competitive and dynamic labor market, as a recruiter, you need to figure out how to carve a niche and get an edge in talent acquisition. One way to do this is to build up a positive candidate experience strategy. A promising approach towards the hiring process, the terminology has now become the center of focus for many recruiters globally. But, if not considered, it can harm the company's brand and its ability to seize the attention of talented professionals.
But What is Candidate Experience?
In simple words, it's the impression your company lays on the prospective employees or candidates through the hiring process. Starting from the job description till the hiring, applying a first positive experience is very important. Whether it's easy and non-cumbersome, the experience plays a decisive role in taking up the job or not.
How Does Positive Candidate Experience Make a Difference?
Improve the brand value and ultimately the brand loyalty amongst the existing employees.

The candidates, whether successful or not, will have a positive impression of the company.

A quick and uncomplicated application process is good for the candidates and business.

Serves your company's bottom line.

The candidates get a realistic image of the work culture.

There's a feeling of being valued and respected that further enhances work quality.
Apart from these, a positive candidate experience can help enhance your business model in few other ways including:
It Helps Build a Positive Brand Image
Candidates do consider how they are treated during the interview and set it as a precedence of their future in the company. Hence, aspects like the HRs response time and streamlined procedures strengthen the in-house professionalism and efficiency. A positive candidate experience, courtesy of the little time it takes to call and respond to the employee, works to boost the brand value. In return, you may never know where the candidates post positive feedback for your company that'll further enhance the brand value.
Gives You a Competitive Edge Over Your Competitors
Offering a positive candidate experience will help you lay that first great impression on the top candidates, which will help you win over them, much before your competitors do. Professional job seekers always prefer a well-timed process, including informing them even if they are rejected. You can stop them from accepting the job offer from elsewhere if you, in turn, value their time and keep them informed throughout the hiring process. Don't forget that if a candidate has to choose between multiple job offers, your brand's recognition can make the difference.
RChilli Resume Parser + Oracle HCM- Helping Enhance Positive Candidate Experience
The RChilli Oracle HCM plugin leaves zero chances of manual error or inefficiency when screening the candidate's resumes. Built for Oracle Cloud HCM users, the solution ensures that the recruiters focus on hiring while the parser mines the resumes and creates profiles in Oracle HCM.
Good candidates everywhere get hired in a maximum of 6-7 days. A well-structured and streamlined application process can pace your company's position a notch above the candidate's preference list. The intelligent feature helps the candidates upload resumes in any format- DOC, DOCX, PDF, RTF, TXT, ODT, HTM and HTML, DOCM, DOTM, DOT, DOTX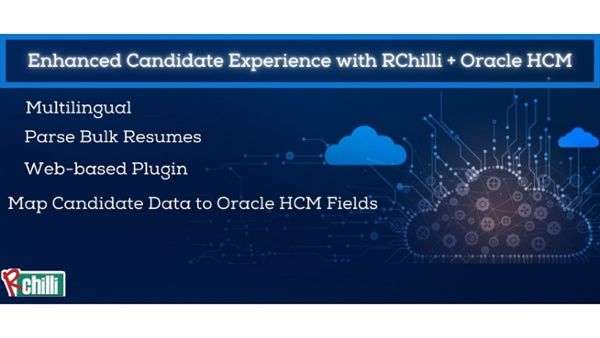 RChilli + Oracle Cloud Profile Import Plugin helps enhance the candidate experience and saves time by allowing a single-click resume upload. The parser fetches the data from the resumes automatically and saves the entries in the Oracle HCM Cloud. The candidate experience, thus, increases by up to 85%. Other than this:
What can you expect from RChilli Resume Parser + Oracle HCM Plugin?
Enhance the candidate experience

A less candidate drop-off rate

Optimize your recruiters productivity

Recruit globally without any bias

Improve the candidate conversion rate on the career page of your website

Get access to a structured talent database that helps filter the qualified candidates

A hassle-free 30 minutes set-up and a free 30 days proof of concept
There's no doubt that a positive and early candidate experience can help build a company's talent pool, a more substantial brand value, and much happier brand ambassadors.
If you want to know more about the benefits of adding RChilli resume parser to your Oracle HCM platform, schedule a meeting with our solution expert.