Top 3 Reasons To Improve Candidate Experience In Oracle Recruiting
October 18, 2021 by Aanchal Sharma
In today's competitive and dynamic Oracle Cloud Recruiting labor market, as a recruiter, you need to figure out how to carve a niche and get an edge in talent acquisition. One way to do this is to build up a positive candidate experience strategy.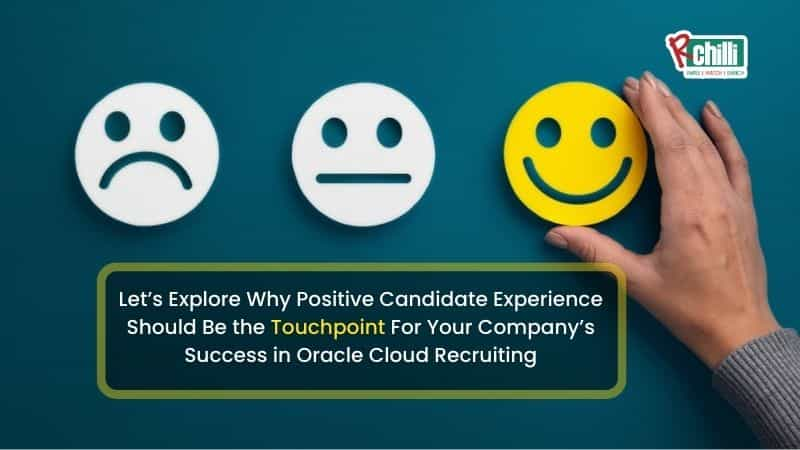 A promising approach towards the hiring process, the terminology has now become the center of focus for many recruiters globally. But, if not considered, it can harm the company's brand and its ability to seize the attention of talented professionals.
But What is Candidate Experience?
In simple words, it's the impression your company lays on the prospective employees or candidates through the hiring process. Starting from the job description till the hiring, applying a first positive experience is very important. Whether it's easy and non-cumbersome, the experience plays a decisive role in taking up the job or not.
What Defines A Poor Application Experience?
An application experience, if not seamless and uncomplicated, can be the first jolt for an employer branding. Clunky job application forms with repetitive information columns are surprisingly common on the career sites of good brands.
Study by SHRM shows that approximately 92% candidates click "Apply", but drop-off mid-way without completing the form.

According to the Talent Board, nearly 34% candidates in 2022 alone reported not hearing back from employers or HR managers.

Morgan McKinley stated that 78% of candidates have never heard back from the companies for feedback after being hired.
How Can Positive Candidate Experience Be A Game Changer?
Nearly 77% candidates will share their positive experience within their circle and potential customers.

Approximately 64% of people would apply again and increase the talent pool.

Almost 38% of the candidates are most likely to accept the job offer if they've had positive candidate experience.
Apart from these, a positive candidate experience can help enhance your business model in few other ways including:
Your company's positive brand should be your topmost priority. It is directly proportional to how you treat and value your candidates. Happy candidates can be your brand ambassadors, recommending the company to their friends and family, even when they aren't selected for the open job position.
Hence, aspects like the HRs response time and streamlined procedures strengthen the in-house professionalism and efficiency. In return, you may never know where the candidates post positive feedback for your company that'll further enhance the brand value.
Gives You a Competitive Edge Over Your Competitors
Offering a positive candidate experience will help you lay that first great impression on the top candidates, which will help you win over them, much before your competitors do. Professional job seekers always prefer a well-timed process, including informing them even if they are rejected. You can stop them from accepting the job offer from elsewhere if you, in turn, value their time and keep them informed throughout the hiring process. Don't forget that if a candidate must choose between multiple job offers, your brand's recognition can make the difference.
Enhance The Quality Of Hires
I think we've established that positive candidate experience can improve your image in the eyes of potential candidates. It, however, will not be wrong to say that with the happy candidates lined up, you can be sure that the talent pool will be skilled and knowledgeable. Plus, if the job application process is easy, the fear of losing good candidates will no longer be there.
Your journey towards a positive candidate experience starts with how easily a candidate applies on your company website's career page. Integrating the parser at the backend of your Oracle HCM recruiting Cloud systems would mean that:
First, the candidates won't have to go through the hassle to fill in the details already mentioned in their CVs. Applying to the job will be possible in less than 10 seconds,

The candidates leave with a feeling that their time is valued,

Your job application rate will increase,

The intelligent parsing solution for Oracle recruiting is engineered to automatically fetch 30+ data fields like skills, experience, qualification, education, and more. All the candidates will have to do is click apply,

Naturally, your prospective candidates feel valued and drop in for the interview first. A fast-hiring process is always valued by the candidates seeking a better job opportunity.
Here's a Synopsis on how Candidate Experience & Automated recruitment connect for Oracle HCM recruiters
A Quick Recap
Good candidates everywhere get hired in a maximum of 6-7 days. A well-structured and streamlined application process can pace your company's position a notch above the candidate's preference list. Candidate experience can be your company's reflection to the prospective candidates. It can automatically encourage the candidates to endorse your brand.
If you want to know more about the benefits of adding RChilli resume parser to your Oracle HCM platform, schedule a meeting with our solution expert.