Meet the Best Recruitment Solutions of 2018
June 05, 2018 by Admin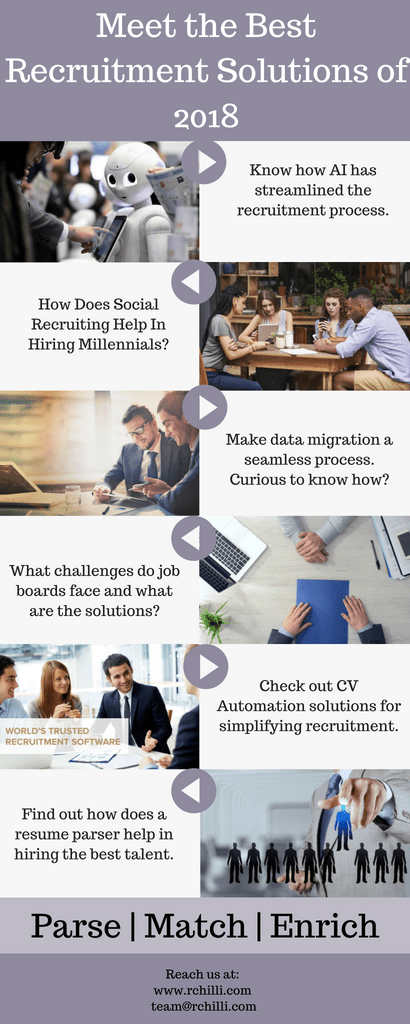 Majority of recruiters and HR professionals face a lot of challenges while recruiting candidates. These challenges are a significant barrier while achieving more productivity and better results. Let's have a look at them:
50 seconds is the time job seekers spend reviewing the job description before applying.
90% of candidates submit standard resume without any customization.
Source: edubirdie
In this article, we talk about six excellent recruitment solutions which will make a difference in your recruitment process.
Artificial Intelligence has completely revolutionized the recruitment process. It has taken charge of all lengthy and monotonous tasks performed by HR managers. Do you know how this technology has streamlined the hiring process? Check out how AI has caused a positive disruption in the HR industry.
This is the era of millennials. They are the most popular choice of companies as they are enthusiastic, socially aware and tech-savvy. As they have a strong presence on social media, this platform becomes the best way of approaching them. What is social recruiting and why it has become so popular while recruiting candidates? Check out our whitepaper to know the reason.
When recruiters want to shift data from one ATS to another or the cloud, they need data migration. An applicant tracking system must have an effective data migration feature. However, they face many challenges while going through this process. What are the problems and how can these be solved? Click to know.
Tired of sorting out resumes manually? Use a resume parser solution to get rid of manual intervention to speed up the recruitment process. What does a resume parser do and how will it help recruiters in choosing the best fit? Curious to know? Click here.
A Job board is one of the most popular sources for candidates as well as recruiters. But it has its share of challenges. Latest recruitment solutions are the right choice to overcome these loopholes. Click here to know which these solutions are and how do they help.
RChilli provides a wide range of recruitment solutions which can take this process to a new level. How do they help in getting relevant candidates in no time? Read to know which solutions does RChilli provide.