Introducing The Phenomenal Featured Speakers At Oracle CloudWorld 2022
October 13, 2022 by Aanchal Sharma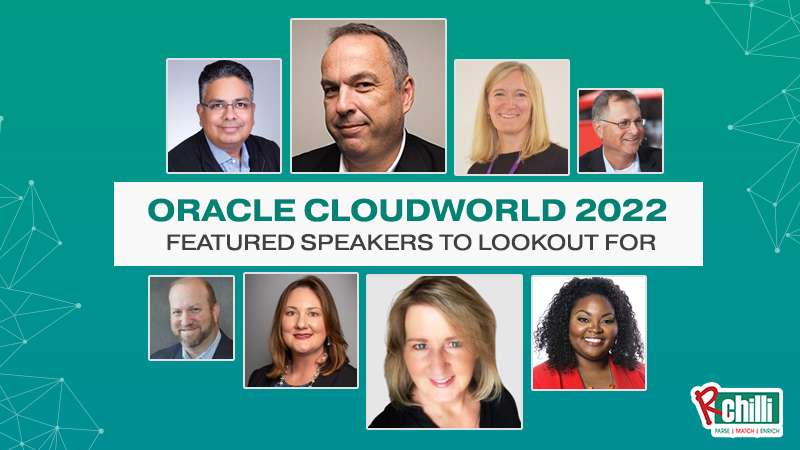 Oracle CloudWorld is just a few days away. Before the event kickstarts, we at RChilli bring you a list of featured speakers whose experiences and vision will enlighten the HR tech space and change how we perceive HR roles.
"Reimagining the role of HR," what exactly do we entail by this term? Is it the future of HR or the future of tech in HR? Whatever the perception one may carry, one thing's guaranteed, the future of the HR and recruitment industry looks promising where the silos within departments will lessen, paving the way for a coordinated and streamlined functioning, sowing the best results from the workforce.
This year, Oracle CloudWorld, brings an ensemble of speakers leading the way to better technology driven human resources. They are inventors, dreamers, visionaries, and doers, and they are ready to share their experiences, present their innovations, invigorate your imagination, challenge your conventional thought processes, and inspire you.
Here's a List of Oracle CloudWorld Evangelists:
Yvette Cameron is the senior vice president of human capital management (HCM) product strategy at Oracle. Before that, she co founded a blockchain-based technology firm and a non-profit industry consortium to create self-sovereign digital career credentials. She held prestigious positions at SAP SuccessFactors, Saba, Gartner, and Constellation Research. Yvette is also an international speaker on innovations in HCM processes and technology and the future of work.
Amit Chowdhary is the managing director and global head of people operations, analytics, and technology at BNY Mellon. He oversees the workforce planning, analytics, onboarding and offboarding, HR operations, payroll, technology, people experience, and data strategy. He has 13 plus years of experience in building new HR capabilities and scaling the existing operations at BNY Mellon, Visa, and HP to his credit.
Eric Cohen is the senior director of HR technology and Hilton. Leading the team, he supervises the core technologies that support HR, payroll, digital assistants, talent, absence, learning, and recruitment. With more than two decades of experience in implementing HR technology solutions, Eric is passionate about delivering unparalleled user experience via strategic HR technology delivery to the global team at Hilton.
Andrew Dennan heads the HR shared services for Synlait Milk and is responsible for talent acquisition, workplace experience, site security, payroll, HR information, and people analytics. Prior to this, he spent more than ten years working in the Middle East and Asia for some of the region's prominent businesses. There, he specialized in talent strategy and planning, IT transformation, HCM implementation, and data analytics. He has assembled, managed, and mentored high-performing teams in 22 countries.
Sheryl Johnson is leading PwC's technology consulting practices. He also heads the Oracle Human Capital Management practice for PwC, with more than three decades of experience deploying HR technologies in the Oracle space.
Caroline has more than 25 years of experience working with IT for the travel and transportation industry. She currently heads the technology corporate at Heathrow Airport, taking care of the back-office platforms and services. She was an important part of the airport's largest business transformation program, replacing the legacy, on-premises Oracle E-Business Suite with Oracle Cloud ERP and human capital management. Caroline's team is steadfast in improving the new cloud platform and Heathrow's business processes.
Chris Leone is the executive vice president of applications development for Oracle Cloud Human Capital Management. He takes care of the strategy, product management, development, and go-to-market functions that deliver technology-driven HR in the cloud to global users. Chris got associated with Oracle via its PeopleSoft acquisition while heading the product management and development activities for the company's financial and enterprise performance management product lines.
Tiffanie Lewis is looking after the people services organization at Diebold Nixdorf. Leading a team of 150 professionals, she is responsible for standardizing and globalizing HR technology and data to enable workplace flexibility, automation, and digitization. She was responsible for deploying Oracle Capital Management Cloud, leading the company's digital transformation. Tiffanie is also a corporate spokesperson and an ambassador for employee resource groups supporting diversity and inclusion.
RChilli team is all set to exhibit at the Oracle CloudWorld conference and discuss the incredible product features to the industry visionaries and contemporaries from Oracle Corporation.
RChilli proudly showcases its parsing solution engineered to help ERP recruiters streamline recruitment practices and enhance the candidate experience. Powered by deep learning, RChilli plans on showcasing how its multilingual resume parser facilitates objective-based hiring.
The ISO 27001:2013 and SOC 2 Type II certified resume parsing solution enriches the HR spectrum by helping organizations hire faster. Our AI-powered resume parser enhances positive candidate experience by enabling a better application completion rate and building a diversified team of skilled professionals.
If you are also attending the event, we'd like to have a personalized session at the booth.