Curated List Of 10 Must Attend HR Sessions in Oracle CloudWorld 2022
September 30, 2022 by Aanchal Sharma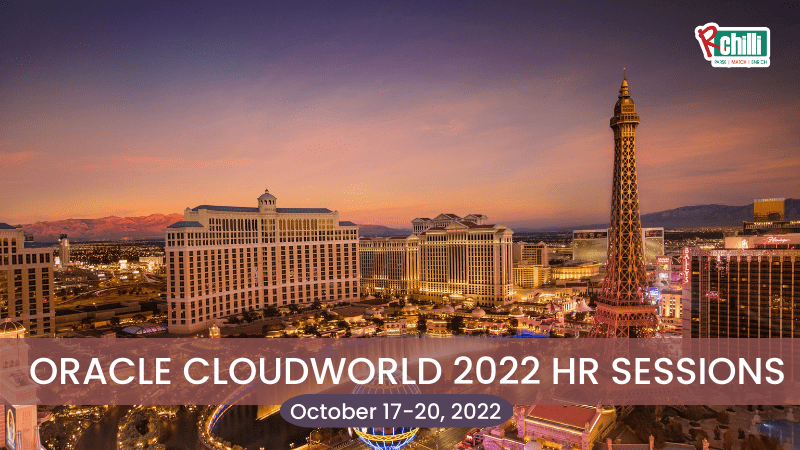 Oracle CloudWorld is around the corner. Here's a feature on ten speaker sessions by the industry visionaries. Catering to the human resources community, each session is aimed at inspiring the attendees to lead their organization in a better way!
HRs globally face the challenge to retain the best talent, offer a seamless employee experience, and pave the way to build a team of talented and skilled professionals. Oracle CloudWorld is back this year to shake up the world of HR. It's that time of the year where the HR visionaries get a chance to join the peers in redesigning and redirecting their HR strategies with Oracle Human Capital Management.
Spread across four days, October 17-20, 2022, the Oracle CloudWorld event is aimed at inspiring the attendees so that they can lead their companies into the AI-driven future.
We're bringing to you a first list of sessions revolving around the HR community.
A Future So Bright: Why the World of Work Depends on HR
By: Chris Leone, Executive Vice President, Applications Development
Session Brief: HR, an integral part of any business is focused on the future designed with employee experience and inclusivity. Focus on employee development has become paramount for any business to thrive. Oracle, hence, is dedicated to support the HR communities to design employee experience that matters. The session brings forth Oracle Cloud Human Capital Management (HCM) product development leaders who'll share the innovations that allows HR to deliver a brighter future of work. The attendees can expect to walk away with a better understanding of the latest solutions in HCM, how they tend to impact your organization, and what's in store for the companies in future.
When: Wednesday, Oct 199:00 AM - 9:45 AM PDT
Building a More Agile Workforce with Skills Insights
By: Chris Havrilla, Vice President Product Strategy, Talent Management
Joe Infozino, Managing Director, JPMorgan Chase & Co.
Session Brief: The future of work, from unanticipated crises to new work concepts, has considerably shifted and continues to vary. Streamlining them will ask for an enhanced level of agility. To do so, an organization's skills are the biggest assets. The session explores the in-demand skills for the work in the future along with a discussion on how to build a skills strategy that caters to the current and future business requirements.
When: Thursday, Oct 2011:30 AM - 12:15 PM PDT
Configure an Employee Experience That Scales with Your Workforce
By: Justin Knoerzer, Senior Product Strategy Director, Oracle
Session Brief: Human capital management system can require a lot of data entry- from setting employee profiles to payroll to managing performance. Therefore, scaling HR processes and managing HR quality data with a global team can be challenging. Understand how Oracle's Experience Design Studio automates processes to assist employees carry out HR tasks and customize their experience depending on the company policies. All of this, along with enhancing data quality for an improved HCM analysis.
When: Thursday, Oct 2011:40 AM - 12:00 PM PDT
Delivering an Employee Experience That Ignites Potential
By: Nancy Estell Zoder, VP, Product Strategy
Eric Cohen, Senior Director, HR Technology, Hilton
David Mallett, Senior Director, Hilton Hotels Corp
Session Brief: To perform better at work, an employee needs to belong to a culture that supports their professional growth, both inside and outside the workplace. Is your company's employee experience policy at par with the changing landscape? Dive into the latest trends redesigning the employee experience, discuss how to design a customized employee experience, and ascertain it can adapt and meet the employee's constantly changing requirements and expectations.
When: Tuesday, Oct 1811:00 AM - 11:45 AM PDT
Elevate the Recruiter Experience with Automation
By: Jane Veader, Principal Product Strategist, Oracle
Session Brief: Proficient talent acquisition teams believe in creating personal connections with talented candidates. Oracle recruiting is focused on offering deep capabilities that streamline user experience and lessen manual touch points while keeping in point human judgment. Find out the automation capabilities that can save the clients a great deal of time covering two scenarios: creating a requisition and navigating a candidate through the selection process.
When: Thursday, Oct 201:00 PM - 1:20 PM PDT
HR in Action: How to Spearhead Sustainability Solutions in the Workforce
By: Yvette Cameron, Senior Vice President, HCM Global Product Strategy, Oracle
Sheri Hinish, IBM Consulting Global Sustainability Services, Alliances, and Strategy Lead, IBM
Jay Chatterjee, Partner, NA Oracle HCM Business Leader, IBM CORPORATION
Steve Finlayson, Associate Partner & Oracle Hcm Cloud Leader, IBM United Kingdom Limited
Session Brief: Sustainability has become a corporate necessity, one that all the companies should embrace as a significant aspect of their company. Understand how as an HR professional, IBM and Oracle can help companies leverage Oracle HCM software to become a more responsible and profitable business. Explore IBM's thought leadership in sustainability and talent transformation and know how Oracle's green credentials can help companies become a sustainability enabler.
When: Tuesday, Oct 185:15 PM - 6:00 PM PDT
Keep Healthcare Staff Engaged Through HR Processes and Employee Experience
By: Justin Knoerzer, Senior Product Strategy Director, Oracle
Hubert Winter, Senior Director, Quest Diagnostics
Elina Petrillo, Northwell
Brad Fisher, Director, Baker Tilly US, LLP
Scott Laws, Atrium Health
Session Brief: Learn how to build talent management processes in healthcare that offer professional opportunities to clinicians and non-clinicians. The session focuses on staffing the clinical operations with flexibility and efficacy. Get to know how Oracle Cloud HCM helps manage people and payroll, hire quicker, build team plans, and improve continuously.
When: Wednesday, Oct 191:15 PM - 2:00 PM PDT
Knowledge Is Power: HR Trends Helping to Define the Future of Work
By: Lori Pierson, GVP HCM Transformation, Oracle
Chris Havrilla, Vice President Product Strategy, Talent Management
Sheryl Johnson, Partner, PwC
Session Brief: Reinventing the world of work is critical. This calls for you to be fast and be aware of the industry trends that impact you and your company. Join industry specialists for better understanding about the trends that drive the future of work.
When: Tuesday, Oct 184:00 PM - 4:45 PM PDT
Leveraging Data to Make Strategic Workforce Decisions
By: Guy Waterman, Senior Director, Product Strategy, Oracle
Naini Mandala, Vice President, Employee Services Center, Albertsons
Jim Rhodes, VP / SVP / EVP, Emerson
Session Brief: An organization is ruled by data, and it may prove to be challenging collating and assessing it. Let's dig deep not the current trends in people analytics and how the latest trends will transform the exhausting process, make it faster and more strategic to make the hiring decisions.
When: Wednesday, Oct 1911:30 AM - 12:15 PM PDT
Take Recruiting to the Next Level with Innovations for Oracle Recruiting
By: Jane Veader, Principal Product Strategist, Oracle
Scott Wardlow, Chief Technology Officer, Jpmorgan Chase & Co
When: Recruitment teams experience a plethora of challenges from all directions- from managing engagements and building relationships with candidates, to working with technology stack that can affect work efficiency- both positively and negatively. Join the industry visionaries who talk about the latest innovations that can enhance Oracle recruiting experience.
When: Wednesday, Oct 191:15 PM - 2:00 PM PDT
RChilli team is all set to exhibit at the Oracle CloudWorld conference to showcase our product features and learn from our visionary contemporaries from Oracle Corporation.
RChilli proudly showcases its parsing solution engineered to help ERP recruiters streamline recruitment practices and enhance the candidate experience. Powered by deep learning, RChilli plans on showcasing how its multilingual resume parser facilitates objective-based hiring.
The ISO 27001:2013 and SOC 2 Type II certified resume parsing solution enriches the HR spectrum by helping organizations hire faster. Our AI-powered resume parser enhances positive candidate experience by enabling a better application completion rate and building a diversified team of skilled professionals.
If you are also attending the event, we'd like to have a personalized session at the booth.