Why Is It Must to Attend HR Tech Events?
May 16, 2018 by Admin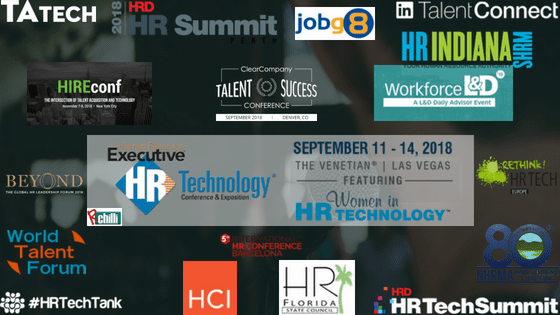 If you are a part of HR technology marketplace, you must be aware of HR tech events. They provide a platform where you get a chance to meet and interact with HR tech vendors, investors, HR practitioners, industry leaders, thought leaders and other HR professionals. These conferences are organized across the globe every month. Some of the most popular events are HR Technology Conference, HRTechTank, SHRM HR Tech Conference and many more.
What Happens at HR Tech Conferences/Events?
The main aim of organizing these events is to

connect professionals

who work in HR technology space,

educate them

about latest industry developments and

promote

those who are making or have made a mark in this industry.
You will witness the most

promising HR Tech companies

. They use this platform to showcase their products to the attendees.
At many events,

startups get a chance

to tell the world what their company is all about. It is an excellent platform for them to

exhibit their products

to relevant audience.
Take an experience of

live demos, seminars, workshops, webinars, workshops, virtual reality

.
Looking for better HR tools? Get exposure to new

recruitment analytics tools

being used for streamlining the recruitment process.
Get a chance to build a network of professionals or

create contacts

which are helpful to your business.
These events help you in

creating a marketing strategy

. Planning a promotion at these events will surely fetch you better revenue.
Latest

industry trends

are always on the list. Every event makes sure to cover topics like AI, chatbots, gamification, mobile, analytics and much more. Staying abreast of the current trends is an eye-opener for new professionals.
If you want to enrich your knowledge as well as increase your business, making your presence felt at HR events would be the best choice.
Want to get detailed information about these events? Check out this comprehensive guide to HR Tech Events and Conferences of 2018. It will give you insights into the events along with the dates. With a complete list in hand, you can easily make a travel plan for the entire year to attend the events.