The front runner in resume parsing service, Rchilli has taken resume management beyond parsing. Now with just resumes, they can Connect you to 1000's of social profiles available, Search-Match the best fit via Semantic, makes your passive talent active again by Update. And all that in a single workflow via One Click.
Gurgaon- August 22, 2014 – Rchilli, A CV Automation Company, is offering premier solutions to ATS, Job boards, Recruitment Software and other Staffing firms. Extending its services from Resume Parsing (core), now it offers a full fledged CV Analytic system.
This new feature makes your recruitment coherent and aligns with your Organizational goal i.e. to compete for the best talent available and hire them first.
To assimilate all this at the entry level and finding the best fit is never easy. Rather we choose to automate stuff so that our recruiters can make timely decision based on data not on intuition alone. In a way more gets done in a really quick time. This is War for Talent. Now read, how we make it possible.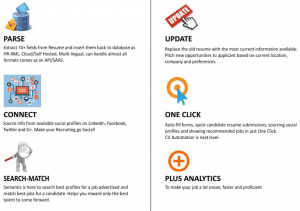 Launched in 2009, RChilli resume parser has fast grown into one of the most cost-effective and versatile CV Automation solutions available today.
RChilli is presently being used by over 700+ companies across 20+ countries, it supports 29 international languages, Euro-pass format of resumes and provides an extensive list of output options in CSV, xml, Sql, oracle, Sugar CRM, Zoho Recruit, Hr-XML and more...
About Rchilli
Rchilli gives you the next level of resume management; complete automation in managing resumes (fetch, Parse, store), Connecting to candidates social profiles & empowering you with Search and Match technologies to skim the entire resume database in just One click to get the best man on job. Plus on demand Analytics to make your Recruiting look more advanced, easier and proficient keeping the fun part intact. An efficient solution for Staffing and Recruitment software's to escalate hiring, lower costs and provide quality as competence.
Contact: sales@rchilli.com
Phone: 1-877 572-7737, +44 203 514-1181
Vinay Johar
Founder & CEO, Rchilli Inc.
2603 Camino Ramon, Ste 272
San Ramon,CA, 94583, USA