In order to strengthen our multilingual capability, RChilli now adds the Korean language to the list of languages supported by our resume parser.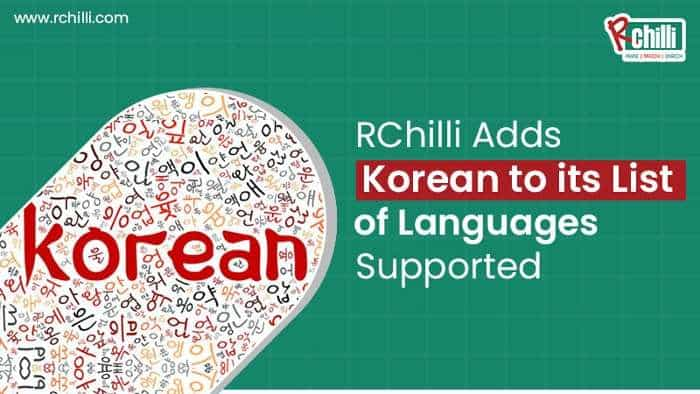 With this addition, RChilli can serve its solutions to the Korean market and help them experience the power of automation in the recruitment process. Though the HR Tech industry is brimming with advanced technology, parsing in the Korean language is still challenging for many resume parsers. However, after rigorous testing, RChilli can now parse in Korean with perfection.
It is good news for RChilli users because an expanded multilingual functionality of an HR Tech product can result in global hiring. The company is already parsing in 30+ languages. This new addition will certainly bring remarkable results to the users.
Apart from Korean, RChilli provides full parsing in these languages:
English
German
Polish
Portuguese
Dutch
Japanese
French
Spanish
Turkish
Italian
Chinese (Simplified)
Russian
And a total of 25+ languages

Talking about this addition, Inder Pal Singh, Sr. Director-Development, said, "Our motto at RChilli is to help the users parse resumes with ease and accuracy. Though we parse in 30+ languages, we keep on adding new ones to meet the future needs of our users. Our multilingual functionality ensures that we reach every nook and corner of the world to help the recruitment industry experience the benefits of automation. Adding Korean to our list of languages supported is one such initiative that supports our purpose."

Visit https://www.rchilli.com/languages to learn more about the languages supported by RChilli resume parser.

RChilli Inc

RChilli is the trusted partner for parsing, matching, and data enrichment, providing companies, in 44+ countries, with solutions built for the future of technology and recruiting. RChilli's innovative products, backed by an industry-leading tech stack, power the processing of 4.1 billion+ docs a year for 1600+ top global recruiting platforms. Enabling companies to hire better talent faster since 2010, RChilli is ISO 27001:2013 and SOC 2 Type II certified and GDPR compliant. RChilli is also a proud partner of Salesforce, Oracle PeopleSoft, and Oracle HCM Cloud.
Source: OpenPR