A Recap of HR Tech Xpo, San Francisco 2019
July 23, 2019 by Navjot Kaur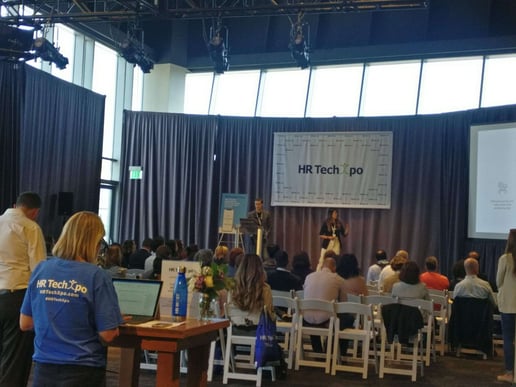 On 18 July, 2019, San Francisco witnessed an interesting event which focused on solving human problems at work with the help of technology. HR Tech Xpo provided a great chance to meet industry leaders, HR generalists, and software vendors. The event gave excellent exposure to those who were looking for the latest developments in HR Technology.
To give you a brief, HR Tech Xpo is a wonderful platform where HR professionals and exhibitors can meet each other face-to-face and explore the aspects of the cutting-edge technology.
It was an incredible learning experience. Each exhibitor was having a specific booth dedicated to his company/product. Startups also made new product announcements, which will inevitably bring changes in the industry. Thought-provoking sessions and presentations formed a unique part of the event. It was quite exciting and inspiring to listen to HR industry speakers who shared their vision and experience. Well-planned breaks were there in between the sessions, which provided an opportunity to build networks.
Vinay Johar, CEO of RChilli, also attended this conference. RChilli is a recruitment analytics solution provider which provides parsing, matching, and enrichment to every recruitment management system. It captures, manages, and analyzes resume data with its innovative solutions.
It was great to see how HR technology companies are emerging and talking about their products. The massive hit was the private demos in which companies provided a detailed understanding of their product and services. The pitch competition was the limelight of this event as it grabbed the attention of all attendees.
Attending this event meant gaining in-depth knowledge of emerging technologies and optimizing the success of your organization. Speakers focused on a variety of subjects, including AI. Due to the adoption of AI in HR, you can see speeding up of tasks.
This conference has provided a great way to build networks and share your opinions on a single platform.
To sum up, the HR Tech conference was a great learning experience. We are waiting for the next year to come so that we can again gain experience from HR technology expo.
Did you attend this event? Share your experience with us.