Enhance Your Resume/Job Searching Capability with Taxonomy 3.0
January 20, 2022 by Vinay Johar
Have you ever wondered how you can find more relevant resumes for a job position?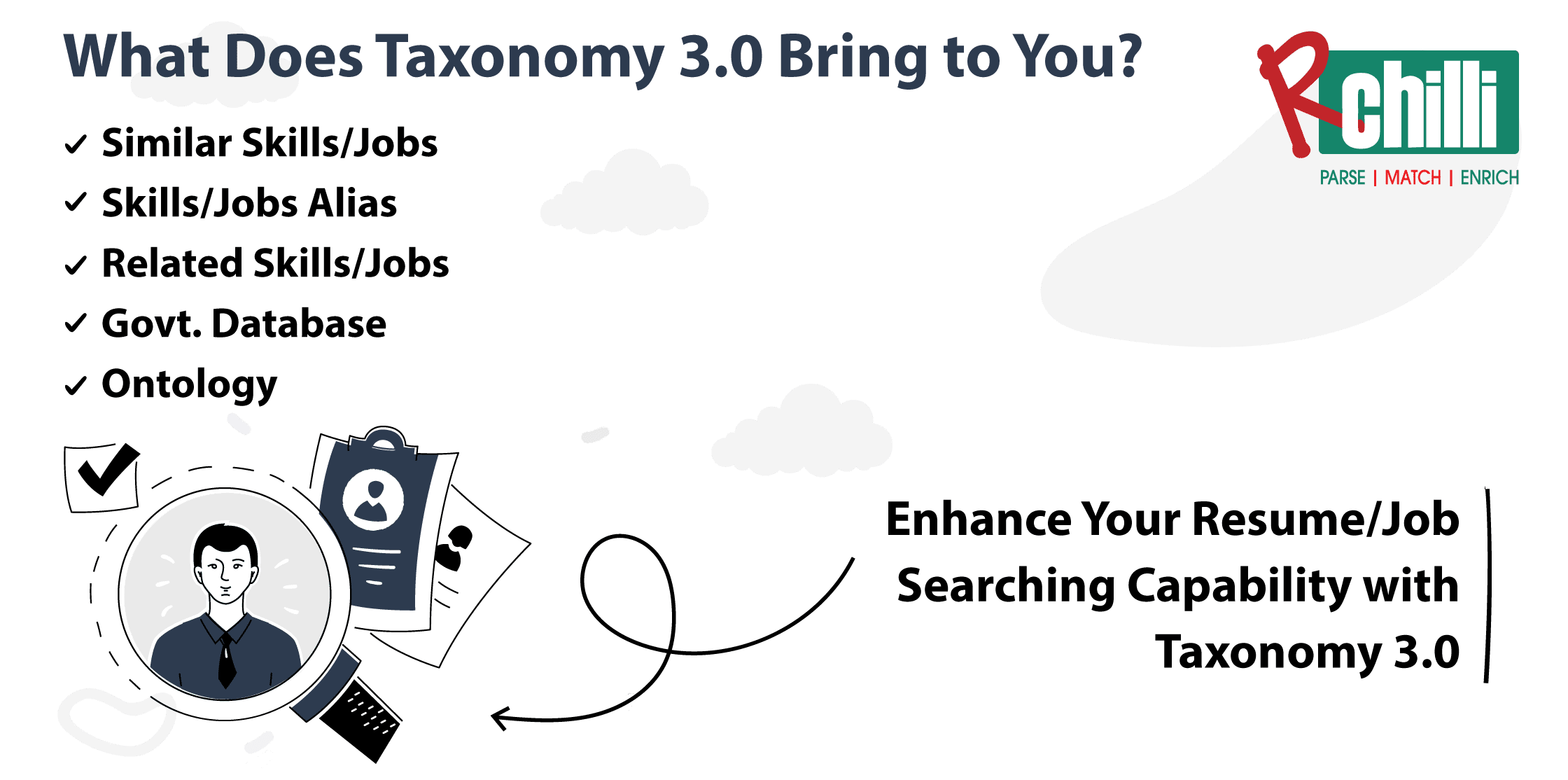 The answer is our latest product, Taxonomy 3.0.
Taxonomy 3.0 is a new version of RChilli's skills/job title taxonomy. It is designed to improve the resume/job searching capability of the users. The users can also build a pipeline of skills/jobs that they might need later.
Talking about the use cases, Taxonomy 3.0 is all set to bring a remarkable change in the way the search engine works. It offers a collection of skills/job profiles and their related information. Rightly put, it is a comprehensive library of skills and job profiles that is spread across dozens of industries and domains with unlimited individual concepts.
What Can You Do with Taxonomy 3.0?
Create or build better search engines.

Create a job description through related information of job profiles.

Experience an amazing improvement in Solr/Elastic search engines.

Show the recommended skills/job titles to recruiters/candidates and improve the user experience.

Organize your resumes with Ontology
Our taxonomy is a booster for both our resume parser and Search & Match Engine as it is used in resume/job extraction as well as during the searching/matching of resumes and jobs. Skills/job alias offer multiple keywords. Instead of using one keyword to filter the resumes, the matching technology makes use of these keywords to offer the relevant matches for resumes/jobs.
What Does Taxonomy 3.0 Bring to You?
Similar Skills/Jobs- Users can create extra tags in search engines with similar skills/jobs.

Skills/Jobs Alias- Get recommended skills and job titles with skills/jobs alias.

Related Skills/Jobs- Enhance your search results by getting keyword recommendations through related skills/jobs.

Govt. Database- Taxonomy 3.0 can easily map with local govt databases.

Ontology- It is the step-by-step classification of skills/job profiles. Use it to set a standard for storing resumes/jobs.
At present, our taxonomy offers 9,00,000+ Skills and 5,50,000+ Job Profiles. Another unique feature of Taxonomy 3.0 is that it allows users to define their own taxonomies.
Would you like to know how Taxonomy 3.0 can help you find the right fit?