Top 7 HR Tech Influencers In Europe To Connect And Follow
October 18, 2022 by Rohini Sood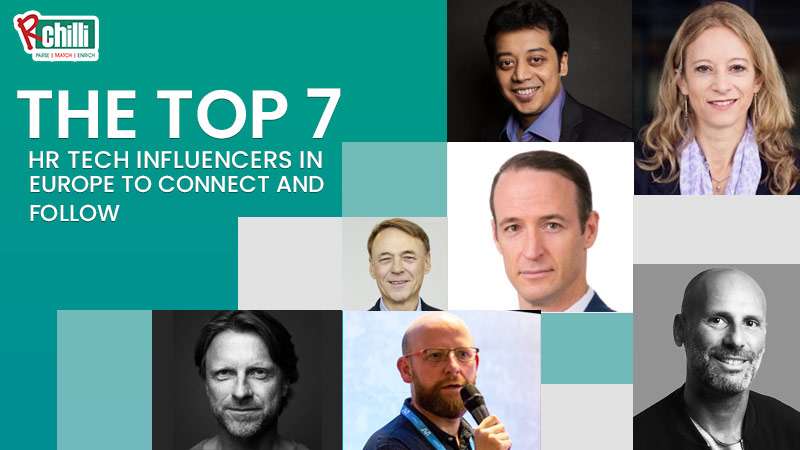 This article will look at the top 7 European HR Tech influencers who have made a mark for themselves in the recruitment and HR domain.
Why should you follow HR Tech influencers? Because:
They provide you with job-search advice...
If you are looking for a job, an HR Tech influencer can advise you on job search, writing a resume, and cracking the interview.
They assist you in locating suitable possibilities...
Many HR Tech influencers publish opportunities on a daily basis, and some may even be interested in suggesting you for a position if they believe you have the necessary skills and expertise.
They keep you up-to-date...
Follow HR Tech influencers to stay abreast of hiring trends. HR influencers set new industry standards and provide best practices for overcoming recruiting issues.
A fantastic networking opportunity...
Following influencers is a fantastic way to engage with them and their network. You can comment, ask questions, attend seminars, and participate in HR-related activities to meet like-minded individuals and expand your circle.
Here are the top 7 European HR Tech influencers changing the recruiting paradigm and redefining the hiring standards.
Soumyasanto is a well-known name globally and has over 20 years of expertise in advisory, management, and research in technology and transformation (people and organizations) across various business organizations. He is also:
Author of "Digital HR Strategy" | Keynote Speaker

Known as a Top Influencer and Thought leader in Digital HR, HR Tech, Transformation, People Analytics, and the Future of Work

He has a strong experience with people and digital HR strategies, talent & workforce management, employee experience, leadership development, automation, analytics & planning.

He has led the implementation of SAP SuccessFactors, Workday, SAP HR, Mobile solutions, and analytics solutions.

Mentor for Start-ups and Accelerators, Experience with Research
Soumya is also the Founder of People Conscience. He provides advisory, research, mentorship, and coaching to start-ups, entrepreneurs, leaders, and organizations to create a better and sustainable future by adopting innovation and transformation with the right mindsets. His experience includes working on the following:
- Management Advisory
- Digital Strategy and Transformation
- HR Transformation and Innovation
- HR Technologies | AI in HR | Cloud | HRIS
- Future of Work, Work Revolution
Simon is the Global Talent Acquisition Director at TE Connectivity. Having a wealth of experience, he has 20+ years of large-scale international recruitment experience across multiple domains, including technology, start-ups, multinational corporations, banking, and finance.
Before joining TE Connectivity, he served in various positions at Philip Morris International.
He has in-depth knowledge and expertise in the following:
Talent Acquisition Operations Setup and Implementation

Tradeoffs of InSourcing and Outsourcing (RPO)

Assessment and Procurement of Talent Acquisition Technologies
He has worked in emerging markets in Africa, Asia, Eastern Europe, and Latin America and spent significant time in New York, London, Hong Kong, and Dubai.
Mervyn is an award-winning talent acquisition analyst and recruitment blogger who regularly writes for several HR and recruitment technology sites. He has attended various recruitment, HR, and technology events in the US and Europe. He is a speaker, panelist, and chairman at several industry conferences.
A professional recruiter with many years of expertise in finding personnel for top organizations in the private and public sectors, emphasizing HR, Marketing, and Finance. His achievements include:
Top 100 HR Tech Influencers - HRE

Top 100 HR Influencers - Engagedly

Sage UK Top 10 Global Business Influencer

Top 50 HR & Recruiting Thought Leaders - Glassdoor

Top 50 Social HR Experts - Huffington Post

Recruitment Blog of the Year Winner - UK Recruiter
Anita Lettink is a Partner at Strategic Management Centre. She is also the founder of hrtechradar.com, where she assists HR firms in reaching their full potential and advises VCs on investment decisions.
She has spent over 20 years in consulting, corporate, and senior leadership roles with some of the world's greatest enterprises.
Anita shares thoughts and opinions on the future of work and compensation as a keynote speaker, covering the changes that web3 and the metaverse will bring. Her awards and accolades include Top 25 Global Thought Leader on the Future of Work, Top 10 HR Innovator, and a Top 100 HR Tech Influencer.
Before her current role, she held strategic positions at NGA Human Resources, an Alight company.
Alexandre Pachulski is the Co-founder of Talentsoft. The European pioneer in cloud apps for human capital management believes that it can assist businesses and organizations in identifying and showcasing their exceptional skills.
Alexandre has over 15 years of expertise in HR and IT. He headed a management consulting business for 8 years before founding Talentsoft. He has written many books on HR and has his own YouTube channel, "Talents of Tomorrow."
Pachulski received the French Golden Mouse award in 2015 for his blog, "Les Talents d'Alex," which focuses on talent management. He earned a Ph.D. in Artificial Intelligence from Paris-Dauphine University.
Alan is the Co-founder of Udder, HR Tech Consulting, and Advisory. He has over 15 years of experience in talent, Recruitment, and HR leadership roles. He is the Co-host of the Talent Intelligence Collective Podcast.
He has led firms that provide people services and strengthen internal recruiting, talent, and HR teams for various enterprises ranging from start-ups to FTSE100 companies. Alan is a proponent of using suitable technology to automate and accelerate firms' talent activities.
He assists talent leaders in identifying areas for improvement, selecting appropriate solutions, developing business cases, and ensuring high levels of adoption.
Gero is among the foremost experts on employer branding, recruiting, new work, and HR start-ups. Since 2009, he has been offering inspiration for a better working world through his numerous award-winning blog and podcast SAATKORN
He is the author and co-editor of "Perspective Change in Employer Branding" and a co-author of the best-selling "Practical Guide to Social Media Recruiting."
Gero was named one of the "Top HR Influencers" in the DACH region in both 2020 and 2018, and he has been nominated multiple times for the list of "40 top minds in human resources." He was named "Best Innovator Social Media Personnel Marketing" numerous times.
Gero Hesse is the Managing Director of Territory Embrace, one of the DACH region's prominent employer branding, personnel marketing, and recruitment firms.
About RChilli
With a client base of over 1600 global recruiting firms in 44+ countries, RChilli is redefining technology and recruitment with its solutions built for the future. Our innovative solutions – resume parser, search and match engine, taxonomy, and resume redactor help organizations screen and match candidates without being biased in their judgment.
RChilli is ISO 27001:2013 and SOC 2 Type II certified and GDPR compliant. RChilli is also a proud partner of Salesforce, Oracle PeopleSoft, and Oracle HCM Cloud.