Highlights - HRTech 2021 Conference
August 23, 2021 by Rohini Sood
The most awaited - 2021 edition of the HRTech Conference will welcome many attendees, exhibitors and innumerous hours of networking and interacting spread across 4 days.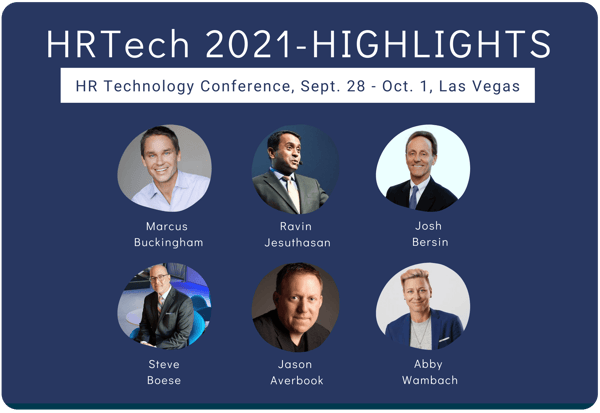 About the 2021 HRTech Conference
The HR Technology Conference 2021 is a leading HR technology event that brings together members of the HR fraternity from around the globe. The industry giants will discuss their mantra on hiring solutions and making HR strategies innovative and successful.
Why

should

YOU be there?
The 3 primary reasons to attend HRTech 2021 are:
Direct Access to the Industry Leaders

Unmatched Networking Avenues

Exclusive Research Insights from Industry Bigwigs
Event Insights
HRTech 2021 has lined up some of the finest brains of the industry to highlight the strategies and solutions vital to HR success. Below is the list of event speakers:
How HR Leaders Can Change the Game | Abby Wambach
The two-time Olympic gold medalist and New York Times best-selling author, Abby, will share her notes of dedication and grit on leadership, teamwork and succeeding in today's cut throat environment.
The HR Net Promoter Score From ADP Research Institute | Marcus Buckingham
Marcus is New York Times best-selling author. Watch him as he discusses primary factors of improved net promoter score (NPS) and how contemporary HR technology can influence it.
The Great HR Reset and Reinvention | Ravin Jesuthasan
Ravin is at the forefront of several research projects on the global workforce and artificial intelligence. His address for 2021 HRTech will include learning methodology for future-ready high-functioning HR organizations and how digitization will change/impact the functioning of HR.
Ideas and Innovators in HR Tech - 'All Star' Edition | Steve Boese
Steve is the Program Chair and host of the HR Technology Conference. Hear him talk to the mavericks of the HR industry as they present their ideas on the ever-evolving HR scenario.
After 18 Months of Disruption: Reinventing Organizational Purpose for the Future | Jason Averbook
CEO of LeapGen, Jason, will share his outlook on capitalizing on HR data for a broader spectrum and how data-driven business decisions can be beneficial.
HR Technology Reinvented: The Big Shift Towards Work Tech | Josh Bersin
Josh Bersin is a renowned name in HRTech and was named one leading HR and workplace industry analyst globally. In his address, Josh will give insights on changing focus towards skill-enabled HR team design.
In his latest published report on HR Tech Market 2021, Josh Bersin states that Organizations need AI-driven platforms to focus their integration and data management efforts. We resonate with him and second his opinion on using intelligent algorithms to leverage data and tools to make smart recruitment decisions.
In this report, Josh highlighted the role of AI in HR technology and acknowledged how AI assists in finding the applicants and identifying patterns of bias and discrimination.
TeamRChilli@HRTech
RChilli is exhibiting at the HR Tech Conference, Las Vegas, at
Booth No. 5507 from Sept. 28-Oct 1, 2021
We are at the forefront of the HR automation industry and offer perfect solutions to ATS, job boards, enterprises, and staffing agencies. Our products include: Resume Parser, Search & Match Engine, Enrichment, Taxonomy and Data Migration.
Recently, we announced our presence on the Salesforce AppExchange and Oracle Cloud Marketplace and received adulation globally.
Unlike last year, when the Conference took place virtually, this year, the attendees will participate in one-to-one discussions and visit several expo booths.
For all those attending the event, drop by at our booth no. 5507 and we'll be glad to meet you. You can also pre-book a slot for a personalized session at the booth.