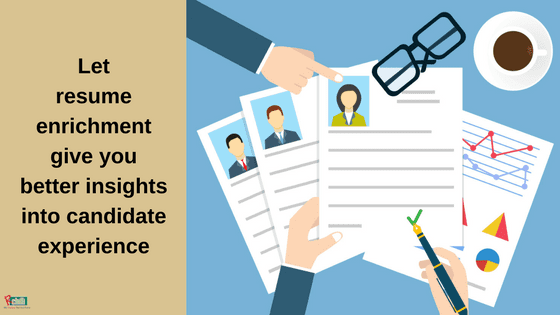 Hiring a candidate has always been a challenging task. With automation, the recruitment process has not only got streamlined but has become much more effective and productive. Resume enrichment has given recruiters the chance to make a better judgement about the candidate.
An intuitive recruitment analytics solution, it has given a new dimension to recruitment. It provides a combination of candidate social information, experience, network, behavior and company insights. As this solution widely makes use of social media to get an updated and authentic information about candidate, it is also popularly known as social recruiting.
But do you know that resume enrichment offers much more than just updated candidate information? Yes, it does. Apart from getting an understanding of candidate's job changing behavior and work experience, recruiters can know more about candidate's company. Getting details about the address, location and headcount of a company enhances the search results. This increases the chances of getting quality candidates. Thus, you will get complete detailed information about the company candidate worked in and not just its name.
This aspect is quite appropriate to consider before taking a decision about the right fit. For example, a candidate has worked for a startup. Details will show where the company is located and how many employees does it have. This helps you in judging in what kind of setup the candidate has worked in. There is no need to carry out a separate search to know about the company. You will get every detail at one platform. Another worth-mentioning benefit of this feature is that as a recruiter, you can add a filter in your search for the company. And get the company's information with just a click.
Resume enrichment has brought one-click engagement into practice. Its multiple benefits have simplified recruitment for recruiters. With a complete elimination of doing background checks and searching about the company, recruiters are able to close jobs in lesser time and enhance their overall productivity. The time span of hiring a candidate is reduced which helps recruiters in focusing on other important strategic activities. After all, a systematized process is what a recruiter wants.