#HRTechTank NYC Experience - Your Way To Success
June 12, 2017 by dev
Topics: Cloud Technology, Culture and engagement, Enterprises, HCM, HR Startups, HR trends, HRTech, HRTechTank, HRtechnology, SMEs
New York was even more vibrant and exhilarating than usual on June 1st, thanks to HR Tech Tank New York held @Rise New York. The venue was as spectacular as the event itself being a global community for startups and corporates.
The most promising HR Tech companies of today were lined up enthused to bring forth their innovations towards investors and industry thought leaders.
The leading industry experts thought leaders from the major and emerging HR Tech companies got together to connect and share their ideas.
The high caliber industry speaker's thoughts were genuinely inspiring and insightful. It was refreshing to hear so much variation in the themes covered by a diverse range of speakers.
In addition to that, there was also ample amount of networking time in the middle of the sessions.
The event was interactive and stuck to the timetable which is important when there are so much to cover and so many great speakers to hear from.
Let's also thank our Twitter feed for saving highlights from the event and providing us with a recap for all those who couldn't make it to this event but still want to be a part of it.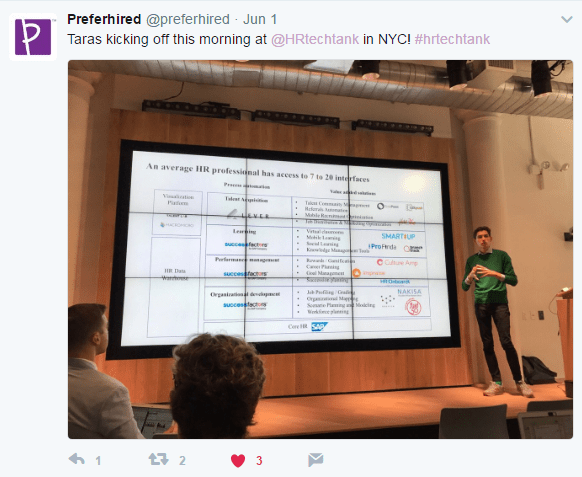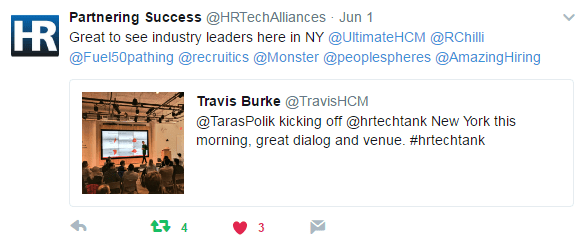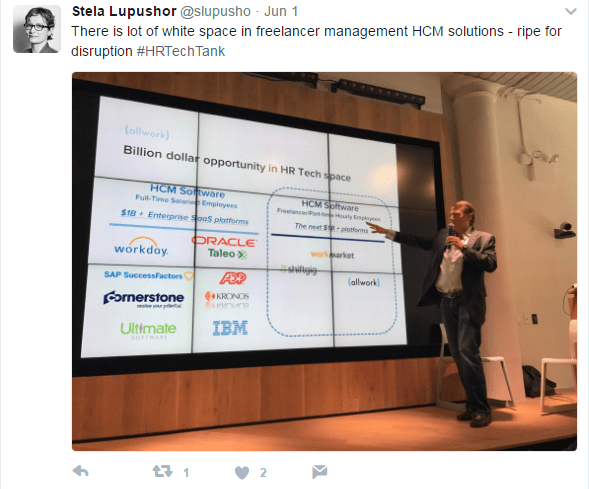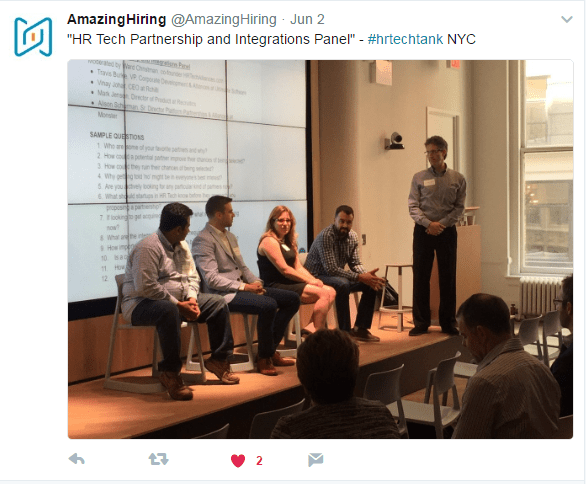 People Sphere's founder and CEO, Philippe Bloquet spoke about coming together of all HR services, a one-stop shop on a free platform for SMB companies and how it is changing the employee engagement within companies.
Alison Bloom-Feshbach, CEO Know Your Crew stressed on the relationship science of breadth and depth for team building.
Preferhired figured a smooth way to find talent through referrals and use the power of networks.
HR tech partnership and integrations panel members included Travis Burke, VP at Ultimate Software, Vinay Johar, CEO at Rchilli, Mark Jensen, Director of Product at Recruitics & Alison Schurman, Sr. Director Platform Partnerships & Alliances at Monster. All the members shared insights on the changing HR integrations and app marketplace.
Vinay Johar stressed on the burgeoning course of integrations in technology with companies like Zapier, Workato, Microsoft Flow, IBM BlueMix and many more entering every day.
The ones who attended the event were undoubtedly motivated to move forward as HR professionals rethinking HR and technology to exceed employee expectations and succeed in business. We are sure that HR Tech Tank will continue to bring the industry together for growth & expansion like it always has.
Do share your key takeaways from the event or what more would you like to see there at team@rchilli.com