Is Search & Match the Answer to Finding Perfect Candidate?
April 12, 2022 by Navjot Kaur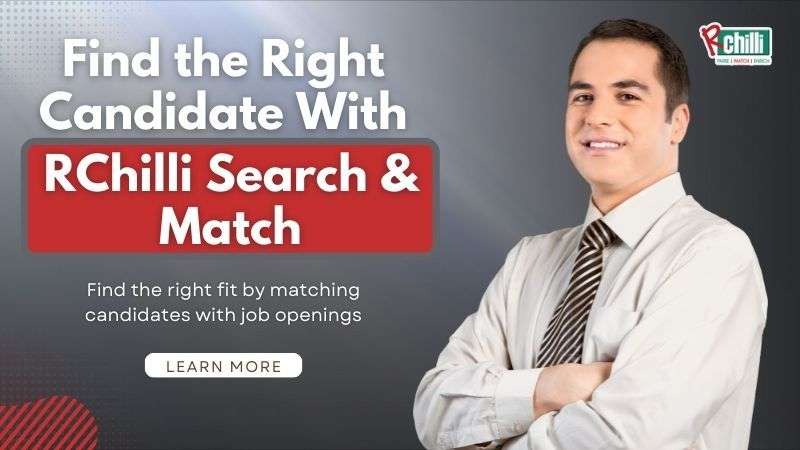 Where does your search for the right candidate stop?
Do you have the right tools, solutions, and strategies in place to achieve your goal?
Are you using the right technology to grab the right fit?
Let's explore the power of Search & Match.
Get the power to match candidates with job openings to find the best fit. The matching technology helps choose the right candidate through synonym matches related to skills/ competency, domain, location, tools, education, and job title.
I am going to write about two perspectives in this article:
How Search & Match Helps Recruiters?
How Search & Match Helps Candidates?
How Search & Match Helps Recruiters?
Recruiters want to find quality talent faster.
What if the selected candidate doesn't show up or rejects your job offer?
Going through the entire candidate shortlisting and selection process is tiring and time-consuming.
Search & Match provides:
Resume to Resumes that brings similar candidate recommendations matching a specific resume.
Job to Resumes that brings more candidate recommendations for a job position.
Benefits:
With quick candidate recommendations, recruiters do not need to search for candidates repeatedly.
They save time and invest it in other activities.
They close more jobs quickly.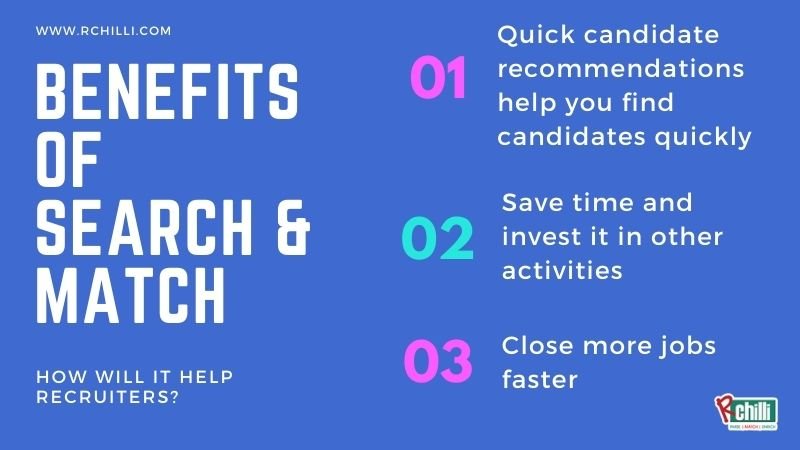 How Search & Match Helps Candidates?
The best solution to attract candidates to your job position is to provide a positive candidate experience.
Lengthy job applications make candidates switch to another website. Especially the generation of millennials and Gen Z expects short processes that do not take much time.
While a resume parser saves candidates' time by fetching resume data and filling the data fields automatically, search & match reduce their search time.
It provides:
Resume to Jobs matching brings more job recommendations to a candidate.
Job to Jobs matching brings similar job suggestions for a job search.
One of the exciting features of Search & Match is that it helps candidates refine their profiles. For example, suppose candidates search for a 'Software Developer' job. In that case, they can see similar job profile alias such as Software Programmer, Software Engineer, etc., and add them to their profiles to increase their chances of getting selected.
Benefits:
It broadens the scope of job search. Candidates will get the matching recommendations and do not have to search for jobs again.
It fastens the job search process.
Quick job recommendations save their time.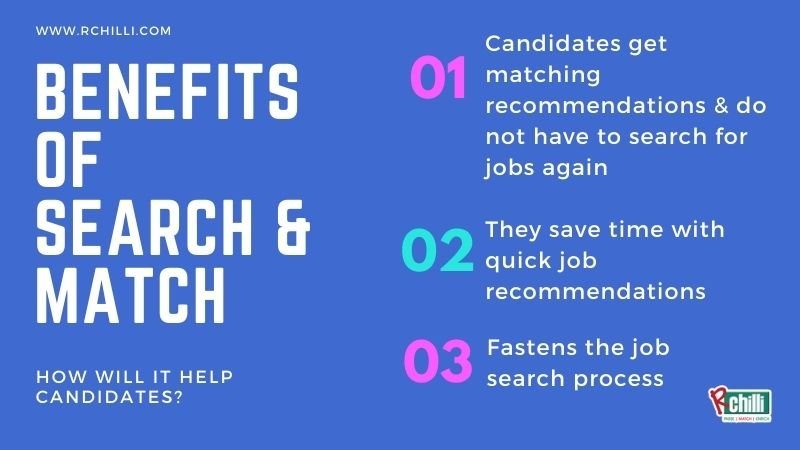 The matching technology has the power to bring a transformation in the recruitment process.
Would you like to know more about our Search & Match Engine? Schedule a call.
You can also directly visit our RChilli MyAccount and explore the opportunities yourself.