Know Our Employees-Meet Inder Pal Singh
October 29, 2020 by Navjot Kaur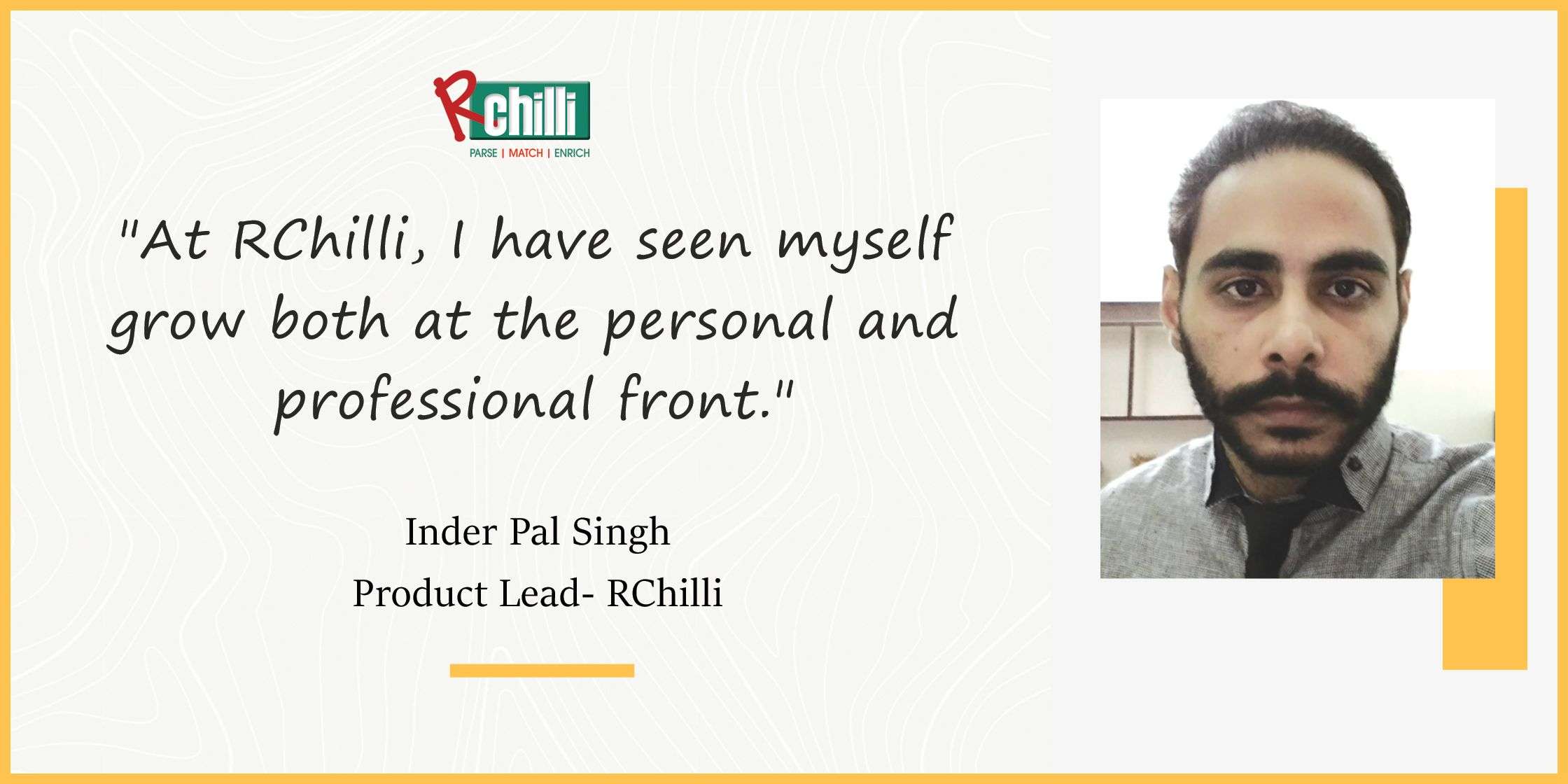 You must have read our articles in our recent series, Customer Speaks. These articles talk about why our customers love RChilli.
Now, we are starting another series called 'Inspiring Employees'. The name is perfect because our team is the reason for our success. The articles for this series will revolve around the journey of our employees at RChilli and how they work to help RChilli achieve milestones.
Today we talked to
Inder Pal Singh, Product Lead-RChilli
, about his experience at RChilli.

1. What is your role in RChilli?
I work with RChilli as Product Lead. My job profile involves planning new product features, optimizing code, bug fixing, accuracy enhancement, and data entry. As a part of the technology team, I need to make sure that we create future-ready products for our users.
2. For how long are you working with RChilli?
It has been more than 12 years at RChilli.
3. What made you join RChilli?
I joined RChilli because of its core values. I had no idea about the core values before joining. But when these were introduced to me, I could recall and see their reflection in my interview and with each team member I interacted with before joining. And this experience made me join the company.
4. What factors do you consider while creating a product?
We usually follow four rules when conceptualizing a product:
It should be easy to use.
It should give accurate results.
It should be simple to integrate.
It should have low latency.
5. How does the technology team bring creativity and innovation into the product?
We ensure to make our product as versatile as possible. This is done by:
adopting new and latest technologies
welcoming ideas from team members
giving team members the freedom to implement new ideas without fear of failure
making each team member accountable for their responsibilities
showing faith in teamwork
6. How do you ensure that you create a world-class product?
We are committed to offering perfect services to our customers. At RChilli, we give priority to our customers. We believe that a world-class product is the one that has a higher client satisfaction rating. Our clients love our intelligent solutions like Resume Parser, Job Parser, Search & Match Engine, and Taxonomy.
Our goals include providing quick resolution to the clients, and adding more automation in the processes, right from integration to support.
7. What does a regular day at RChilli look like to you?
My regular days at RChilli are exciting because I have a lot to do at work. It starts with a daily stand-up team meeting where we set and check our daily targets. Other tasks include implementing new ideas to enhance our products, addressing client queries, and keeping track of our goals.
8. What makes you stay with the company for so long?
I never thought I would spend more than a decade with a company, but I am very attached to its core values. RChilli stands tall today because of its core values. With mentors like Vinay Johar, CEO-RChilli, I have seen myself grow both at the personal and professional front.
9. How do you visualize the future of RChilli?
I have seen RChilli growing since the day I joined. The journey has been like a rollercoaster ride. The future is going to be extremely exciting for the company, and I have already fastened my seatbelts. I want to see RChilli having its development offices across the globe.
We are proud to have Inder as our team member. Talk to us if you want to know more about our company culture and share your thoughts.