Promising Better Data Security with ISO 27001:2013 Certification
March 22, 2021 by Vinay Johar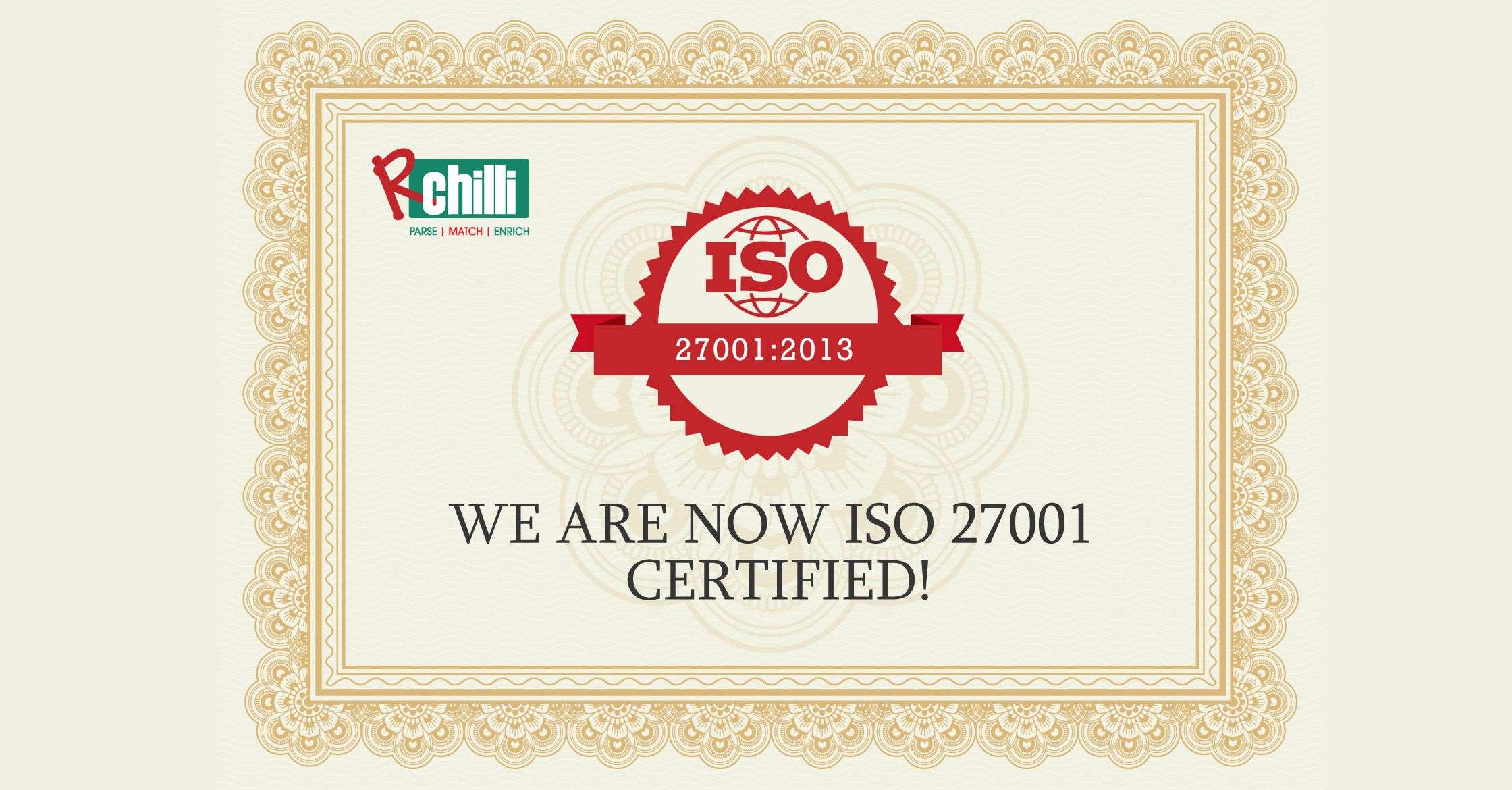 RChilli is proud to announce that it is ISO 27001:2013 certified now.
This international standard ensures that our organization carries out the best practices and follows the right guidelines for an information security management system.
What is ISO/IEC 27001:2013?
ISO/IEC 27001:2013 specifies the requirements for establishing, implementing, maintaining, and continually improving an information security management system within the context of the organization. It also provides requirements for the assessment and treatment of risks related to information security tailored to the needs of the organization. These requirements can apply to all organizations, irrespective of type, size, or nature.
RChilli is Now ISO/IEC 27001:2013 Certified
Since its inception, RChilli has always ensured to keep the customer data safe and secure. We never store any kind of data, making it easy for our clients to trust us. With this certification, we now follow guidelines that are internationally accepted to secure the data.
This certification is for securing the information you have in your organization by applying controls to the organization's risks.
Everyone is concerned about sharing their data with the vendors. Especially, they are more concerned about sharing PII. Now we have a well-defined set of rules that we have to follow for managing both internal and external data.
With our products such as Resume/JD parser, Search & Match, and Taxonomy, our organization is also becoming future-ready by getting this certification.
Journey of RChilli in Getting ISO Certified
Lockdown and work from home made it critical for us to adopt more data security measures. This reason led us to go for ISO certification.
The first few days were like a rollercoaster ride. There was scattered information that needed to be put into a process. The entire team was briefed with the security processes from time to time, and it was ensured that the whole organization followed the given guidelines.
Apart from securing data, we have also implemented changes in our internal processes such as going digital from all kinds of manual processes, organizing admin and HR activities, ensuring the security of all assets, etc.
Celebrating this achievement, Jitender Thakur, IT Manager-RChilli, said, "With ISO certification, we are now identifying risks and applying controls to the same. This makes our customers feel secure and more comfortable with us in processing resumes. On the whole, securing the entire data builds trust among the customers in our services."
According to Pardeep Batra, Account Manager-RChilli, "We have completely revamped the structure and processes of our Accounting, HR and Administration departments. With this certification, now we have complete checks on each step of a particular process and ensure that we comply to the same."
Deepti Aggarwal, Quality Control Analyst-RChilli, said, "We are ensuring that we are maintaining integrity, confidentiality, and availability to secure our data. These are the major parameters that are included in the ISMS. We are keeping the data confidential, safeguarding the information, and making the data available to the resources as per the requirements."