RChilli's Views on HR Technology: June'19
June 27, 2019 by Vinay Johar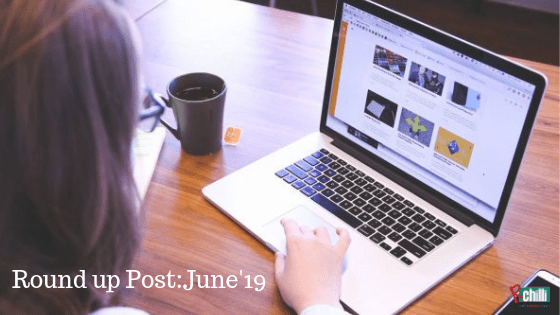 Continuing with our monthly round-up series, get a complete overview of our blogs and articles written in this month.
You might want to know what we have published in June.
Blogs
A Complete Guide to Resume Screening
Screening resumes is a challenging and time-consuming task for recruiters. Read this blog to know what challenges do recruiters face while selecting candidates. Also, find out how technology can help in shortlisting resumes.
Made for Each Other: AI and Talent Acquisition
AI solves a complicated issue of unconscious bias in recruitment. Which tools can simplify the hiring process and help you in finding quality candidates? Read this blog to know how your recruitment process can deliver amazing results with the help of AI.
Top 4 Ways How Analytics Improve Recruitment
This blog talks about the role of big data and analytics in recruitment. How do analytics provide a clearer picture of candidates? Read this blog to know how analytics transform the face of recruitment. A must read for every HR Tech professional.
LinkedIn Pulse
We contacted leading ATS providers and asked them to express their views on how HR technology is impacting the performance of applicant tracking systems. Check out this article to read their opinions and see where the HR Tech industry is heading towards.
When Social Recruiting Tries to Replace Job Boards
Are job boards not delivering the right results? Are employers making a shift towards social recruiting? Read this article in which we have discussed the benefits of social recruiting and how job boards can take advantage of social recruiting. Click on the link to know more.


Harnessing the Power of HRTech Plugins in Talent Acquisition
Automation is the current trend these days. Recruitment is one area which needs to adopt automation and simplify its processes. Which are the best HR Tech plugins, which can streamline the recruitment process? This article talks about how these plugins can make the talent acquisition process more effective.
Do you want to know more about our solutions? Contact us, and we will explain how our products can help you grow your business.