Semantic: The Sweetspot of Recruitment
May 07, 2018 by Admin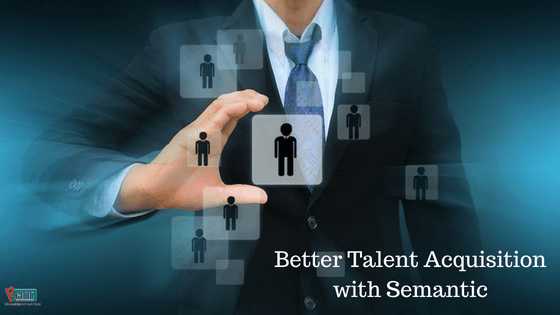 Semantic search is revolutionizing recruitment undoubtedly. Internal databases are not often used to source candidates which should be the first priority for recruiters. Also, recruiters doubt the potential of internal databases, whether they could churn out the best fits or not. Here, one should find a tool that understands the gap well; how recruiters write JD and how candidates place skills on a CV.
The keyword search is a thing of the past and today, it is all about intent and context when any particular word is mentioned on a CV. The system should be nimble enough to sort this out for the HR. Semantic does exactly the same.
Semantic indexes the data first and makes it a reference point. Recruiters take the clue from the best looking JD of a specific position and applicants pick the best CV for a role. But not every CV and Job Description is the same. Hence, semantic has a huge role to play. To understand the difference every time and float the best match, intent and context are desired.
Hire like Susan- Susan, a mid-level recruiter in a reputed staffing firm, always wondered how big enterprises hire thousands of candidates in one go whereas a single recruiter takes more than a month to close a job. It all boils down to the software an organization is willing to implement. Susan, based in Capetown, started her hiring agency in a jiff and scaled business using automated solutions like semantic. Prior to this, she was spending most of her time reading resumes and finding out vague results when she tried searching profiles on her search bar. Semantic changed the course of recruiting for her. It showed her the results which she intended to receive rather what she typed in.
Recently, Susan got the opportunity to speak on best practices on hiring. She was elated and jubilant to share her success story as she continued saying, "Technology and HR both can complement if the man behind the machine is willing to adopt automation".
This came as an achievement for small staffing firms interested in scaling hiring business.
Spending more time with Technology instead of Applicants
The biggest challenge recruiters are facing is to get time for engagement out of their busy schedule. Things get quite serious when you start hiring in thousands, and that's where technology extends the helping hand.
Technology scraps the data entry work from hiring and puts engagement on track again. Semantic helps in understanding the need of a recruiter, and what applicant is trying to convey. This omits unwanted matches from search results and the best one meets the eye.
Disparate systems- HR also needs some standards while operating technology. Disparate systems can be a real headache when one solution doesn't meet the other. Today, HR Startups should focus on technology that integrates seamlessly and comes in blocks or possibly as an add-on affecting a critical component of hiring.
The system should be integrated in such a way that the user is able to run searches across multiple channels simultaneously. HR and technology should speak the same language i.e language of automation.
Semantic applies to Recruiting and Sourcing. It is more than just matching the words simply but delving into the meaning implied by the words. Semantic does require effort from recruiters as well. They are supposed to have complete knowledge about the position opened as it helps them achieve true sense of their search; finding people whose skills match the job description perfectly.
Why Semantic- Recruiters using basic search strategies and throwing keywords into the database end up scrutinizing tons of applications that just matches the keyword but are not relevant. It's a tiring, exhaustive and draining exercise that wastes time of the recruiters.
Semantic technology discovers relationships between the words searched rather than just looking out for the search terms. It includes linguistically morphology, grammatical synthesis and logical interpretation in sorting and identifying the key concepts in structured data.
Semantic Search methodologies are of 3 types:
1. Vertical, Faceted and Contextual Search
2. Lexicon and Ontological Based Search
3. Pattern Matching Search or Statistical Analysis
Recruiters don't need to know the keywords when looking for talent. The system shows the searches on its own. Semantic brings you the power of more accurate search. When you have a semantic search in place, you don't have to worry about misspellings, abbreviations, variations or synonyms in words. Semantic is itself capable of handling language pitfalls and with minimum clicks you are able to reach to the best matching CV.
Semantic reshaping Hiring- With tools like these, recruiting is far easier and effective. When you can reach to the best talent quickly, you're spared with more time to engage and form meaningful relationships that convert into successful hire. With the coming of Semantic, the entire recruiting process gets streamlined and the best talent becomes easily accessible, which is a key ingredient for successful recruitment campaign.
RChilli has built Semantic solution for every recruitment management system and we know how frustrating it is for hiring managers to analyze tons of resumes and find best fits. What earlier used to take hours can easily be done in seconds using Semantic Search. A one sure-shot technology to grab best talent instantaneously.
Our Software is designed to detect the best talent organically both within the internal database as well as external sources, which only a few handful of recruitment solution provider does. Semantic can easily be broken into characteristics that are must have, nice to have, or should have.
Semantic whole purpose is to go behind the intent of a user and show the results before he makes the solution understand his need. Our enterprise class product Semantic is fully scalable to handle millions of request of CVs and jobs at the same time.
The world of Semantic Search awaits you. Come and explore this revolutionary technology with RChilli.