Search & Match Engine 3.0 to Simplify Recruitment
October 21, 2020 by Snehil Sharma
Post COVID-19, our organization arranged a recruitment drive virtually. A week full of workload. But in that week, I realized that a perfect candidate often remains hidden because HR professionals aren't searching for the correct keywords or job titles.
I believe effective candidate sourcing is the brain of a successful recruitment process.
Imagine what would happen if you can find the perfect candidate to fulfill your job specification with only one right keyword! Seems a daunting task, right? But I am sure with new technology advancement; there should be a way to simplify the process.
At RChilli, we have amazing experience developing search & match engine 3.0 and wonderfully integrating it into our client recruitment process.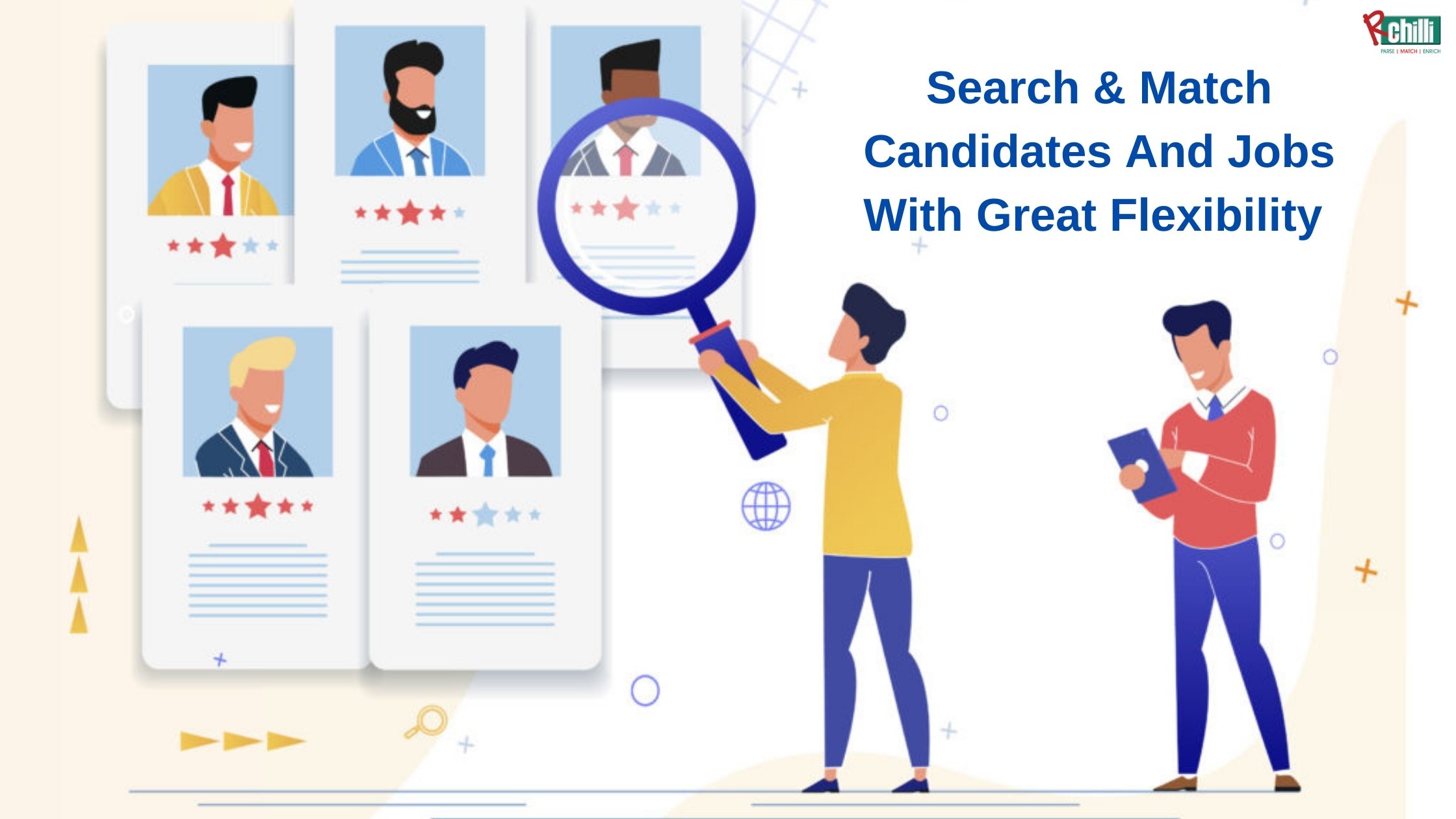 Let's understand more in detail about this process.
What is Search & Match Engine 3.0?
Search & Match Engine allows you to search & match candidates and jobs with great flexibility. The matching technology helps recruiters choose the perfect candidate through synonym matches related to skills/competency, location, tools, education, domain, and job title.
Search & Match Engine 3.0 works at a contextual and conceptual level that allows HR professionals to search for 'meanings,' rather than simple 'word.'
Why Should HR/Recruiting Professionals Care about Search & Match Engine?
RChilli search & match engine is the most reliable way to find top talent by matching resumes with jobs. There is more information on the internet about the candidates today than ever, and the volume is only going to increase.
RChilli's Search & Match engine 3.0 helps you to quickly and easily cut through massive volumes of potential candidates' details to help you find the perfect candidate faster than standard methods.
Let's jump in to know what's unique about RChilli Search & Match Engine 3.0?
1. RChilli Search & Match Engine 3.0 provides four remarkable recommendations to its users, such as:
a). Resume to Jobs
It recommends job options to candidates
b). Resume to Resumes
It brings similar candidate recommendations matching a specific resume/ CV.
c). JD to JDs
It brings similar job recommendations matching a specific job position.
d). JD to Resumes
It brings more candidate recommendations for a job position.
2. Refine Your Search
With the help of 'facets and filters,' recruiters can easily find the perfect candidate for their job openings.
3. Custom Weightage/Scoring
RChilli's Search & Match engine helps recruiters rank their search accordingly.
Read More: Is Search & Match the Answer to Finding Perfect Candidate?
Amazing Benefits of RChilli's Search & Match Engine 3.0
1.
Recruiters can
save time
by considering the best matching resumes to do a quick screening process. This will save time for other priority tasks.
2. Enhance
the searching capabilities of recruiters.
3. Easily find the perfect candidate through skill mapping.
Learn More: RChilli Launches Search & Match Engine v2.0
Search & Match Engine 3.0 can help recruiters to compare applicant profiles with job descriptions and rank them accordingly. This technology brings endless possibilities and great matching capabilities to recruiters. Now is the correct time to optimize your hiring process with RChilli Search & Match Engine.
If you want to save your time, money, and improvise your search quality, explore the power of RChilli Search & Match Engine 3.0. Contact us right now.