Start Hiring Millennials Through Social Recruiting
November 13, 2017 by dev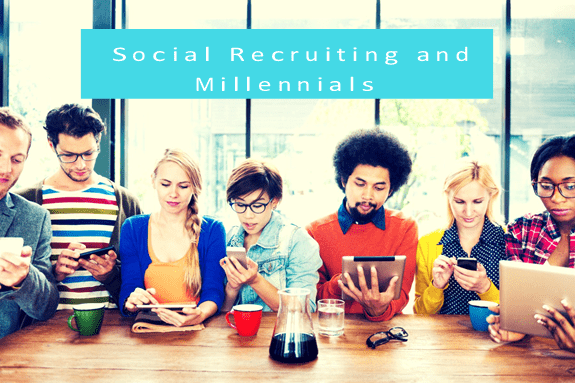 We are a generation of millennials. We highly depend on social media for both our personal and professional needs. Social media has become the central point of every business operation. Be it branding, engaging clients or attracting new business, organizations are using these channels for better productivity and efficiency.
How Millennials Use Social Media?
25% of millennials between 25-34 age group use Instagram every day whereas 34% of younger millennials between 18-24 age group are using this platform daily.
30% of millennials aged 18-24 use Snapchat every day compared to 19% of older millennials aged 25-34.
(Source: Forbes)
Josh Bersin, President and Founder of Bersin & Associates, says, 'Millennials don't only want to lead, they expect to grow rapidly in their career.'
What is Social Recruiting?
It is an excellent concept which is helping both recruiters and candidates in the recruitment process. Hiring through these channels is a trend commonly seen these days. Getting candidate's information from their social profiles, internet, and other online sources have always proved to be beneficial for the recruiters. In fact, many organisations have started using a social recruitment software to get detailed information about candidates.
How RChilli helps you hire millennials through Social Recruiting?
Being one of the leading Hiring AI tool and Analytics Solutions providers, RChilli provides social update about a candidate through its Resume Enrichment solution. Millennials use digital media every day to interact with friends and colleagues. Knowing about candidate's behavioral pattern has become a pre-requisite for hiring a candidate. Our social profile parsing tool provides candidate's details from social channels which are not mentioned in his/her resume/CV. This facilitates identification of any misleading information given by candidate in the resume and analysis of candidate's social as well as job changing behavior.
The need of conducting background checks of candidates is eliminated. As the recruiter gets authentic information about candidates, it becomes easier to find a relevant fit for the job vacancy.
A job score is also provided to the recruiter where candidates are ranked according to their job-seeking pattern.
Technology is an integral part of the lives of millennials. As they stay quite active on digital media, making recruitments through this channel is very helpful. Social recruiting has now become an important tool in the hiring process. With time and ongoing growth in HR technology, the HR world will soon see it as an essential element for recruiting candidates.