The Upcoming Trend in HRTech: Marketplace
September 06, 2018 by Vinay Johar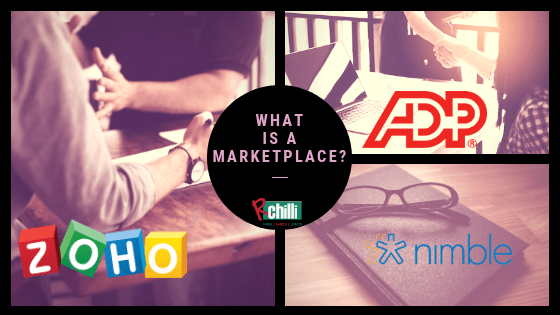 Have you heard of HR Technology marketplace?
What's your take on it?
The concept of a marketplace is evolving. Especially because it solves the problem of many. What if you get all apps and services required for the growth of your business together in one place? Imagine you do not have to search different vendors one after the another, and the search ends at a single platform.
I think it is a fantastic opportunity for developers and users as the marketplace brings them together with the least effort.
Let's talk about a few marketplaces which have transformed the way businesses work.
1) ADP Marketplace
How it Helped Peak Risk Provide an Integrated HR Management Solution?
Challenge
Peak Risk needed a solution
to integrate payroll and benefits
to improve HR efficiency
Solution
They chose BerniePortal App available at ADP marketplace.
With this app, Peak Risk Adjustment Solutions can

manage their benefits plans, onboarding, open enrollment, and ACA compliance.

It

eliminates four steps involved

in onboarding a new employee.

There is a

direct relation

between Peak Risk's employees and selected benefits carriers.
Result
The app proves to be a

time-save

r for the employers.

Getting all facilities at one place

improves efficiency

.

Automation has

streamlined every aspect of the business operations

.
Read the complete story here.
2) Zoho Marketplace
How has it evolved?
Zoho CRM has 150+ extensions listed, and more than 50 partners onboarded.
Zoho Creator

provides end-to-end custom solutions. Applications built on Creator cater to various industries and use-cases.

Zoho Cliq

comes with unlimited features such as multi-panel chat, unlimited storage, and privacy.

Zoho Recruit

offers more than 60 integrations which are built on its developer platform.

Zoho Connect

features 13 total pre-built integrations and 1000+ from Zapier.
As a developer, Zoho marketplace offers many more products and is one of the best platforms to build applications.
3) Nimble Marketplace
Enjoy the Power of Nimble with its Add-on Products
The apps at Nimble marketplace offer more than you can imagine. Get email marketing support, lead capture and analytics and much more from more than 100 integration partners. The most popular apps in this marketplace are Zapier, Salesforce, Netsuite, FreshDesk, QuickBooks, etc.
Here, I would like to mention that RChilli's resume parser is one component which can become an integral part of a marketplace. Import resumes from email in bulk, extract candidate information from resumes in data fields such as candidate information, work experience, skills, education and much more.
Thus, the trend of the marketplace is picking up, and soon, the HRTech world will start working in a marketplace.