This is interesting; Recruitment and Dating!
September 24, 2014 by dev
Long said, 'everything is fair in love & war so as goes for Recruitment now'. A lot of things are going to happen in ever-going battle for the best talent amongst companies. Insisting the same by a post on SHRM.org, CEO Neil Clark of eHarmony.com is taking on a different kind of matchmaking, pairing job seekers with jobs, valued at $80 billion which is even more than the dating game. So how exactly they'll mingle jobs with job seekers, let's understand.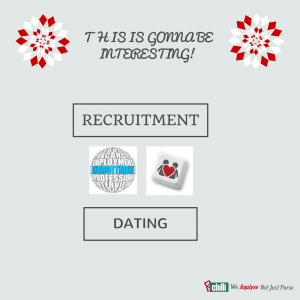 Algorithms and Assessment tools will help in matchmaking criteria based on core skills and evaluation not just between the applicant and bosses but within entire teams. Can't wait to see it happening as eHarmony plans to launch this concept as Elevated Careers in December.
Today's workforce is entirely different. From initial screening to on-boarding, process seems so complex that we end up spending huge $$ on solution instead matching candidate personality with the culture of company, a scope for improved engagement. Elevated careers plan to bridge this gap by matching applicant's work values and knowledge on the job. The four different areas that stand on test are job competency, cultural fit, personality traits of supervisor and the personality traits of applicants' potential closest co-workers.
eHarmony doesn't seem to be the only one trying it as 'Tinder' follows the same dating model but whatever is going to come is surely going to touch our hearts and sensitize the Recruitment further. Story has a legal angle as well. Companies must follow guidelines directed by the office of Federal Contract Compliance Programs (OFCCP). Testing personality of a person also is a big challenge that Craig Fisher, CEO of TalentNet readily admits. Acknowledging the fact that personalities are already being assessed every day by Google and Facebook, our buying habits, likes & Dislikes are scrutinized minutely to infer about our personalities by some sort of psychological algorithms that eHarmony already has.
Now, let us all wait for the transformation to happen and with years of research and expertise studying relationships, eHarmony can be the next game-changer in job-matching market.