Top 10 Influential CEOs of the HR Tech Industry
November 03, 2021 by Rohini Sood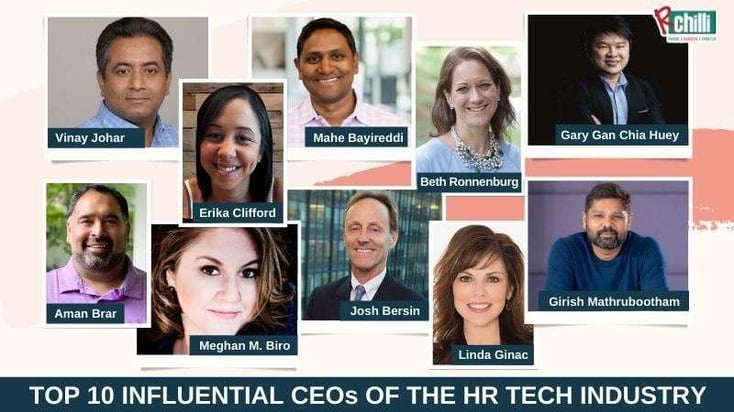 Get to know these influential CEOs of the HRTech industry with our special feature. They are exceptional and have an expansive knowledge of their domain. Get to know about their work and achievements here.
Have you ever wondered what it takes to be the CEO of an organization - dedication, passion, or enthusiasm? A mix of all three and much beyond that! Isn't it?
The list below represents some of the biggest and most successful companies driving the HR Tech industry forward.
From AI to IT automation to talent acquisition and ATS, these CEOs demonstrate that innovative technology flourishes and spreads swiftly across the globe with great foresight and proactive leadership.
Furthermore, they have exhibited their skill in fostering a sound work ecosystem that promotes diversity, equality, and inclusion.
So, here's our list of the 10 leading influential CEOs of the HR Tech industry.
Mahe Bayireddi is the phenomenal CEO & Co-Founder of Phenom. Phenom, founded in 2011, is headquartered in Ambler, PA, USA. With a 400+ global solid client base, Phenom is leading the way in the HR technology domain.
Phenom redefines the candidate experience through a unified platform approach, TXM, that provides enterprises with a cohesive solution built on AI that drives personalization, automation, and accuracy for recruiters, candidates, employees, and management.
Erika Clifford is the Managing Director at Just Recruit. She is strategic, innovative, and a strong business leader, having co-founded Pod Talent and held positions such as Principal Consultant at Badenoch and Clark.
Just Recruit is an advanced CRM / ATS software for small and growing recruitment businesses.
Erika is a subject matter expert in HR and recruiting with significant experience in developing and implementing HR technology and acquisitions strategies.
As CEO, Vinay Johar leads the vision, strategy, and growth of RChilli and its family of products. He is a thought-inspiring leader in HR technology for enterprises globally.
Founded in 2010, the San Ramon-based company serves several Fortune 500 companies.
Vinay is a member of the Forbes Business Council. He was honored with the Indian Achievers Award for Business Excellence in 2020.
His vision is to create intelligent plugins for the HR Tech industry and integrate them with global solutions.
Linda is the Chairman, President, and CEO of the TalentGuard.
Earlier, Linda founded a successful career development franchise, The Ginac Group, that served customers across the US and Canada.
Linda was Vice President, Product Strategy at Cofiniti, where she played a titular role in establishing Cofiniti.
Linda has proved her mettle in numerous leadership roles to which she was assigned. She has a proven track record of introducing groundbreaking technology to the market.
Her accomplishments include:
Honored with a Central Texas' Most Powerful Businesswoman Award by the Austin Business Journal

Conferred upon the title of the Women of the Year – Entrepreneur by the YWCA and many more
She has been featured widely on Fox News and published in hundreds of journals, online websites, magazines, and print media.
Aman Brar, CEO of Jobvite, has vast experience managing technology enterprises and held key positions at Fortune 500 companies. Under his leadership as President of Apparatus, Aman led the company through a $34.2 million acquisition by publicly traded and global consultancy, Virtusa in 2015.
Aman has held some titular positions before Apparatus as Vice President, Business Development for ChaCha Search, leading its corporate strategic partnership activities.
As Jobvite has evolved, Aman has kept the company incredibly focused on its mission of helping companies attract, engage, hire, and retain the top talent that will help them flourish and prosper.
Freshworks is the brainchild of Girish Mathrubootham, who co-founded it in 2010. With 4000+ employees globally, Freshworks is headquartered in San Mateo, California. More than 50,000+ customers in 120 countries use Freshworks' SaaS to facilitate a superior customer experience (CX, CRM) and employee experience (ITSM, HRSM).
Girish is passionate about building products that delight customers and their employees. He is a founding member of SaaSBOOMi, Asia's largest community of founders and product designers shaping India's SaaS business.
Recently, Freshworks made its debut on the Nasdaq stock exchange after a billion-dollar IPO, making it the first Indian SaaS company to list on the American stock exchange.
The stalwart of the HR Tech industry, Josh Bersin, is Founder and Dean – Josh Bersin Academy. Josh is a prominent HR analyst, speaker, and mentor on HR, talent management, hiring, and technology.
In 2001 Josh founded Bersin & Associates, the leading research and advisory company in corporate HR. In 2012, Bersin was acquired by Deloitte and became Bersin by Deloitte. Later, in 2018, Josh retired from Deloitte and started the Josh Bersin Academy.
Gary Gan Chia Huey is the CEO of JobKred. It was established in 2014, providing AI and Big Data powered solutions to the enterprise worldwide. JobKred has helped several individuals and Fortune 500 organizations to upskill efficiently with its skills intelligence platform.
Gary is a visionary and an exemplary leader who drove JobKred to a significant path of growth and success. In his career, Gary co-founded Gaming How, substantially growing the business during his seven-year tenure. He then served as a Marketing Director and helped raise US$10 Million in funding for TradeHero.
Meghan M. Biro - Founder and CEO of TalentCulture, is considered one of the most influential women in the HR tech sphere. She is a distinguished HR Tech brand strategist, author, and speaker.
Over her career spanning 13 years, Meghan has worked with global brands like Microsoft, IBM, and Google, helping them recruit and empower top talent.
A prolific speaker who has appeared on various radio shows and online forums, Meghan has been featured at numerous global conferences.
Beth Ronnenburg, SPHR, SHRM-SCP, is the President of Berkshire Associates Inc. With over 20 years of experience in human resources, Beth is a recognized industry expert.
She is a visionary and renowned thought leader who regularly speaks at conferences, including SHRM, the National Industry Liaison Group (NILG), and other national events. Beth is on the board of the Baltimore ILG.
Berkshire Associates is a prestigious HR consulting and technology firm specializing in assisting companies in creating the ideal and balanced workforce. Berkshire has mastered the art of providing clients with profitable solutions to everyday HR challenges.
As we look ahead into the next century, leaders will be those who empower others - Bill Gates
The role of a great leader is a versatile one. They motivate employees, believe in their vision, and lead by example.
They are brand ambassadors to internal and external stakeholders, investors, consumers, and employees. They are accountable for the organization's long-term strategy and for inculcating employee brand values.
We at RChilli, feel proud to feature these inspiring leaders on our blog and wish them success in all their endeavors.