Top 15 US HR Tech Influencers to Follow in 2022
August 21, 2022 by Rohini Sood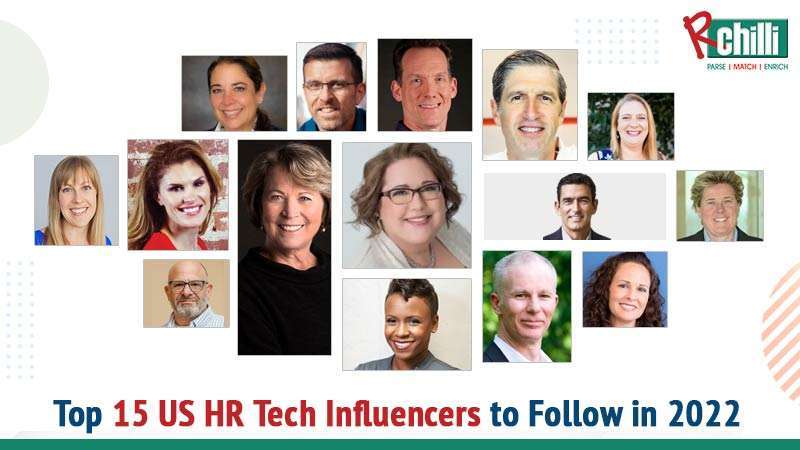 RChilli is privileged to recognize these top 15 US HR Tech influencers who have contributed significantly to the HR tech space. With an eye on innovation and transformation, these leaders will keep the ball rolling in the recruitment domain.
We present the top 15 US HR Tech influencers to follow in 2022. These influencers span various fields and expertise, from HR leaders to AI experts and analysts to consultants.
They are on a mission – to help organizations and individuals build better workplaces with innovative HR Tech tools and solutions. Some of these are champions of DEI, while others support employee engagement, workplace, and future of work. Isn't technology changing at a fast pace? How are we supposed to keep an eye on the ever-changing tech stack?
Fortunately, we have these experts who are our guiding light in the ocean of recruitment. Here is a list of the top 15 US HR influencers you should follow.

Chris Havrilla
Chris is the Vice President, Product Strategy, Talent at Oracle. Chris is an experienced, highly recognized, and accomplished leader with global acclaim. Chris was named as one of HR Executive's Top 100 HR Tech Influencers and one of the top influencers on Onalytica's Top 25 Global Consultancies Influencer Report.
She was previously the VP of Technology Research and Industry Advisory at Deloitte. Her previous jobs include ADP's VP of Global HR Technology and several consulting and internal HR practitioner positions.

Jason Lauritsen
Jason Lauritsen is the Co-Founder and CEO of Cultivayo. He is a keynote speaker, trainer, and author with more than 20+ years of experience helping organizations replace outdated, ineffective management practices with a more modern and human approach.
Jason also serves as an advisor to WELCOA for building high-performing, healthy workplaces. Jason served as Webcast Host and Chief Content Officer to Achieve Engagement.

Ron Hanscome
Ron Hanscome is Research VP, HCM Technology Transformation at Gartner. He has 36+ years of HCM technology experience as a practitioner, consultant, vendor executive, and analyst.
Before joining Gartner, Ron worked with customers to create roadmaps to lead their HCM application investments. He managed evaluation and selection initiatives for various industries' key HRMS and talent management programs. Additionally, he published extensive research on HCM technology trends.
Kris Dunn
Kris Dunn is the SVP of Global Talent Acquisition at Marriott International. Before joining Marriott, he was Chief Human Resources Officer, TA Leader, and Partner at Kinetix.
He is a visionary TA Leader who has managed the hiring processes for start-ups and Fortune 500 companies. Kris has authored - The 9 Faces of HR and is also the Founder of HR Capitalist and Fistful of Talent.

Maren Hogan
Maren Hogan is the CEO of Red Branch Media, full-service marketing and advertising agency. Having worked in the HR and recruiting industry for over 15 years, Hogan has built successful B2B and B2C online communities.
An internationally recognized thought leader, Hogan is an advocate of next-generation marketing techniques. Hogan has served as a Board of Directors for Vitru, Inc.

Mary Ellen Slayter
Mary is the Founder, CEO, and lead content strategist at Rep Cap, a company specializing in HR tech, insurance, and financial services; Mary Ellen Slayter is one of the industry's best-known content marketers.
She previously held the positions of editor and columnist for The Washington Post's career advice section and director of content development at SmartBrief.

Mollie Lombardi
Top industry analyst Mollie Lombardi has a wealth of experience gathering and analyzing new data. She also goes beyond numbers by turning them into practical judgments and valuable insights.
In her career as an HR professional, Mollie has studied a wide range of topics on HR. How payroll, wellness, and retention interact to help organizations find and retain the talent they need is a particular area of focus for her current work.
Fast Company, The Wall Street Journal, Inc., and other trade publications have published her work. She has also spoken at HR events all over the world.

Patty McCord
Patty McCord is an HR consultant and executive. She served as Netflix's chief talent officer.
She frequently appears in the media in interviews and articles from The Wall Street Journal, NPR, Fast Company, and Harvard Business Review. She addresses large audiences globally at CEO Forums and business schools.
Patty is a member of the Carmago Foundation's board of trustees. She has experience working for large corporations like Sun Microsystems, Seagate Technologies, and smaller start-ups. Aside from staffing, she has held positions in diversity, communications, and international human resources.

Kim Billeter
Kim Billeter is the Principal, Americas People Advisory Services Leader at EY.
She is responsible for leading the business, managing resources, and helping clients across North, Central, South America, and Israel.
Kim has over 20 years of consulting experience across all verticals of HR Service Delivery, shared services, and payroll with significant emphasis on HR technology (e.g., PeopleSoft/Oracle, ADP, SAP/SF, HR SaaS solutions, Workday).
In addition to speaking on the Forbes HR Council, she has been interviewed and featured on podcasts and other media platforms.

Stephanie (Lampkin) VanPutten
Stephanie (Lampkin) VanPutten is the Founder & CEO of Blendoor, which develops enterprise software that uses augmented intelligence and people analytics to reduce unconscious bias in hiring.
Her awards and accolades include Fortune 40 under 40 and MIT Tech Review 35 under 35. She is an internationally acclaimed data scientist and thought leader in DEI and people analytics. In addition to her TEDx talk, you can find her speaking at the NY Times and Wharton. She has to her credit 18 years of a successful tech career, building and managing enterprise software solutions at companies like Microsoft, TripAdvisor, Deloitte, and Blendoor.

Mark Feffer
Mark Feffer is the Executive Editor of RecruitingDaily and the HCM Technology Report. Over 25 years, he has written, edited, and produced hundreds of stories, videos, and multimedia programs on analytics, technology, talent management, and finance.
His work has been published by Entrepreneur.com, Dow Jones, Factiva, Bloomberg, and KPMG.
He has written about how analytics are increasingly used in HR and how AI and analytics can work together. Along with corporate taxes, personal finance, and investing, Mark has written about trends in software development, business technology, online consumer goods, small business web products, and enterprise technology.

Mark Stelzner
Mark Stelzner is the Founder/Managing Principal at IA - HR services firm.
Mark has more than 25 years of experience in HR transformation and has spent his career building relationships through attention to detail. He has provided his clients with billions of dollars worth of value by providing unbiased and honest advice.
Since 2006, Mark has been honored to lead IA, which helps businesses with 1,000 to 500,000 employees with all facets of their HR transformational journey. Mark is a well-known voice in the field and has been quoted in publications like the Wall Street Journal, New York Times, Forbes, CNN, and NPR.

Michael M. Moon
Dr. Moon is the Director of People Analytics at Viasat Inc. She is an exceptionally talented HCM Strategist and People Analytics expert with a track record of offering unique and cutting-edge solutions and insights into managing and using human capital.
Her focus areas include HR technology, performance management, employee listening and engagement, social technology use in the workplace, culture and trust, learning, HR measurement and analytics, and social network analysis.
She has previously served as Director, HCM Data & Analytics at ADP and Research Director, Human Capital Management at Aberdeen Group.

Jennifer Benz
Jennifer Benz is SVP and Communications Leader at Segal Benz. She works alongside her team to help businesses use communication to engage their workforce and produce tangible business results.
Segal Benz has received top honors from Pensions & Investments, Business Insurance, and the Profit Sharing Council of America.
Jen is frequently cited in publications, such as the Wall Street Journal, CNBC, Employee Benefit News, Human Resource Executive, HR Magazine, and Workforce for her fantastic work.
She held the position of program chair for the HR Executive Health and Benefits Leadership Conference for three years. She also provides advice to several start-ups and industry organizations.
Before starting Benz Communications, Jen spent seven years at Hewitt Associates as a communication consultant.

Al Adamsen
Al is the Founder & CEO of the People Analytics & Future of Work (PAFOW) Community & Conference Series.
He's a renowned thought leader, advisor, and educator in People Analytics, Talent Strategy, Workforce Planning, Diversity, Equity & Inclusion, Employee Engagement & Well-being, Ethics, Organizational Change, Digital Transformation, and the Future of Work.
Al held prestigious positions before founding PAFOW at firms like Ernst & Young, Gap Inc., Infohrm (now SuccessFactors/SAP), and Kenexa (now IBM).
He has worked with various clients, including Disney, Uber, McKesson, Boeing, Comcast, Heinz, the Mayo Clinic, Stanford University, and many more.
Leading magazines, webinars, and podcasts have featured his content. In addition, he frequently delivers keynote addresses and hosts the People Data for Good Podcast.
Each HR professional and tech expert has a distinct perspective that is undeniably valuable today and will continue to be so in the future.
These global HR Tech influencers have undoubtedly positively impacted a global audience to think differently about work, the workplace of the future, and the future workforce.