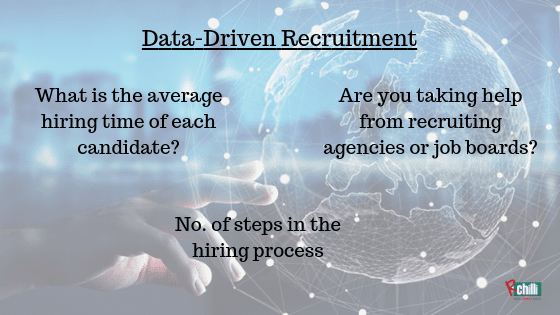 What is your hiring process based upon?
Are you following some guidelines, technology or doing some guesswork? Of course, you cannot predict how the candidate will perform after becoming an employee. If you are sorting out resumes manually, it is obvious to have bad hires in your company. Manual hiring process is always tiring and cumbersome. If you follow the traditional method of recruitment, you will only waste your time on interviewing unfit candidates who are not qualified enough for the job. This results in bad hiring decisions.
I am going to talk about a data-driven approach which will make the hiring process easy, smooth and more effective.
What's Data-Driven Recruiting?
According to its name, it is all about using data while hiring candidates.
Examples of data are:
Cost of new hires

Percentage of bad hires

Hiring source

Average hiring process time

Referral data etc
But keep it in mind that data, if not properly used, is just a waste of time. Data-driven recruiting can be used in different ways. For example, you can improve the efficiency of the hiring process by finding out the channel from where the good hire came. Thus, there is no need to invest in another channel which is not generating results.
Let me help you in understanding what benefits you can get from data-driven recruiting.
Bias is one of the culprits behind a bad hiring decision. If you take a decision based on your likeability for the candidate, you are bound to make a wrong choice. Data will give you the exact information about the skills and experience of the candidate based on which you can decide if he/she is the right fit for your job.
A Short Recruitment Process
If your recruitment process doesn't seem to end, gather data on the following:
What is the average hiring time of each candidate?

Are you taking help from recruiting agencies or job boards?

No. of steps in the hiring process.
Compare the performance of staffing agencies and job boards against each other.
If you are hiring through in-house recruiters, take out some time and analyze:
The longest step in the recruitment process.

How important is this step?

Can you automate it?
Positive Candidate Experience
Find out the channel which is commonly used by candidates to apply for jobs. If mobile is their favorite mode, make your website mobile-optimized so that they can easily apply for the job from their mobile.
Also, lengthy applications are a put off for the candidates. You can shorten the application process by using a resume parser. The candidates need to upload their resumes and do not have to fill the fields again. They will be populated automatically.
If you are looking at getting these benefits, adopting a data-driven approach is the perfect solution.