Top 5 Benefits of Using RChilli API at Rapid API Marketplace
March 24, 2022 by Navjot Kaur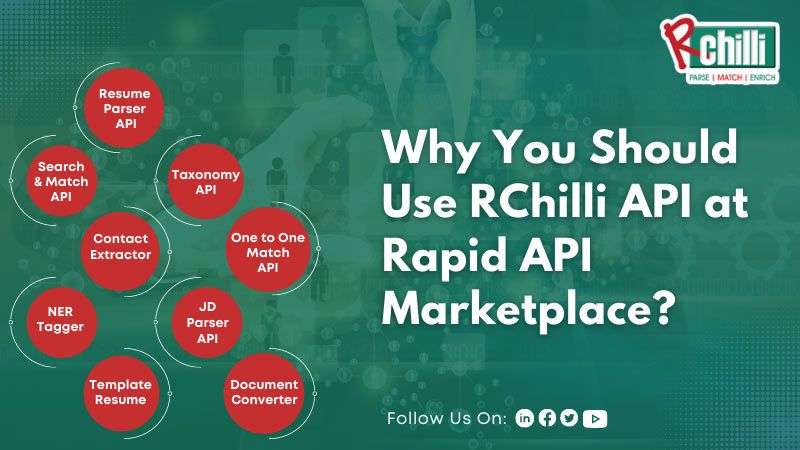 We are happy to share that RChilli is now available at Rapid API marketplace. The company is taking this great initiative to serve the developer community.
Rapid API is an amazing platform where millions of developers explore and connect to thousands of APIs. It is the world's largest API marketplace that helps developers search, test, and connect to APIs.
RChilli is the trusted partner for parsing, matching, and data enrichment. With our presence on this excellent platform, we are helping developers streamline the recruitment process of their organizations with our reliable and innovative APIs.
Currently, we are offering
Resume Parser API
Search & Match API
Taxonomy API
One to One Match API
JD Parser API
Document Converter
Contact Extractor
NER Tagger
Template Resume
But how will these APIs help the developers? Let's talk about their top 5 benefits.
All the APIs mentioned above bring automation in the recruitment process. These will be very helpful while screening candidates for a job position. As a developer, you can use these APIs and simplify the recruitment process of your organization. These will reduce all manual efforts of the recruiters that consume their time and energy.
Rapid API marketplace is a very user-friendly platform for developers. There is no sales team involved while integrating with the APIs. The developers can easily select the API and start the integration process. That's why it is called on-the-fly integration with RChilli at Rapid API marketplace.
Every developer has one common worry while integrating with an API and that is, it has to be a smooth ride. It is very frustrating for the developers when they have to struggle with the integration process that comes with technical glitches or numerous steps. With RChilli, you will experience seamless integration that saves your time and speeds up the process of achieving your recruitment goals.
APIs bring innovation to the organization. By leveraging APIs, developers can help their organizations implement best-in-class technologies with lesser resources to create better products and open up avenues for more opportunities.
Enterprises now demand modern software that is built with the best-in-class technology. Developers have to spend a lot of their time building applications from scratch, impacting their productivity. As our APIs aim at bringing automation into your system, the developers can quickly implement the existing functionality. It saves time and improves the productivity of the developers.
RChilli API at Rapid API marketplace is now helping developers deliver an amazing experience to their end-users. Visit RChilli API at Rapid API marketplace for more information.