Top 5 Cases Showing How a Resume Parser Helps You Achieve Customer Success
August 12, 2018 by Lovepreet Dhaliwal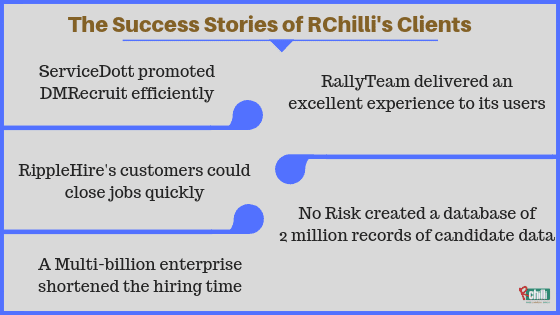 What is the end goal of a business?
Is it a good sale or a good customer?
Well, I feel that it is the customer who helps your business reach new heights. That is the reason companies focus on attaining higher customer success.
We, at RChilli, ensure that with our solutions, our clients deliver effective services to their customers.
I would like to mention that resume parsing and other recruitment analytics solutions are playing a significant role in automating the recruitment process.
Check out how.
CHALLENGE: ServiceDott needed a resume parser which could also parse Asian resumes with accuracy and could easily integrate with their ATS.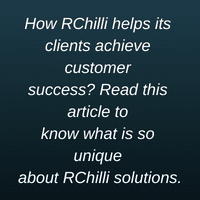 SOLUTION:
RChilli's resume parser helped in

enhancing their search and store function

.

Real-time parsing promoted

quality talent acquisition

.

The

data migration

process got streamlined.
RESULT:
ServiceDott's

customers adopted the parsing tool

and got excellent results.

DMRecruit

, a product of the company, was promoted competitively in the market.

RChilli

enhances the matching and ranking functions

of the software.
CHALLENGE: RippleHire's customers wanted them to help with their end-to-end application tracking. Providing quality candidates within a short span was their primary objective.
SOLUTION:
RChilli's resume parser extracted resume data into 100+ fields.
Resumes of all document formats e.g doc, docx, html, rtf, pdf could be easily converted.
The company could upload resumes in bulk.
RESULT:
Amazing user experience to its clients.
Hiring quality went up.
The clients could close jobs quickly.
CHALLENGE: Handling numerous job advertisements and managing resumes required a lot of manual intervention. No Risk wanted to automate the entire process of sorting out resumes. They chose RChilli to help them in facing this challenge.
SOLUTION:
Candidate information was properly segregated

.

The company could easily

parse resumes in bulk

.

Average time for parsing a resume

was less than a second.
RESULT:
A database of over

2 million records of candidate data

was created.

Smart talent acquisition

.

Easy integration

of RChilli's resume parser with the company's ATS.
CHALLENGE: RallyTeam was looking for a solution to shortlist resumes based on candidates' skills, qualifications, contact details, education and other details.
SOLUTION:
RallyTeam could easily

extract user details

with the help of RChilli's resume parser.

They can parse resumes with a

high degree of accuracy

.

Users could quickly

search and filter candidate information

.
RESULT:
RallyTeam's

customers received

an

excellent user experience

.

Users could

close jobs quickly

.

Overall, the

recruitment process became easier

for the users.
CHALLENGE: Managing a huge volume of applications was a cumbersome task for recruiters. This mismanagement affected the overall quality of the recruitment process.
SOLUTION:
With RChilli's resume parser, recruiters

could easily check duplicate entries

.

Semantic match provided

similar recommendations for resumes and jobs

.

Updated candidate information

in the form of socially enriched profiles promoted quality talent.
RESULT:
Drastic

reduction in the hiring time

.

Database strengthening

.

Recruiters could

close jobs quickly

.
I hope you find these studies helpful.
Are you still in a dilemma for buying a resume parser? Contact us to clear your doubts and know more about our solutions.