What RChilli Has in Store for Recruitment Software?
October 06, 2014 by dev
Every day organizations compete against each other to attract, engage and hire the best talent available. Challenges they face are numerous and money spent on Recruitment campaigns is on rise year-by-year. So what should be companies doing in this scenario about Recruitment?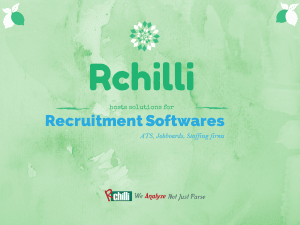 Rchilli interviewed few of the CHRO's of fortune 500 companies and tried to analyze the solution further. Extending its capability beyond Resume Parsing, Rchilli has made its own niche in space of CV Automation in the short span of 4 years.
Resume Management is the core of Recruitment process and system advances with the technology right from the beginning. So it's the start that matters always in a race or talent war.
We give you an agile, nimble and super-easy tool to manage your resumes and create targeted database of candidates. Resume extraction, sorting, parsing and storing is highly accurate as per desired standards.
Even the integration gets covered in 10 lines of code and we can extract resumes from any source seamlessly keeping data loss minimal. As the solution is HR-XML compliant, it can be planted to any CRM, ATS or Database easily without any hassle.
This doesn't end here. Let's you add Social Touch to the Resume Management.. Parser easily fetches info from social profiles of the candidate available online that can help in screening and clearing background checks, another important aspect of Recruitment.
Resume Parser serves as a critical component for all Recruitment Software's. Businesses need sophisticated set of tools that completes their solution as an end-to-end Recruitment solution which Rchilli does explicably.
With faster search comes automation and speed of Recruiting the best fit on a job . Our solutions add to the existing belt of your resources rather than a limitation. CV Automation furthers gives functionality to do menial tasks in days which use to take weeks earlier.
If you are not using Rchilli's Resume Parser, you're missing the deal, seriously. Go above the roof and improve your view. Unleash the best talent hidden under database using Social and CV Automation effectively.
Contact us today at sales@rchilli.co to explore the world of CV Automation with Rchilli. Thanks for reading.