Top 13 HRTech Events of 2023
January 23, 2023 by Rohini Sood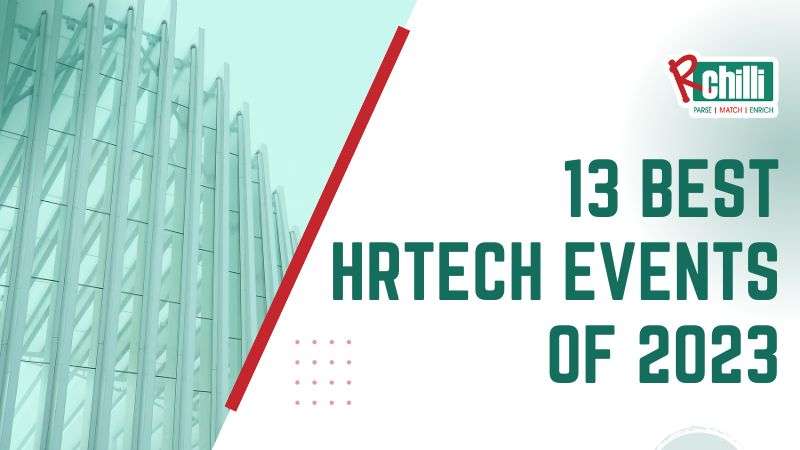 These events offer a platform for startups and established companies to showcase their products and services and for attendees to connect with industry experts and peers. They provide a chance to learn about cutting-edge HR Tech tools and technologies such as artificial intelligence and machine learning, as well as best practices for people management, talent acquisition, learning and development, and more.
Keeping up with the latest HR Tech tools, techniques and solutions can be challenging. Therefore, to keep up-to-date, it's a good idea to network with peers and attend industry events regularly.
To keep you informed, we've compiled a list of HR conferences to look forward to in 2023.
Dubai, UAE | March 1- 2, 2023
It has been the go-to gathering for CHROs and digital transformation experts in the Middle East for more than nine years!
HR Tech Mena is a fantastic platform to connect and learn from industry thought leaders transforming workplaces and working on various big initiatives. Connect with C-level leaders and gain actionable insights into how to apply HR technology to create better workplaces.
MGM Grand | Las Vegas | March 27-29, 2023
HR Transform is among the acclaimed, must-attend events for HR professionals and WorkTech innovators. The event brings together a diverse group of thought leaders to showcase various perspectives and enhance every interaction. The event aims to expand its reach to a broader audience, foster innovative solutions, and promote meaningful conversations and connections.
London | Mar 2023
HRtechX is committed to promoting innovation in the field of human resources globally. They offer educational content that encourages HR innovation on online and offline platforms. The organization also strongly emphasizes fostering connections within the HR community and encourages partnerships and collaboration among HR professionals.
Caesars Forum | Las Vegas, NV | April 26-27, 2023
The UNLEASH America Conference & Expo is a premier event for HR professionals, offering a platform for startups and established companies to showcase the latest trends and innovations in HR, learning, and recruitment technologies. This year's event focuses on cutting-edge technologies such as artificial intelligence and employee well-being. Stay up-to-date on the latest HR developments and be inspired by new ideas at the UNLEASH America Festival 2023.
Suntec Singapore Convention & Exhibition Centre | 10-11 May 2022
The award-winning HR Tech Festival Asia returns in person from 10 – 11 May 2023 at Suntec Singapore! Over 170 experts and HR thought leaders would share their strategies for navigating the emerging paradigms of people and work. Join hands with them as they explore technologies, products, and solutions that will aid your digitalization strategy.
AT&T Conference Center | Austin, TX | May 22-24, 2023
The three-day event in Texas aims to help and support the leaders in realizing their organizational goals and achieving real and sustained success. You can establish strategic partnerships and alliances with other TA leaders via this event.
The event delivers the latest information on technological and business innovations and ideas.
Hyatt Regency | Chicago, USA | June 6-7, 2023
The Future of Work USA event aims to explore the most recent developments and tactics within the future of work arena, including the significance of the HR and People function, Talent Management, Workforce Planning, Frontline Workers, Workplace Transformation, HR Technology, Culture, Diversity, Equity, and Inclusion (DEI), Employee Engagement, Digital Workplace, Learning & Development, and Office Space & Design.
Caribe Royale Resort | Orlando, FL | June 11-14, 2023
Oracle HCM Users Group (OHUG) is an organization dedicated to providing users with relevant information about Oracle E-Business Suite, PeopleSoft, and Oracle HCM Cloud (including Taleo Business, Taleo Enterprise, and Taleo Learn) apps.
OHUG also allows customers to communicate directly with Oracle executives, product managers, and development, learning about new capabilities straight from the source and eventually influencing the future direction of the complete Oracle HCM product suite.
Las Vegas | June 11-14, 2023
The four-day event will feature networking opportunities, speeches from prominent business and HR leaders, seminars on HR competencies, interactive workshops, and relevant content on critical HR topics such as DE&I, company culture, recruiting and retention of talent, and more.
Margaritaville Lake Resort | Houston, TX | September 10-12, 2023
HR Tech Connect is a summit designed to bring together HR, talent, and technology leaders with solution providers and industry experts to network, learn and stay informed about the latest HR and workforce technology landscape developments. The expertly curated agenda will cover the most current topics, trends, and strategies in HR technology, allowing attendees to build relationships, discuss practical applications, and learn about the latest solutions to accelerate HR transformation within their organizations.
Las Vegas | September 18-21, 2023
Oracle CloudWorld is designed for all Oracle customers and partners. It is the best place to learn about Oracle solutions—including infrastructure, databases, and applications—directly from the people who make and use them. Develop new skills, connect with industry experts, and gain the insights you need to address your most pressing business problems.
Mandalay Bay | Las Vegas | October 10-13
HR Tech is the premier independent event for HR and IT professionals. It offers a one-stop shop to explore and compare thousands of products from hundreds of vendors, including established market leaders and HR startups. With a focus on driving HR success through technology, the conference is designed for businesses of all sizes, industries, and locations. HR Tech delivers a cutting-edge agenda that benefits professionals looking to optimize current systems and those looking to buy new ones.
Titanic Chaussee | Berlin | Nov 26-28, 2023
The HR Tech event in Berlin is the top gathering of HR leaders in Europe. It brings together over 200 CHROs and other HR decision-makers to discuss the latest trends, opportunities, and challenges in HR technologies, new work, and recruitment. Attendees will get the opportunity to learn about the most recent technical breakthroughs, hear practical examples from industry experts, and network with peers to gain new insights and ideas. Join now and be a part of the conversation on the future of HR and recruitment technologies.
Who Should Attend?
These events are ideal for business and people leaders, entrepreneurs, and investors. Business and people leaders can engage with a curated group of peers in senior roles at forward-thinking companies.
They will gain insights into the latest trends and innovations across all areas of people leadership, such as diversity, equity, and inclusion (DEI), hybrid workplaces, talent acquisition, learning and development (L&D), retention, benefits, culture, and more. Additionally, they will be able to connect with innovators who are revolutionizing the workplace.
Entrepreneurs and investors will benefit from building relationships with executive-level HR leaders, fellow innovators, and investors funding HRTech, WorkTech, HealthTech, and FinTech-focused startups. They will also have the opportunity to demonstrate thought leadership and position their company as one that is creating the future of the workplace, understand the industry's mindset and gain a better grasp of where the market is heading.