4 Low-Cost Work Perks Employees Will Love
October 26, 2021 by Navjot Kaur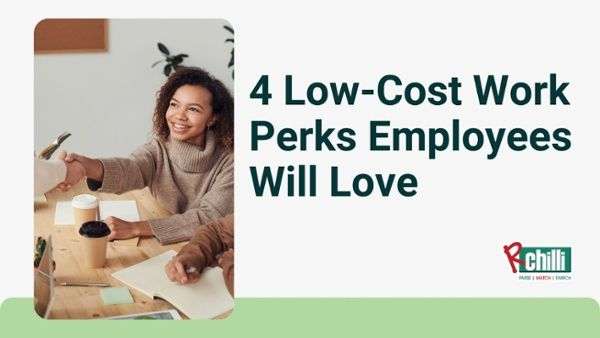 Do you know the mantra to retain employees in this competitive market? How are organizations retaining their top talent globally? Read this article to learn how to use these best metrics to retain your ideal employees.
Successful businesses retain their employees. And retaining employees begins with creating a workplace catered to them. It isn't enough to send weekly employee appreciation emails in today's work environment. The top talent is being drawn to workplaces with perks—not just Taco Tuesdays and gift cards.
Retainment starts with employee engagement, which is easier when a business can offer impactful perks. However, not every perk has to change your business plan or break the budget. With that in mind, here are four straightforward and low-cost work perks.
Continuing Education and Skill-Building
Productive employees enjoy learning. And employees that are challenged and rewarded will enjoy coming to work. Skill-building courses are great options for keeping your employees engaged. Tailor these to enhance on-the-job proficiency. For example, offer soft skills courses such as:
Time management courses
Active listening
Communication
Workflow organization
Soft skills help your employees be more productive and boost professional confidence. You can also tie in technical skills as well. Train your employees in skills from other departments. For instance, have your writers sit with web developers to understand how code influences copy. Plus, don't forget to always stay up to date on their specific skills.
Finally, showcase your dedication to your employees' well-being with personal educational opportunities. Help them reach their personal financial goals with investment classes. Bring in your financial department, and give a lesson on financial literacy and credit. You might even work with a local community college to help employees earn degrees with sponsored classes.
Perks that highlight a business' dedication to its employees' well-being are essential for retention. If you care for your employees, they take care of you.
Mental Health and Wellness Programs
Mental health programs are clear indications that an employer cares about its employees. And a concern for well-being drives retention. Almost half of the employees with access to mental wellness programs are more likely to recommend their employer. For comparison, only 18% of employees without wellness programs would encourage others to apply.
Mental health and wellness programs should address the issues common to the industry. Is the work environment stressful every day? Set aside time and encourage employees to lead meditation and art therapy classes during lunch. There are dozens of meditation and art therapy ideas available online.
Don't forget physical wellness. Physical well-being can influence mental health. Offer nutrition classes and healthy cooking workshops. If you love sports, start a work softball league every Friday. You can even lead your teams in lunch meditation and yoga exercises.
Be sure to take part in the same programs; they shouldn't just be present as a talking point. Of course, these programs must help your employees. If they help you as well, however, your employees will respect their impact.
Flexible Schedules and Work Arrangements
Of all perks, flexible schedules and work arrangements are some of the most important. Even after the pandemic, the availability of distance work and hybrid schedules remains evident. Few industries can now justify requiring in-office work 40 hours weekly, and employees know this. Younger generations, including millennials and Generation Z, will base jobs around exclusive perks. They will look for opportunities that have adapted to the changing world.
Consider hybrid options if your business cannot commit to full work-at-home schedules. This can include:
Designating in-office days for meetings and other needed occurrences.
Half-and-half days or weeks (half at work, half at home).
Hybrid or augmented schedules, including 4-day weeks or mid-week breaks.
The same is valid with using tech to allow work from anywhere, at any time. Collaboration tools like Trello and workplace dashboards like Asana can shift workloads to hybrid schedules. As well, employees can work from anywhere. This isn't just important for individual employees; six out of every ten employees report greater productivity from home. The data is clear: flexible working arrangements boost productivity by 5%.
Peer and Expert Mentoring Services
Mentoring programs make sense. Not only do they allow your top employees to pass along their strengths, but simply having a mentorship program can be a tool for employee retention. In fact, younger generations of employees are demanding mentoring services. Some 79% of millennials believe mentors are needed for success.
Mentoring services also allow employees and employers to hone what works best for the job. Your expert mentors can highlight the following:
How to handle workloads
How to communicate with contacts in and out of the company
How to create work plans and project maps
How to balance work and home life
How to challenge oneself
Let the employees who have achieved the top positions share their knowledge. And set up peer mentoring programs to help your employees stay connected. Sharing insights and ideas leads to innovation. A tighter employee group will be more motivated and ready to work.
Additionally, mentor programs help new employees become a part of the team. Jobs with a mentor program see only an 8% turnover rate. Compare that to the 26% turnover rate suffered by businesses without a mentor program; the benefit is clear.
Employees love perks, but they love those that matter. Treat your employees to a work-life balance that works for them. Beneficial perk programs are proven to boost productivity and retention.
Employees love to see employer dedication. Commit to their health and continued growth, work with their life schedules and commitments, and use mentor programs to keep your employees striving to be their best. The benefits to all will be incalculable.
Written by Guest Author:
By Jessica Larson of SolopreneurJournal.com