7 Reasons to Choose RChilli as Your Trusted Partner
May 07, 2020 by Navjot Kaur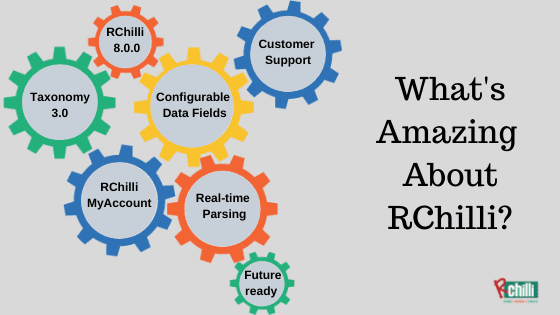 When we interact with our potential customers, they always ask us one question: 'What makes RChilli better than its competitors?'
7 reasons that make RChilli the most trusted partner for resume parsing, matching, and data enrichment:
1. RChilli 8.0.0
RChilli 8.0.0 brings to you a more trusted and scalable resume parser. It offers
an inbuilt mechanism of recent and reliable technologies of ML.

140+ data fields in which our resume parser extracts resume data.

an incredible improvement in the JSON structure. It has become more modular and simplified.
Download our White paper to know more about RChilli 8.0.0
2. Introducing Taxonomy 3.0
Taxonomy 3.0 is an advanced version of RChilli's skills/job title taxonomy. It offers a comprehensive collection of skills, job profiles, and related information. This latest version brings a remarkable change in the users' resume/job searching capability. At present, it offers 41,000+ Skills and 27,000+ Job Profiles.
3. RChilli MyAccount
RChilli MyAccount is an incredible portal that simplifies the signup and onboarding process. It is an awesome initiative the company took that changes how the resume parsing industry works. The users can now easily signup with RChilli as this portal transforms the lengthy traditional buying process to a simple three-step process. All you need to do is
subscribe to a plan

sign an agreement

make a payment, and that's it.
Get all the information you need in one place that makes it easy for you to make a buying decision.
Experience the magic of this portal by signing into RChilli MyAccount.
4. Configurable Data Fields
It is a unique feature that gives freedom to the users to choose resume data fields for which they need results. With an excellent approach towards promoting bias-free recruitment, this feature allows the users to disable data fields that can cause bias e.g. candidate name, gender, image, religious faith, etc. As a result, it delivers a more focused way of extracting resume data.
Learn more about Configurable Data Fields
5. Real-time Parsing
RChilli parses resumes immediately. The average parsing speed of its resume parser is 300 ms. Whenever we ask for feedback from our customers, they say that our resume parser extracts data from resumes very quickly and delivers the results in a structured format.
6. Future-ready Products
Apart from our intelligent solutions i.e Resume Parser, Search & Match Engine, and Marketplace, our commitment to our customers is to keep ourselves future-ready for all upcoming demands of both products and features. RChilli has created its new technology stack that consists of best-in-class and intelligent technology. Our deep learning resume parsing module is a perfect example of bringing a qualitative change in our solutions.
To meet the expectations of our users for seamless integration, we have launched RScript that will shorten the integration time of our parser from two hours to two minutes.
Sounds interesting?
7. Amazing Customer Support
Our customers love us because we promise to deliver excellent customer service. We live their business journey with them as a partner and not a vendor.
Read what our customers say about us
These are not the only reasons that make us deliver the best services to our clients. We have many other features that help our users get perfect candidates in a fraction of the time.
To know more about RChilli and its intelligent solutions, you can always contact us.