A Step-by-Step Guide on How to Parse Resumes Using RChilli MyAccount
March 29, 2020 by Snehil Sharma
The HR industry is booming. Each day, it is witnessing new developments and technological innovations. Adopting the latest tools nowadays means better growth and ROI in the future. Excellent software to speed up the recruitment process is a Resume Parser. When recruiters see their inbox flooded with resumes, all they need is a quick parsing solution that automates the entire process of screening resumes.
RChilli is the most trusted partner for Parsing, Matching, and Data Enrichment for global recruiting platforms. It provides the ability to parse a large number of resumes or jobs in a scalable manner.
Let's discuss how you can parse resumes using RChilli MyAccount in this step-by-step guide. The process is very simple and quick.
Let's get started.
1. If you are an existing user, log into RChilli MyAccount with your login credentials. You can also log in through your Google or Office 365 account.
Are you a new user? Please sign up to access your account.
2. To move further, click on the Integration Tab, as shown in the image below:
3. To start parsing resumes, click on Resume Parsing 8.0.0.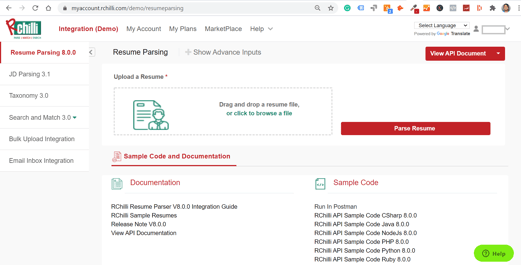 4. Upload a resume. Select a resume file with a valid extension like doc, docx, pdf, txt, etc., and click on 'Parse Resume.'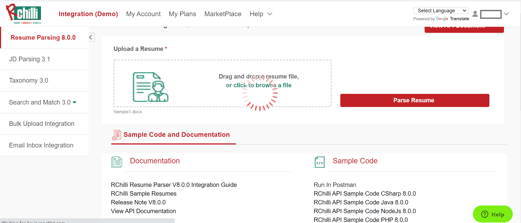 5. Once you parse the resume, you will get the candidate details in the data fields. Data fields are further classified under categories like overview, Analytics, experience, qualification, skills, etc. Click on the required tab to see the results.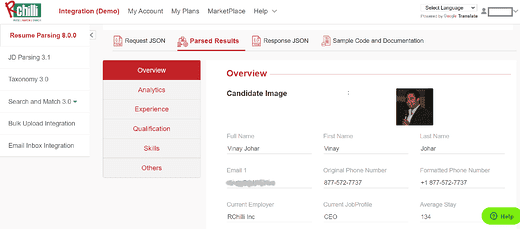 6. You can also find the JSON output by simply clicking on 'Beautify JSON.'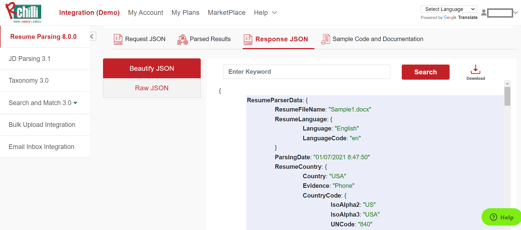 7. Click on 'Download icon' to download the JSON output.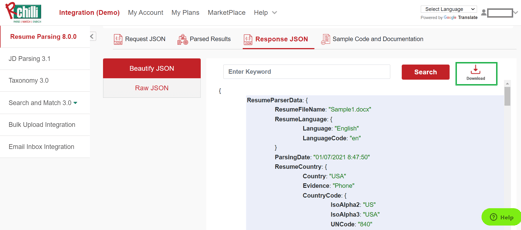 And that's it.
Isn't this process easy? The best part about RChilli's resume parser is that it parses your resume in real-time with an average speed of 300 ms.
How Does a Resume Parser Help You?
A resume parser streamlines your entire recruitment process. Let me list down a few benefits of using this intelligent solution.
Smarter extraction of resume data.

Save time on screening resumes.

Enhance your talent pipeline.

Quick closure of jobs.

Say goodbye to manual data entry.
Are you excited to experience the magic of resume parser?
To know more about RChilli's resume parser, click here.