Can You Maintain Inclusivity Amidst Hybrid Culture in Oracle HCM?
July 27, 2022 by Aanchal Sharma
Collating and underlining the changing facets of corporate culture where hybrid working is becoming predominant. However, the altering work-cycle has challenged the Oracle HCM recruiters globally. Here's defining these recruitment challenges and how automating the approach can positively re-define while catering to inclusivity in the hiring funnel.
With hybrid model becoming an integral part of the current work culture, the responsibilities of HR managers to hire talented work-from-home employees has become important too. RChilli resume parser in Oracle HCM helps them face the challenges and build a knowledgeable workforce.
With the world adapting comfortably to the hybrid work model, executives are confident to re-define their company culture and adjust to the new work module.
The shift has uprooted the orthodox concerns wrapping around a hybrid work environment. It includes employees' challenges in striking a balance between personal and professional life. Undertaking tasks that require their undivided attention often get engulfed with their lives.
However, the scenario in the past few years has changed, proving that the prospect of hybrid work culture is possible. Recent studies and data show an inclination of both the management and the employees towards hybrid culture.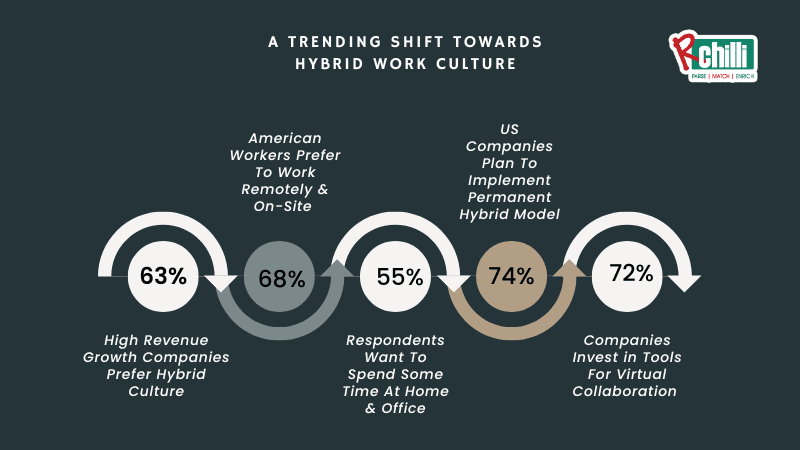 Source: Zippia, Study By Stanford
Changing Scenario
The talent acquisition teams have perked up their hiring practices. Nevertheless, a few are still struggling, courtesy of their conventional technology and manual candidate screening processes. They're losing the best-in-class talent because they lack understanding of positive candidate experience and resist offering work-from-home flexibility.
On the other hand, agile recruiters have made the most out of the current work culture by investing in technology. The reason they quote is to enhance candidate, recruiter, and employee experience.
While many companies have moved to a hybrid workplace, being technically advanced is paramount. So, what is it that's stopping the TA teams from onboarding talented professionals?
A Few Challenges Faced By HR Managers
Challenge 1: Cultivating Diversity, Equity, and Inclusion
A study by Gartner suggests only 35% of HR leaders prioritize diversity, equity, and inclusion when hiring candidates. Considering the industry's competitiveness, these recruiting managers find it challenging to be aware of and create a work environment whilst having a remote team.
Challenge 2: Building a Team With Necessary Critical Skills
McLean & Company, in 2021, conducted a survey and found that most industries in the future will face a significant skills gap while hiring. The prime reason behind this is the biased approach that takes over practicality when manually screening resumes. Role-based skills assessment is a term that remains a theory. When the initial screening stage is compromised, remote interview practice automatically includes a list of candidates who are listed not based on their skills but because of personal preferences.
Challenge 3: Struggle With Candidate Experience
A hiring manager's prime concern is selecting a candidate who matches the job description. One of the biggest misunderstandings among hiring managers, especially when hiring remote employees, is to have every detail marked out. Claiming to have better clarity on who's better than whom, they underestimate the competitive nature of the industry and a hoard to hire the best candidate. Expecting candidates to spend 20-25 minutes filling out the exact details mentioned in their resume while applying for a job frustrates them and leaves a negative company impression. Result- they move on to a competitor's job without applying to yours.
Challenge 4: Massive Candidate Applications
Remote opportunities have opened employment doors for candidates who can't commute to office settings. However, the positive side to this is that the HR managers have got an opportunity to tap the candidate market marred by physical boundaries or location.
Hence, remote job opening seizes the attention of hundreds of potential candidates, each asking for a recruiter's unbiased attention. While it may seem positive to have a huge database of talented candidates, there's a challenge of selecting the best candidate among the lot.
Challenge 5: Selecting Future Leaders
Research conducted by DDI suggests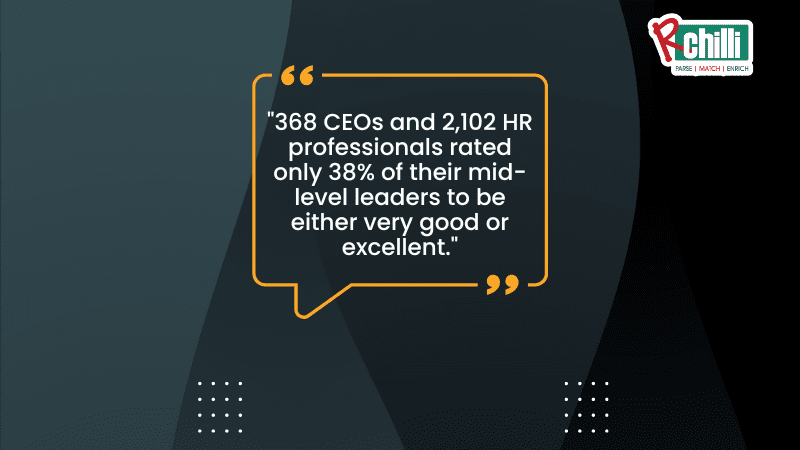 This trend comes across to be concerning because the global talent shortage makes it vital for companies to promote employees from within. In case there's no one worthy of being promoted, the HR leaders must have a strategy that helps them hire talented leaders who are skilled and experienced.
What's The Solution?
Artificial Intelligence or AI-driven tools can be named the backbone of hybrid workplace recruitment. Technology-driven hiring empowers HR managers to shortlist the best candidate from the talent pool. They get the opportunity to automate the candidate resume screening, fetch the data automatically according to the selected data fields, call the candidate for the next round, and complete the onboarding process fast.
Can RChilli Resume Parser in Oracle HCM Be An Ideal Recruitment Solution For Hybrid Model?
RChilli resume parser + Oracle HCM Cloud Profile Import Plugin simplifies the hybrid recruitment process through smart automation. The recruiter-friendly features streamline hiring and bring efficiency to the hiring practices.
Powered by deep learning, the resume parser for Oracle HCM Cloud helps recruiters deliver highly efficient and accurately parsed candidate data and results. It enhances the candidate experience and boosts the candidate conversion rate.
The problems concerning hybrid recruitment are catered to by enabling internal team mobility, enhanced talent visibility, and an ideal candidate selection experience.
The Recruiters Can Expect:
Positive Candidate Experience
RChilli resume parser in Oracle HCM Cloud helps enhance positive candidate experience by enabling the candidates to upload their resume on the website's career page & apply to the job in a single click. The candidates not only save time but also won't have to fill in the details already mentioned in their CVs repeatedly. Here's another piece from our research on how you can deploy a resume parser to improve positive candidate experience
Hire Skilled Candidates Globally
The best part about remote working is that the recruiters get an opportunity to hire global candidates. RChilli resume parser for oracle recruiting parses resumes in nearly 25+ languages, including English, French, German, Polish, Spanish, Turkish, Portuguese, Italian, Dutch, Japanese, Russian, Hebrew, Romanian, Thai, and more. Not only does the parser bridges the gap between a talented candidate and a recruiter, but also stays true to the idea of hybrid work.
Another point checked. RChilli resume parser in Oracle HCM ensures only skilled professionals are hired without a hint of biasness. This intelligent HRIS solution helps recruiters enable/disable the fields that encourage biased approaches like age, race, color, gender, beauty, and ethnicity. Once the fields are disabled, the resume parser SAAS will not fetch data for the same.
Convert Resumes To A Specific Format To Save Time
Considering you'll be receiving hundreds of candidate applications for the job opening, there are chances that the maximum will be in different formats. The resume parser for Oracle HCM saves the HR leader's valuable time that they waste converting each CV to the desired format. Regardless of the document format, such as DOC, DOCX, PDF, RTF, TXT, ODT, HTM and HTML, DOCM, DOTM, DOT, DOTX, recruiters can be assured of getting accurately parsed candidate data.
Final Words
It's time you set your recruitment process to supercharge mode and leverage automated recruitment software. Simplify, enhance the quality of hire, and speed up the mundane yet the most important aspect of hybrid recruitment- candidate selection.
Looking to know more about hiring and managing your recruitment processes? Let us talk today for a demo or write your query to us.