Customer Speaks(impress.ai)-3 Amazing Benefits of Working with RChilli
May 19, 2020 by Navjot Kaur
RChilli enjoys an incredible journey by serving 1000+ customers across 32+ countries. We feel proud that our clients include many fortune customers such as PhenomPeople, GR8People, Wipro, Hitachi, impress.ai, and many more.
Since our inception, our commitment stands on delivering an exceptional customer experience by keeping ourselves future-ready for all demands of features/products.
It feels absolutely great when your customers are happy with you. We recently had an interview with Sudh, CEO-impress.ai, and he shared his experience of working with us.
Let me pinpoint what, according to Sudh, are the three best things of working with RChilli.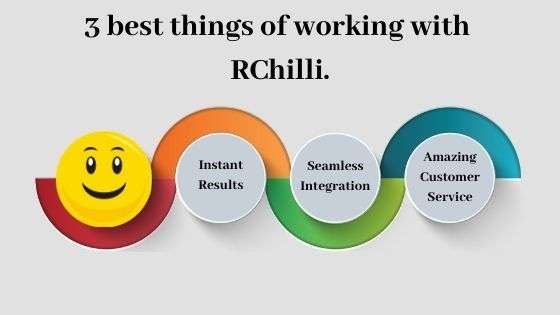 RChilli delivers results within microseconds. With an average parsing speed of 300 ms, we become a reliable partner of impress.ai and provide quick results. Our resume parser extracts resume data into fields such as education, experience, skills, etc. This helps impress.ai's chatbot to ask relevant questions to the candidates based on this information. When RChilli parses resumes immediately, a quick chat becomes possible at their end.
It is very easy to get started with RChilli. impress.ai explored other tools for assessment services, but there was always a lag. The integration process with RChilli is seamless, and you can see the amount of attention paid to make this process simple for the users. As a result, impress.ai saves a lot of time and focuses on exploring the capabilities of RChilli's solutions.
The quality of support that RChilli provides is worth appreciating. Whenever impress.ai needs help or have a query, they get immediate assistance from every department of the company, be it customer support, accounts, etc. The team is very approachable and takes customers' concerns on priority.
We asked Sudh to mention three exclusive benefits, but we felt grateful when he mentioned another one.
More Visibility for impress.ai
Along with expanding its business, RChilli spreads the name of its customers too, and helps them promote their business. It is true that RChilli lives the business journey of its customers as a partner and not a vendor.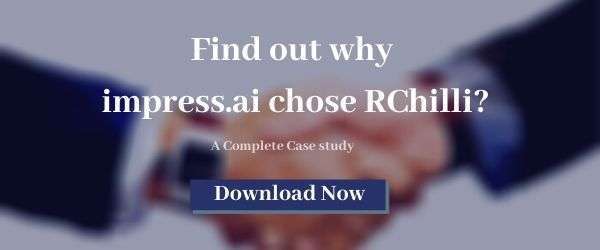 Thanks, impress.ai, for being an awesome customer. We are happy to be your partner and share this beautiful relationship.