How Can Oracle HCM Recruiters Opt For Blind Resume Screening?
October 28, 2022 by Aanchal Sharma
In any recruitment approach, unconscious bias can quickly sabotage the hiring quality. This is until you automate the conventional resume screening practices and let RChilli resume parser in Oracle HCM encourage blind screening and accurately parse candidate data.
But, before we share how our parser can break the bias shackles, let's discuss what hiring bias is.
Imagine you're a recruiter, and a top management position is open in your company. As a hiring manager, you're asked to find a talented candidate and fill the position fast. You already know a few men who'd be a good fit: a guy who is an alumnus of your university, another who worked with your mentor in the previous company, and then there's the one your friend recommended.
What's worth noting here is that before you post the job opening, there are candidates already ranked top in your preference list and will get more attention than others. Such informal shortlists often result in jeopardizing the candidate selection process.
Apart from this, the preference for male candidates suggests that men are more suitable for the role than their fairer counterparts. Thus, when people consider filling an opening for a job profile, male candidates will automatically come to their minds.
In other words, your biased recruitment process will have a comparatively higher proportion of male candidate resumes than the equally or better qualified female candidates. The reason? They come to mind first.
However, gender bias isn't the only problem here. There are other biases, too, including,
Confirmation bias,

Halo bias, and

Affinity bias
Know more about hiring bias and how it can impact a recruitment approach
How To Avoid Bias with Blind Hiring?
RChilli resume parser in Oracle Cloud HCM is designed to remove bias in every aspect of the hiring process. Powered by deep learning, the plugin increases the ability to make an objective-based candidate selection.
As a hiring manager, you can be sure about making quality hiring by selecting important fields like skills, education, certifications, and qualifications that matter to perform the job better. The parser plays its part by fetching and auto-populating nearly 140+ fields and sharing the database of candidates who tick the skills-based hiring criteria.
This is how RChilli Resume Parser in Oracle HCM encourages blind hiring: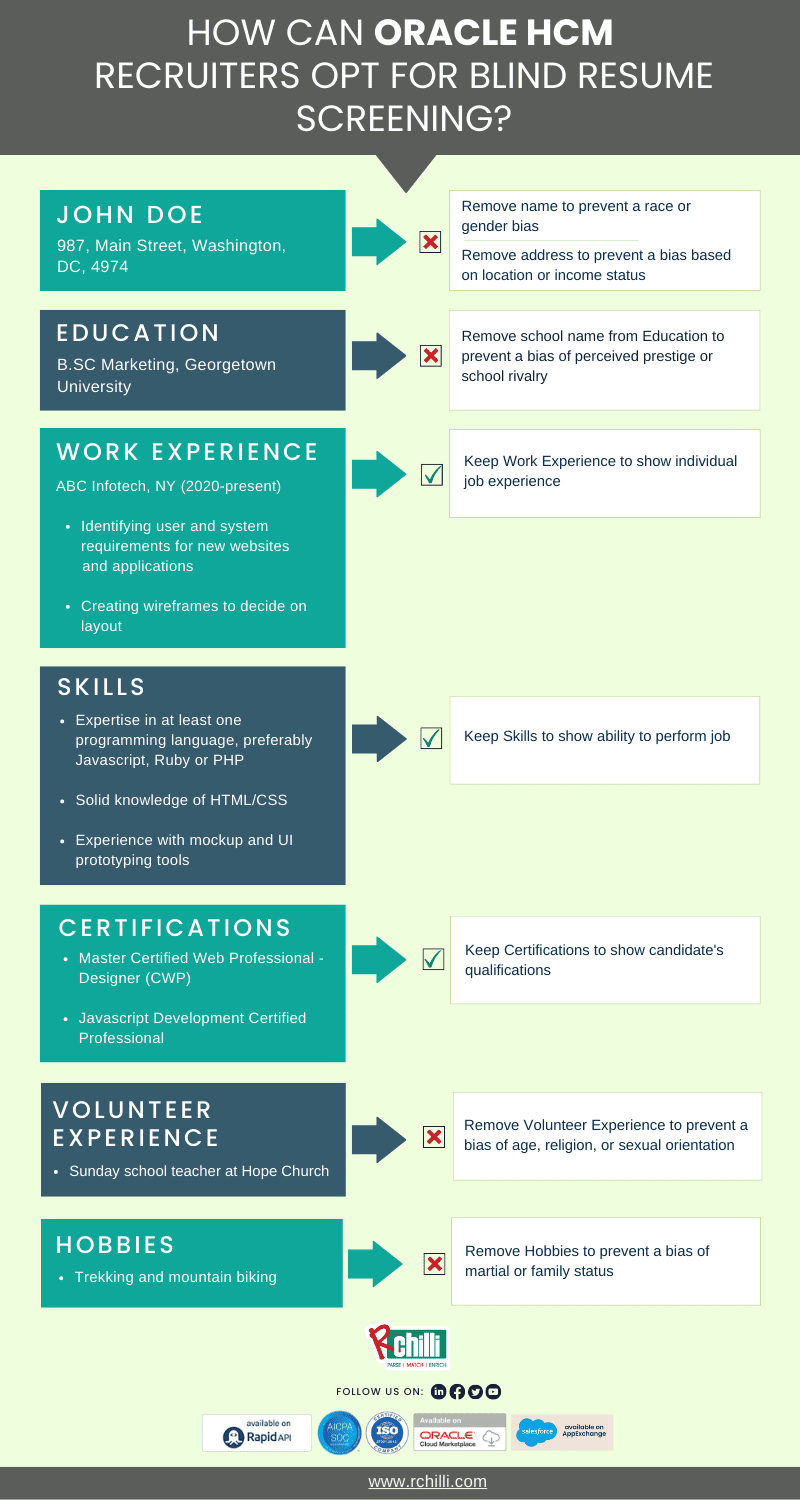 Summing Up
Build a talent pool of skilled candidates with RChilli resume parser in Oracle HCM that help you hire without any bias and build a brand value that establishes you for a fair and quality-based recruitment process.