How to Attract Candidates to Your Career Site?
August 26, 2019 by Imrinder Singh

Are you happy with the traffic your website is getting?
Are your candidates happy with your website?
What are you doing to make your website more candidate-friendly?
If you are looking for a way to attract more candidates, you are reading the right article. When an employer decides to hire top performers, the best and easiest way is to invest in a career site. Thus, to make your career site hit every mark, I am showing you a few tips.
Keep one thing in mind. The better the candidate experience, the more will be the traffic. Your sole objective should be to work towards delivering a positive experience to the candidates.
Check out these methods to know how you can do so.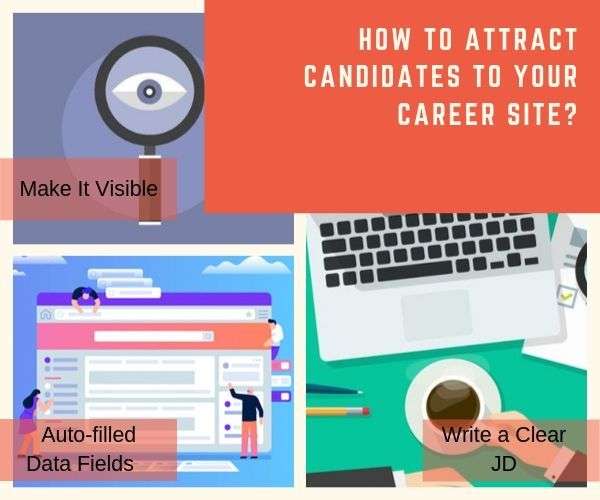 Candidates should be able to find your website quickly. It should be easily accessible. Career sites get a lot of users using tablets and smartphones. With this rise in the number, it becomes important to optimize your career site for mobile. The end objective is to make it easy for users to access your website.
Power Your Website with Technology
Imagine how happy would your candidates feel if they visit your website and apply for a job with a few clicks!
A major challenge career sites face is their lengthy job application process. This makes the candidates fill in the required information again and again. Their resume already carries this information. Filling it repeatedly annoys the candidates, and they leave the job application in between. A resume parser is a right solution for this challenge. It requires the candidate to upload the resume and auto-fills the data fields. As a result, the candidate saves his time.
Thus, you must ensure that there should be minimum clicks while applying for a job.
A candidate's first introduction to a job position is a job description. Ensure that the job descriptions are easy to understand and must include complete information about the roles and responsibilities of the job profile. However, the art is to keep it precise even after adding so much information.
Imagine if you were a candidate, how would you want a specific career site to function? This will set a benchmark for you to improve your candidate experience and motivate you to take the required action.
Interested in using technology for an enhanced candidate experience? Contact us.