Masking Resumes - The Next Step For Inclusive Hiring
November 24, 2022 by Rohini Sood
There's nothing wrong with vetting for the best candidates, and that's what RChilli resume redactor helps you with. Hiding personal identifiable information from resumes may reduce recruitment bias and add diversity to your hiring process.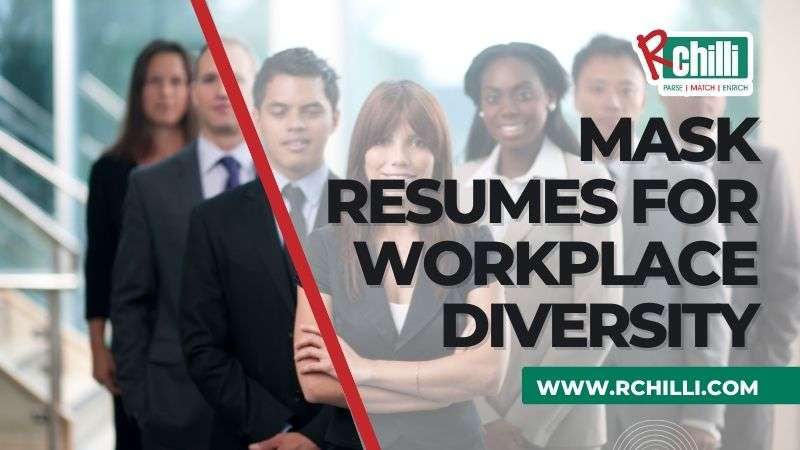 Prejudice, discrimination, or bias are synonymous in hiring and are bigger challenges than many realize. Is there a way to overcome this challenge? Anonymized resumes, and blind CVs can help solve this issue.
According to Glassdoor, nearly 76% of job seekers cite diversity as crucial when evaluating companies and job offers. The new generation of job seekers considers workplace diversity a vital factor for evaluating companies in their job-hunting endeavors. Thus, when an organization is focused on its diversity, equity, and inclusion (DE&I) strategy, they are sure to attract competent and diverse candidates.
How can organizations incorporate DEI strategy into their recruitment process? Blind recruiting is the answer!
Download Infographic - Remove unconscious bias in hiring with RChilli Resume Redactor API
Blind Recruitment: The answer to better hiring practices
Blind recruitment is masking a candidate's personal information to hide anything that could influence a hiring decision. It allows the TA teams to assess candidates based on their skills and competency rather than variables that can lead to biased judgments. Here are some examples of identification details that are hidden in blind recruitment, as they can lead to discriminatory hiring practices:
Gender

Names

Ethnic background

Personal interests

Education

Age
Why use anonymized resumes?
It is surprising to discover that resume discrimination still exists today.
Unconscious biases limit people from hiring women and people of color, which is detrimental to the applicants and the organization.
Organizations are driving away skilled candidates without realizing it, all because of unconscious bias. Because these notions are deeply ingrained and hard to quantify, it is best to eliminate the possibility of them appearing. By removing these from the recruitment process, HR teams will focus on applicants' skills and not otherwise.
The 5 key benefits of anonymizing resumes
When an organization mask resumes, the TA teams will focus on relevant hiring parameters and ignore personal information like gender, name, race, or sexual orientation that can cause prejudice.
Masking resumes with the help of RChilli Resume Redactor can lead to a diverse and strong workforce. Here are some of its advantages:
As the name implies, "unconscious bias" means we all have biases that we are unaware of, which can influence our hiring decisions. Unconscious bias can lead to discrimination despite our best foot forward to eliminate it. Therefore, the first step towards better hiring is hiding candidates' details, which can significantly lower the risk of prejudice.
Anonymizing a resume can bring diverse candidates to an organization, leading to unique problem-solving techniques, promoting innovation, and enhancing the employer brand.
When HR teams focus on an employee's skill set rather than qualifications, they increase the chances of gaining a competent employee.
Traditional hiring methods sometimes fail to attract the best candidates. Someone may be a skilled graphic designer, but their resume may not reveal this.
Previous work experience or academic background are not the best indicators for the candidate. Therefore, masking a resume serves the purpose and judge the candidates based on skills.
Boosts employee retention and engagement
Do you know why employees leave an organization? It's because they don't see career development or do not have an empowering work environment. According to PewSearch, 63% of the employees cite "no opportunities for advancement" as one of the reasons to quit their jobs.
With diversity in the workforce, an organization can promote employee retention and engagement as there would be a better exchange of ideas, a chance to evolve, and opportunities to learn.
Less expensive and time-consuming
Blind hiring is less expensive than traditional hiring techniques as it reduces the human intervention needed to screen CVs & candidates and lessens the number of interviews conducted.
If done correctly, employers can benchmark candidates for particular roles and only invite top candidates for a face to face interviews. Thus, significantly reducing the interview-to-hire ratio.
Eliminate Unconscious Bias With RChilli
By allowing you to redact a candidate's name, age, experience, gender, address, and marital status, which implies unconscious bias, the RChilli resume redactor solution makes resume screening more equitable.
What is RChilli Resume Redactor?
With RChilli Resume Redactor API, you can exclude biased fields from the resume without modifying the resume. It retains the resume's original format while masking the biased fields with 'X' or 'NULL.'
The API can mask the following data fields:
Name

Date of Birth

Marital Status

Gender

Email

Phone Number

Website

Address (Street, City, State, Country, Zip Code)

Current Salary

Language Known

Institution (Name, City, State, Country, Degree)

Current Employer (Name, City, State, Country, Job Profile, Job Period)

Previous Employer

Candidate Image

References and abbreviations of Name

Institution Name

Employer Name
Do you want to eliminate unconscious bias from your recruitment process and build a diverse workforce? Contact us now