Oracle CloudWorld 2022- A Global Conference For Oracle Partners
September 21, 2022 by Aanchal Sharma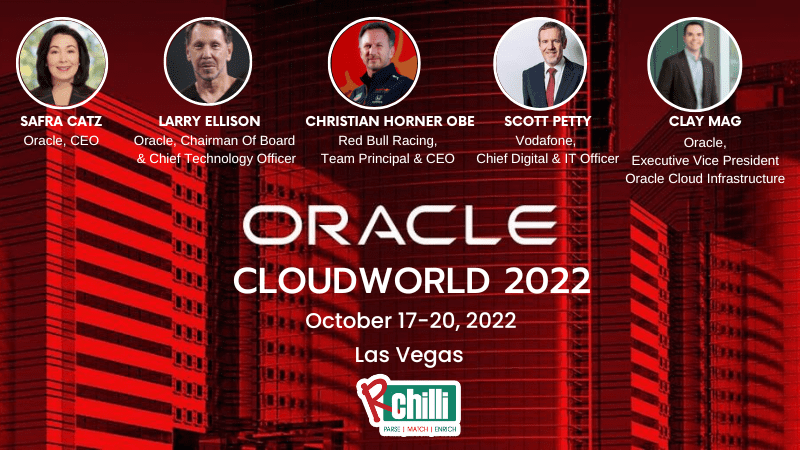 The industry's most extensive conference for the Oracle Cloud infrastructure and cloud applications community, Oracle CloudWorld, is back. Formerly OpenWorld, the re-branded Oracle CloudWorld is scheduled to last for four days, October 17-20, 2022, in Las Vegas.
The Oracle CloudWorld Event Highlights
The event is dedicated to helping those in the HR world learn how end-to-end automation and industry-tailored solutions help businesses resolve challenges and shape the future. The innovators from around the world get a chance to share ideas, develop in-demand skills, and learn about cloud infrastructure and applications solutions catering to specific business needs.
An ideal podium for the HR leaders, it encourages them to step away from the recruitment hustles and join their peers in navigating and streamlining HR strategies with Oracle Cloud Human Capital Management support.
Leave inspired and driven to lead the company into the world of cloud automation!
What To Expect?
Leading the dictum "Meet The Future Of HR," The Oracle CloudWorld 2022 event in Las Vegas gives a perfect opportunity for HR leaders to harness new professional networks and technology innovations that solve HR challenges.
The key takeaways one can expect include:
Reimagining The Role Of HR
Discover the strategies and tools available to enable collaboration with other departments and impact a company's bottom line.
An Elevated Employee Experience
Learn how innovators use the Oracle cloud to boost employees and make a difference to the workforce and the business.
Recruit And Retain Your People
Seizing the attention of and retaining talent has never been more exhaustive. Hear about the latest tools that support you and your organization carve a competitive edge.
Get introduced to the latest approaches to reinventing diversity, equity, and inclusion programs that impact a company's culture and performance.
Realize the latest trends in skill development and discover the technology that can help you make quick yet effective adjustments.
The Power Of Being Data Smart
Learn innovative techniques for using data to help analyze people, understand the workforce, and act quickly.
Visionary Speakers Worth Listening To
The four-day-long event stages inspirational leaders sharing fresh ideas and relevant takeaways that can influence your career and help you progress in the cloud journey.
Expect to learn about product innovation and success stories from some of the most sought-after featured sessions:
A Future So Bright: Why the World of Work Depends on HR
Speaker: Chris Leone
Always integral to the business, HR is now paving the way for a business future covering employee experience and inclusivity. Join Oracle Cloud Human Capital Management (HCM) product development leaders as they share the innovations that will allow HR to continue to deliver a bright future for the world of work.
What Matters? Real Talk with Real Solutions
Speakers: Yvette Cameron, Senior Vice President of HCM Global Product Strategy, Oracle
Traci Wade, Vice President and Global Head of Diversity and Inclusion, Oracle
Tiffanie Lewis, VP HR Technology & Service Solutions, Diebold Nixdorf
Jennifer Bowman, Accenture
Know where HR leaders should invest their time and energy in a world of chaos and tech transition? Some of the brightest minds in HR uncover what really matters most. From dealing with the "Great Resignation" to designing an inclusive culture, get an insight into the biggest challenges and opportunities for HR.
Knowledge Is Power: HR Trends Helping to Define the Future of Work
Speakers: Lori Pierson, VP HCM Transformation, Oracle
Chris Havrilla, Oracle
Sheryl Johnson, Partner, PwC
Reinventing the world of recruitment is no easy task. It requires you to be progressive and aware of the trends impacting you and your organization. Join industry specialists for insights into the trends driving the future of work.
RChilli

Debuts Exhibiting At The Oracle CloudWorld
We are all set to exhibit at the Oracle OpenWorld conference to showcase our product features and learn from our visionary contemporaries from Oracle Corporation.
RChilli proudly showcases its parsing solution engineered to help ERP recruiters streamline recruitment practices and enhance the candidate experience. Powered by deep learning, RChilli plans on showcasing how its multilingual resume parser facilitates objective-based hiring.
The ISO 27001:2013 and SOC 2 Type II certified resume parsing solution enriches the HR spectrum by helping organizations hire faster. Our AI-powered resume parser enhances positive candidate experience by enabling a better application completion rate and building a diversified team of skilled professionals.
If you are also attending the event, we'd like to have a personalized session at the booth.