Oracle CloudWorld 2023: Discover The Future Of HR
August 16, 2023 by Aanchal Sharma
Oracle CloudWorld returns to Las Vegas on September 18-21, 2023! Designed for Oracle customers and partners worldwide, CloudWorld offers opportunities to learn from experts, build networking with peers, and explore more innovations.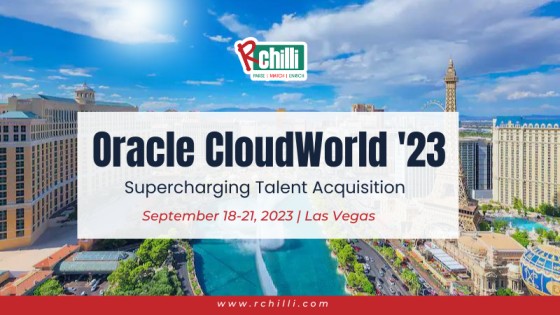 What Does Oracle CloudWorld Bring To The Table This Year?
Oracle CloudWorld 2023 is a podium where companies and entrepreneurs get knowledge and a chance to manage their global workforce effectively. Alongside, they come across ingenious applications and solutions that can help them make better decisions, personalize employee experiences, and leverage configurable workflows that offer scalability and localization.
The event is dedicated to help companies build a workforce that's prepared for the opportunities that AI tech brings along. An ideal terminal for the Oracle audience, the event boasts a lineup of product experts who share their real-life experiences and solutions for futuristic HR leaders.
What's in Store for HR Leaders at Oracle CloudWorld 2023?
Are you ready to revolutionize your HR strategies and lead your organization to new heights? Oracle CloudWorld 2023 is calling all HR Managers to embark on a journey of innovation, growth, and transformation. This year's event is not just a conference – it's a game-changer that promises to reshape how you approach human resources. Here's why you absolutely cannot afford to miss it:
Unleash Agile HR for Business Success
Gone are the days when HR simply played a supporting role. Now, HR is the driving force behind business excellence. Discover how to skyrocket productivity, maintain seamless operations, and navigate change with remarkable agility. Elevate your HR game and become a true business catalyst.
Value Employee Expectations
Employee expectations have undergone a remarkable shift. This event is an opportunity to explore groundbreaking innovations that nurture employee growth, cultivate work-life balance, and foster a sense of belonging throughout their journey in your organization.
Cultivate People-First Leadership
Leadership sets the tone for an organization's success. Equip your leaders with the tools and skills to champion transparency, inspire trust, and unlock the full potential of individuals, teams, and the overall business.
Empower Workforce Reskilling and Upskilling
Adapting to the ever-changing landscape requires a workforce that's prepared for anything. Dive into the world of innovative technologies that will help you develop and nurture crucial skills within your organization. Equip your workforce to cope and thrive in the face of change.
Master the Art of High-Quality Talent Acquisition
Recruiting top-tier talent has become an art, and with the dynamics of the workforce evolving, it's time to adopt a fresh approach to recruitment. Learn how cutting-edge technology can streamline the process, ensuring that the right talent finds the perfect roles swiftly and seamlessly.
Meet the Visionaries
Oracle CloudWorld 2023 boasts an incredible lineup of thought leaders who will redefine the future:
Putting Customer Success at the Heart of Everything
Safra A. Catz
Chief Executive Officer, Oracle
Tuesday, September 19, at 10 a.m. PT
Oracle's CEO will put customer success at the heart of everything, engaging in insightful conversations with leaders from thriving companies.
Oracle's Vision for the Future
Chairman of the Board and Chief Technology Officer
Tuesday, September 19, at 3 p.m. PT
Join Larry Ellison, Oracle's Chairman of the Board and CTO who will unveil Oracle's visionary strategy, merging applications and cloud infrastructure to conquer industry challenges.
Achieving Lasting Success with Oracle Fusion Applications
Executive Vice President, Oracle Applications Development
Wednesday, September 20, at 9 a.m. PT
Oracle's EVP of Applications Development will guide you through leveraging technology to navigate the ever-changing business landscape & how Oracle technology is helping their organizations manage ambiguity, boost productivity, make better decisions, and drive business success.
Building the More Intelligent Future of Cloud
Executive Vice President, Oracle Cloud Infrastructure Development
Wednesday, September 20, at 11 a.m. PT
Oracle's EVP of Cloud Infrastructure Development will take you on a journey to shape a more intelligent cloud-driven future & learn how Oracle is bringing the cloud and AI to industries worldwide.
Executive Vice President, Mission-Critical Database Technologies
Wednesday, September 20, at 2 p.m. PT
Oracle's EVP of Mission-Critical Database Technologies will unlock the secrets to maximizing the potential of your data for a competitive edge.
RChilli Exhibits At Oracle CloudWorld 2023
After a successful stint at Oracle CloudWorld 2022, RChilli is back at Oracle CloudWorld 2023. This time, however, the team brings to the table an array of cutting-edge parsing solution functionalities that can revolutionize the face of recruitment.
Staying true to the mandate this year, "Supercharging Talent Acquisition! From One-Click Applications To Shortlisting Candidates in Seconds, & Empowering Candidates, Redefining Talent Acquisition!" RChilli plans to cater to every aspect of ERP recruiter's challenges.
Witness how our solution redefines the hiring landscape and makes recruitment efforts more effective and efficient.
In addition to how our multilingual parsing solution facilitates objective-based hiring via automated resume screening process, how our AI-powered solution enhances positive candidate experience via one-click job application, and how the data-driven hiring solution encourage diversity & inclusion, we've added to our catalog- data migration, data reprocessing, and the ingenious RChilli Candidate Recharge (RCR).
Mark your calendar for Oracle CloudWorld 2023 – where innovation, inspiration, and transformation converge. It's time to seize the future of HR like never before!