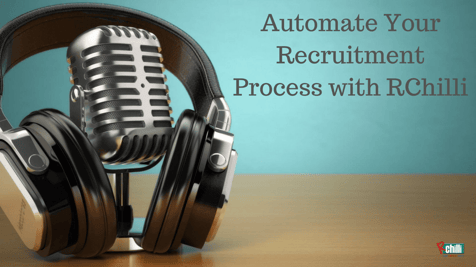 Recently, Tom Rogers, Founder & CEO, iSmart Networks, invited Vinay Johar, CEO-RChilli, on the iSmart podcast show. Vinay talked about how automation can enhance your productivity.
Talking about how RChilli started and the idea behind it, Vinay beautifully explained how his company is promoting automation to save both the candidates and recruiters' time.
RChilli and The Power of Automation
Started in 2010, RChilli is Vinay's third venture. His vision is to touch a billion souls across the globe. The idea came when Vinay and his team looked to automate their recruitment process in his previous venture. They searched for a few companies, but their price was too high. This was when Vinay thought of creating his own resume parser that is scalable and affordable so that even the smallest company in the world can use the power of automation.
Today, RChilli owns 50% market share in India and has clients in 33+ countries worldwide. In fact, it is the first company that started offering its solution on the cloud.
Its resume parser helps candidates submit a job application within 10 seconds and saves recruiters' time on data entry by 89%.
Where is RChilli Heading Towards?
When asked about the future plans, Vinay emphasized that now RChilli is planning to get into geographies where the competition hasn't reached yet. The company is
supporting more languages to parse resumes

using AI and machine learning technologies like TensorFlow, Weka, neural networks, etc.

building technological architecture to cater to all countries.
New Business Strategies during COVID-19
COVID-19 has impacted not just the business, but our emotional health too. Keeping this in mind, RChilli started 'Zoom Coffee Unmeeting' where the clients can have virtual coffee with Vinay and team members and share their experiences about how they are dealing with the situation.
Another concept started by RChilli is inviting clients on Zoom in a group of 15-20 to have a healthy group discussion. This is not a business meeting. It is a platform to know and help each other by sharing experiences.
Current Challenges in Recruitment
Vinay feels that it is a stressful moment for the new generation, especially the candidates who are freshers. Because of WFH policies, they won't be getting any induction or on-site training that makes work difficult for them.
Another challenge is that because of the shortage of jobs, the career path of candidates is messed up. Many of them are changing their profiles and industries. Vinay shared one tip for these candidates that if you find yourself in such a situation, learn the required skills, train yourself and go for the job.
It was wonderful to be on iSmart Podcast Show. If you want to discuss the changing HR trends or want to enhance your candidate experience, feel free to talk to Vinay.