RChilli to Exhibit in HR Festival Asia, Singapore
May 02, 2019 by Vinay Johar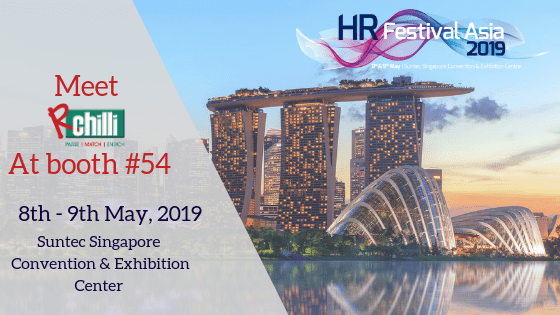 Are you attending HR Festival Asia on 8th and 9th May 2019 in Singapore?
It is the first time that the two significant events of the world - HR Technology Conference and Exhibition (US) and HR Summit (Asia) - are coming together to create the largest gathering of HR and Tech industries. This event will offer unparalleled networking and showcase some of the region's most innovative HR & Tech solutions.
Let's pinpoint the main features of HR Festival- Asia.
5000+ Attendees
100+ Exhibitors
110+ Speakers
120+ Concurrent Sessions
HR Festival Asia is an exciting event in which human resources and management professionals will get an opportunity to learn and understand sophisticated HR technology offerings available today. It is a once-in-a-lifetime opportunity to get invaluable takeaways, build networks with the HR innovators and equal-thinking partners.
This event brings together the world's leading speakers, visionaries and thinkers as well as leading service providers under one roof to witness human resources, technology, and convergence of the new world of work.
RChilli is exhibiting in this event and will talk about its products which provide the next level of resume management: complete automation in managing the resumes, connecting you with the social profiles of candidates, search and match technology to get the best candidate on the job.
We are proud to share that we are sponsoring 'the Best Use of HR Technology' award at HR Festival Asia, Singapore.
It is an excellent opportunity to meet and interact with influential leaders of vital human resources consultants, human resources system leaders, human resources generals, senior human resources officers and leading software vendors. This event will be a great learning experience for all those who participate and perform.
If you are looking for a unique networking and learning experience, then you must participate in this conference.
Visit us at booth no. 54 to learn about current trends in human resources technology.