Get an Enhanced User Experience with Resume Parser
February 07, 2018 by dev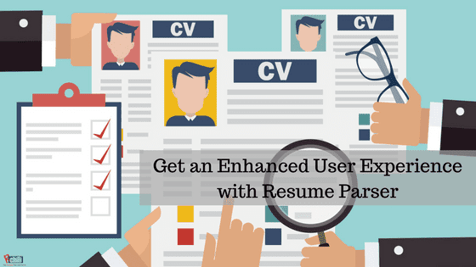 When we think about having a quick recruitment process, the first thing which comes to our mind is resume parser. That's right! When parsed resume data is saved in more than 100 fields, it helps in shortlisting candidates quickly and closing jobs in no time.
However, a resume parser software has many additional features. It provides an excellent user experience to both recruiter as well as candidate by providing instant solutions. As a recruiter, you aim at attracting maximum number of candidates to your website by making it user-friendly. Thus, choosing solutions which help you get better business is an obvious choice.
What are these solutions and what are their features?
Make your platform user-friendly to candidates through jobs and skills synonyms. RChilli has a comprehensive library of jobs and skills alias. Our intuitive matching technology uses these alias to provide recommendations and deliver matching results.
With Resume to Jobs matching, a candidate gets more job recommendations related to his resume. Similarly, a Job to Jobs matching will give similar job suggestions related to a job searched. With such recommendations, a candidate can refine his profile and he is able to do it within less than 60 seconds.
If candidates search jobs for 'Software Developer', they will be also shown job results for similar job profile alias. For example, the job recommendations can include jobs for Software Engineer, Software Programmer, Software Designer, Lead Programmer etc. This widens the scope of job search for the candidates. Instead of looking for jobs with different search titles, a parser provides all options on a single page.
This saves time of candidates as they need not carry out a lengthy and detailed job search. With job recommendations readily available, they can apply for jobs with a click. Eventually, a candidate completes his job search quickly and recruiter finds the right fit on time.
If you are a job board, you need to make job applying a smooth process. If a candidate gets benefits through such add-ons, he will surely give you better business. This feature helps you in getting maximum traffic to your website and retain candidates.