What is Resume Parsing? How does CV/Resume Parser Work?
January 07, 2018 by dev
Topics: Resume Enrichment, Resume Parser, Resume Management, Resume Parsing, Social Resume Parser, Resume parsing software, Parse resumes, Resume Parser API, Resume parsing benefits, Best resume parser, Resume parser technology, resume parsing tools, CV parsing API
Resume parsing technology converts an unstructured form of resume data into a structured format. CV/Resume parser analyses resume data and extracts it into machine-readable output such as XML, JSON. Resume parsing software helps store, organize, and analyze resume data automatically to find the best candidate.
Here is a typical scenario of most organizations, sounds familiar?
I am the HR Manager of a large company. On average, I receive sixty resumes per day. Multiplying that by 365 days, that's 21,900 resumes per year!!
I used to manage these resumes in filing cabinets. Needless to say, this was an inefficient system. Whenever my company was looking to hire someone, I had to sort through stacks of resumes by hand. Another problem was that these resumes would quickly become out of date. One day I was talking to a friend, and he suggested I try Resume parser to parse information from resumes in bulk.
I was wondering what a Resume Parser is? And how it parses resumes automatically? Finally, I got to know this software eliminates manual data entry by extracting candidate's information intelligently and saves it in pre-designed fields.
I took a demo with one of the leading resume parsing software provider, and after giving me a visual demo, they gave me a trial account. I could not believe how much easier a parser could make my life.
What does a CV/Resume Parser exactly Mean?

[1] A resume parser is a compiler or interpreter that converts the unstructured form of data into a structured form.
[2] It is a component that automatically segregates the information into various fields and parameters like contact information, educational qualification, work experience, skills, achievements, professional certifications to quickly help you identify the most relevant resumes based on your criteria.
[3] A parser takes input in the form of a sequence of program instructions and tends to build a data structure; a "parse tree," or an abstract syntax tree.
I had used RChilli's Resume Parser, and this is how it drastically transformed our hiring process.
How to select resume parser?
Check below characteristics while selecting a CV/resume parser :
Parses resumes of all formats, be it PDF, doc, docx, HTML, RTF

Easy to integrate with your existing software

Contains detailed library of taxonomies to identify candidate skills

Automatically identifies region and language and parse information accordingly

Allows the user to enable or disable fields from resumes as per requirement using 'configuration feature.' It helps in promoting unbiased recruitment.

Extracts resume information into 140+ data fields.

Creates an executive or management summary so that reciters can evaluate a candidate by reading this summary.

Uses deep learning algorithm for improved extraction and smarter identification of resume data for better search results.



Also read: Top 7 benchmarks for comparing resume parsing technology
My team didn't have to spend time skimming through the resume. The required information was retrieved at a single click. For Example, our hiring team was searching for a 'Marketing Manager' who had an MBA with two years of experience. The resume parsing made it possible to simply click on the qualification and experience tab of the parser rather than going through the entire CV.
Fetch resumes in bulk either from your database or desktop

Find relevant matches with the help of Semantic Search

Create a valuable database with qualitative data

Save time

on manual interventions

Improve your ROI from increased conversion rate

Better generalization to data

and

simplified approach to the data

acquisition

process
We were saved from the hassle of converting the documents as the parser reads .DOC, .RTF, .DOCX, .ODT, .DOT, .PDF, .HTM, .HTML, .MHT file formats.
How resume parser exactly Works:
1. Upload the resume from a desktop or folder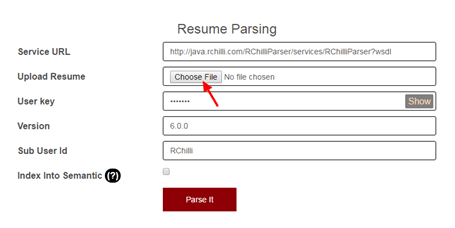 2. Parse resume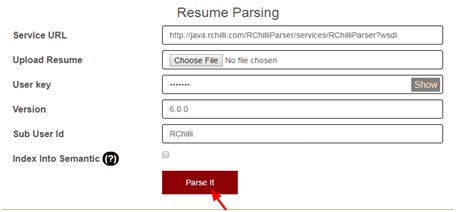 3. RChilli parsing API extracts that document into 140+ fields. You need to click on the required tab to get the desired results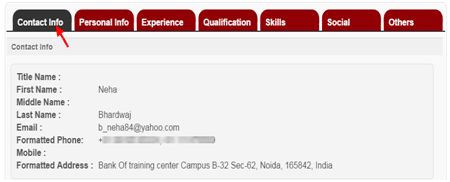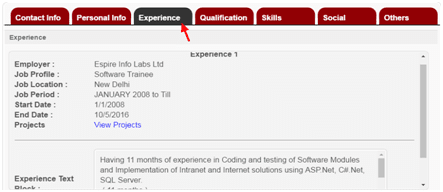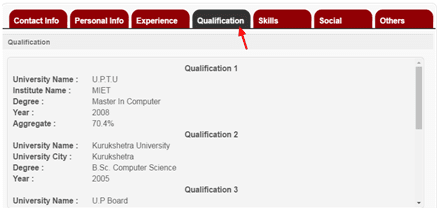 And many more…….
4. RChilli's resume parser stores info in your cloud database or displays JSON for the user interface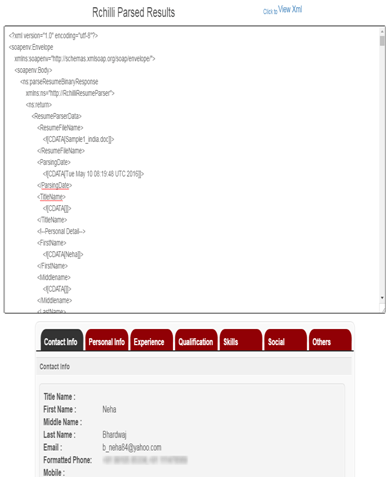 5. This can be sold as the add-on to existing recruitment solution
This way, save a lot of time on manual transactions of each job application and CV's received. Must say RChilli's friendly 24/7 available customer service makes the user experience all the better.
How RChilli's resume parser can help during COVID-19 pandemic:
Speed up the process of parsing resumes even while doing remote work.

It seamlessly integrates with other tools

It provides quick results

It helps to improve candidate experience so that candidates can trust them as their future employer.
How can you turn this pandemic into an opportunity?
Every recruitment process has a few challenges, like slow hiring, matching the right skill to job openings, etc. It is rather tougher at the time of pandemic like COVID-19 where maintaining social distancing is crucial.
RChilli understands better how HR professionals are feeling right now and recommends intelligent solutions to fasten their recruitment process.
Resume parsing benefits:
1. Saves Time
It parses resumes, extracts data, and saves into your ATS quickly in segregated fields.

It allows you to organize your candidate's resumes without wasting any time.

Less time needed to process and select the most relevant talents that will be beneficial to your organization.
It offers auto-fill forms so that candidates can apply to a job post in a single click without filling out details manually.

It also helps to build your employer brand among candidates.
3.

Valuable database
It makes easy to create a valuable database.
Applicant Tracking System (ATS)
Job boards
Enterprises
Staffing companies
Startups

Curious to know other interesting facts of a resume parser?
Read below articles:
Do you want to know more about the features of a resume parser?
What more does a resume parser offer?
How can a resume parser help an ATS?
How does a resume parser provide a positive candidate experience?
How does resume parsing help in unbiased recruitment?
ATS, staffing agencies, Job board, career sites, enterprises, and many more usually work with resume parsing software to automate the CV/Resume database. To know more, stay tuned with Rchilli's Blog.