Make The Best Choice with Resume Enrichment
May 07, 2018 by Admin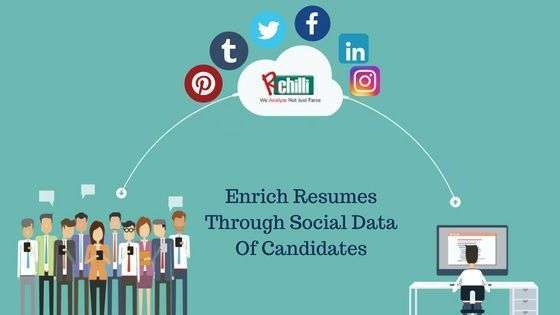 Gone are the days when your resume parsing was just limited to resume fields. In today's time, you need next-generation tools to oomph up the recruiting strategy. When everyone is vouching for the best talent, how could you be different from the lot?
Candidate experience and recruiters engagement habits, now prove out to be the most effective strategy, but you need data to execute it well. This gives rise to sophisticated tools like social add-ons integrated with existing parsing API which has all the capabilities of a complete social recruiting tool.
RChilli, a true differentiator of automation services in recruitment, offers a Resume Enrichment solution. Our parsing API brings you the links of social networks while parsing resumes in real time. There is no need to look-out for each applicant individually on all different social networks when RChilli's Resume Enrichment has the functionality to discover the same.
Our solution can help you enrich with the new information mustered about the candidates. With new found information, you can create new opportunities and possibilities for applicants. Also, with Resume Enrichment, CV information can be easily verified online with a presence on social networks like LinkedIn, Twitter or Google+.
How many times has it happened to you; the candidate's current location doesn't match with that of a resume? I believe numerous times and finally, the repentance about the time taken on shortlisting that particular profile is exhausting.
We understand recruitment systems like we do recruiters. So, whenever we design a solution, recruiters needs are paramount to us.
Apart from the location, you will get information about age, full name, most current organization etc. You also get the link to online profiles which can further be examined to filter the best cultural fits as per organization requirements.
Our solution is effective and affordable at the same time, unlike the fancy software's that promises to hire in a jiff. You definitely need a social perspective to your hiring strategy and here's the reason why:
According to talentworks,
67% of candidates use Facebook compared to just 35% on Twitter.
48% of candidates use social media in the search for their most recent job.
59% of candidates use social media to research companies they are interested in.
With Resume Enrichment, your chances of recruiting passive talent can increase more than 50 percent, and best culture fits are just a click away. Today, talent has to be sourced smarter and faster with specialized add-ons that doesn't cause stress or makes the hiring process disjointed.
You can bring new life into old stacked resumes and enrich them with social data. We can host new opportunities for you without dodging clients or candidate's expectation at any point in the hiring cycle. If you have been lately doing just parsing and have zero knowledge about social parsing, then this is the right time for you to think again.
We are good at making offers which our clients never refuse. Come and decide yourself, take the trial.